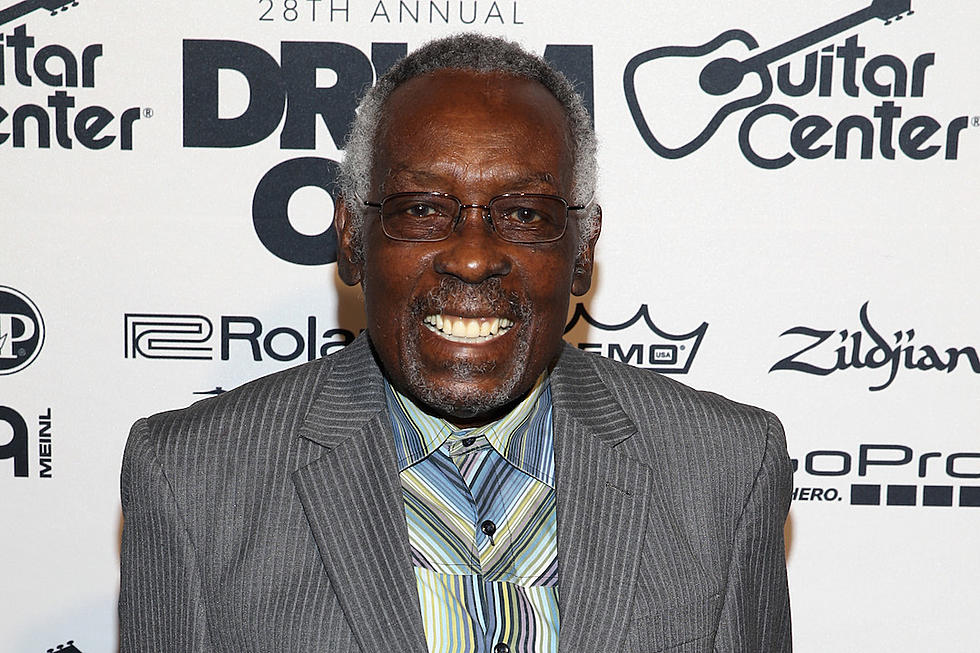 Clyde Stubblefield, James Brown's 'Funky Drummer,' Dies At 73; Hip-Hop Community Reacts
Phillip Faraone, Getty Images
The music world has lost a true innovator on the drums. Clyde Stubblefield, James Brown's funk drummer and the creator of the most sampled drum break in hip-hop, has passed away from kidney failure on Saturday (Feb. 18). He was 73. Stubblefield's wife, Jody Hannon, confirmed the sad news to Rolling Stone magazine.
Every hip-hop artist that has been successful in the rap game owes a huge debt to Stubblefield. Without his infectious drum break, hip-hop wouldn't be what it is today. Overall, American music wouldn't be what it is today.
James Brown's "Funky Drummer" has been sampled in hundreds of songs by such artists like Public Enemy ("Rebel Without A Pause"), Mos Def ("Mathematics"), LL Cool J ("Mama Said Knock You Out"), N.W.A ("F--- the Police") and so many others.
Stubblefield's funky drumming on James Brown's "Cold Sweat" was also sampled heavily in rap. Ultramagnetic MC's ("Kool Keith Housing Things"), Public Enemy ("Welcome to the Terrordome") and DJ Shadow ("Lesson 4) are just a few of the artists who have sampled this great musician's illustrious drumming.
Born in Chattanooga, Tenn., in 1943, Stubblefield was a session musician and toured under Otis Redding before joining James Brown's famed band as his drummer from 1965 to 1971. Along with drummer John "Jabo" Starks, the two musicians was the nucleus of the Godfather of Soul's rhythm section that changed the musical landscape of soul and R&B music.
Aside from "Funky Drummer" and "Cold Sweat," Stubblefield played on James Brown songs like "Ain't It Funky Now," "I Got The Feelin," "Get Up (I Feel Like Being a) Sex Machine" and so many more. And all of these songs have been sampled in hip-hop and R&B music in one form or another.
A great drummer himself, Questlove paid tribute to "The Funky Funkiest Drummer Of All Time." "Clyde Stubblefield thank you for everything you've taught me," he wrote on his Instagram account. "The spirit of the greatest grace note left hand snare drummer will live on thru all of us."
We want to send our heartfelt condolences to Clyde Stubblefield's family. His drum break was the pulse of American music. We are all indebted by his musical contribution. May he rest eternally in peace.
Check out reactions to Clyde Stubblefield's death from the hip-hop community below.
Listen to James Brown's Song "Funky Drummer"
Watch Clyde Stubblefield Perform "Cold Sweat" and "Funky Drummer"
Listen to Public Enemy's Song "Rebel Without A Pause"