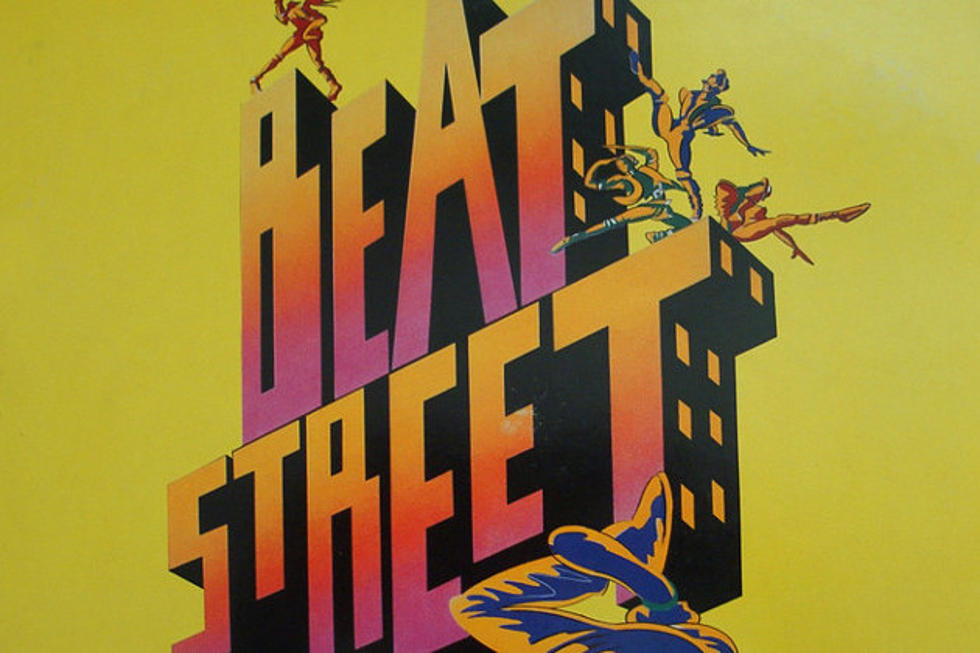 See the Cast of 'Beat Street' Then and Now
YouTube
Released around the time mainstream America first started to fall in love with hip-hop, 1984's 'Beat Street' is a film encompassing the three key elements of the movement: breakdancing, DJing and graffiti. Using the burgeoning hip-hop scene as its background, the movie follows the lives of two South Bronx, N.Y.-based brothers and their circle of friends.
With its hokey dramatic plot and awkward comedic moments, 'Beat Street' has rightfully never been considered a gem of American cinema, but since it features musical performances from some of the key artists of hip-hop's first wave, the movie is essential viewing for any self-respecting fan of the genre.
Today, we're launching Then and Now, a feature in which we take a look back at hip-hop-related movies and find out what the cast have been up to in the years since they first hit the big screen together. We couldn't think of a better film to kick off the series with than 'Beat Street.'
Rae Dawn Chong Plays Tracy Carlson
Then: Chong plays Tracy, a college music student and composer who is fascinated by b-boy culture.
Now: The daughter of Tommy Chong (of 'Cheech and Chong' fame), the actress has gone on to appear in such films as 'Commando,' 'The Color Purple' and 'The Principal.' In a 2013 radio interview, Chong threw some verbal jabs at her 'The Color Purple' co-star, Oprah Winfrey, calling the media queen a "great brown-noser," among other disparaging things. She later apologized and said that her comments were taken out of context. Sure they were!
Guy Davis Plays Kenny "Double K" Kirkland
Then: Davis played "Double K," an aspiring DJ that falls in love with Rae Dawn Chong's character.
Now: The New York City native has juggled both an acting and musical career since the release of 'Beat Street.' The son of actors Ruby Dee and the late Ossie Davis, Guy has appeared on stage and screen, and is also a respected blues guitarist with over 15 albums in his discography so far.
Jon Chardiet Plays Ramon "Ramo"
Then: The actor took on the role of Ramon, a graffiti bomber who ultimately dies in a NYC subway tunnel after slugging it out with a rival bomber.
Now: Chardiet has authored more than 20 children's books, and has continued acting. His most recent appearance is in the 2013 thriller, 'Borderlands.'
Franc. Reyes Plays Luis
Then: Reyes played Luis, a bomber in Ramon's circle.
Now: The Nuyorican actor-dancer turned his attention towards directing in the years since 'Beat Street,' with gritty crime thrillers like 'Empire' and 'The Ministers' under his belt. Before he became a director, Reyes had a stint as a songwriter.
Kool Moe Dee Plays Himself
Then: Kool, along with the rest of the Treacherous Three and Doug E. Fresh, appeared in a scene in the film performing the song 'Xmas Rap.'
Now: Born Mohandas Dewese, he became the first rapper to ever perform at the Grammy Awards. One of hip-hop's earliest stars with hit singles like 'How Ya Like Me Now' and 'Wild Wild West,' Kool has also done some acting, and even appeared in the 2002 Britney Spears film, 'Crossroads.' Despite the last fact, the rap OG's hood pass is still valid.
Crazy Legs Plays Himself
Then: The legendary dancer appeared in a breaking battle scene in the film.
Now: Richard "Crazy Legs" Colón is the president of the Rock Steady Crew, an influential dance collective formed in 1977. In 2003, New York Mayor Michael Bloomberg proclaimed July 26 to be "Rock Steady Crew Day" in New York City.
Brenda K. Starr Plays Herself
Then: A chance meeting with one of the film's producers, singer Harry Belafonte, helped Starr score her performance of the song 'Vicious Beat' in 'Beat Street.'
Now: Not long after 'Beat Street,' Starr landed a record deal. Her first single, 'Pickin' Up the Pieces,' became a huge dance hit in 1985. A young Mariah Carey worked as a backup singer for Starr around this period. After a successful run in the pop ('I Still Believe') and freestyle ('What You See Is What You Get') arenas, the singer turned her attention to the Latin market and found a whole new audience as a salsa diva.
Afrika Bambaataa Plays Himself
Then: Afrika Bambaataa and the Soul Sonic Force appear in a performance scene shot at the famed Roxy club in Manhattan.
Now: A pioneering DJ in hip-hop, Bambaataa made Life magazine's "Most Important Americans of the 20th Century" issue in 1990. The 56-year-old is in the middle of a three-year appointment as a visiting scholar at Cornell University.
Grandmaster Melle Mel Plays Himself
Then: Grandmaster Melle Mel & the Furious Five closed the film out with an explosive performance of 'Beat Street Breakdown,' the theme to 'Beat Street.'
Now: The first rapper to refer to himself as an "MC," Mel is still touring around the world and most recently was seen in Ice T's excellent documentary, 'Something from Nothing: The Art of Rap.'
Stan Lathan Serves as Director of 'Beat Street'
Then: Lathan had already directed classic televisions shows including 'Sanford and Son,' 'Miami Vice' and 'Hill Street Blues' before he took on 'Beat Street' after teaming up with producer Harry Belafonte.
Now: Since 'Beat Street,' Stan Lathan continued to direct and also become a big player as a producer. Along with partner Russell Simmons, Lathan co-created the 'Def Comedy Jam' series in the early '90s, and in 2002, the 'Def Jam Poetry' series. Still a behind-the-scenes mogul, his daughter is actress Sanaa Lathan ('The Best Man,' 'Brown Sugar').