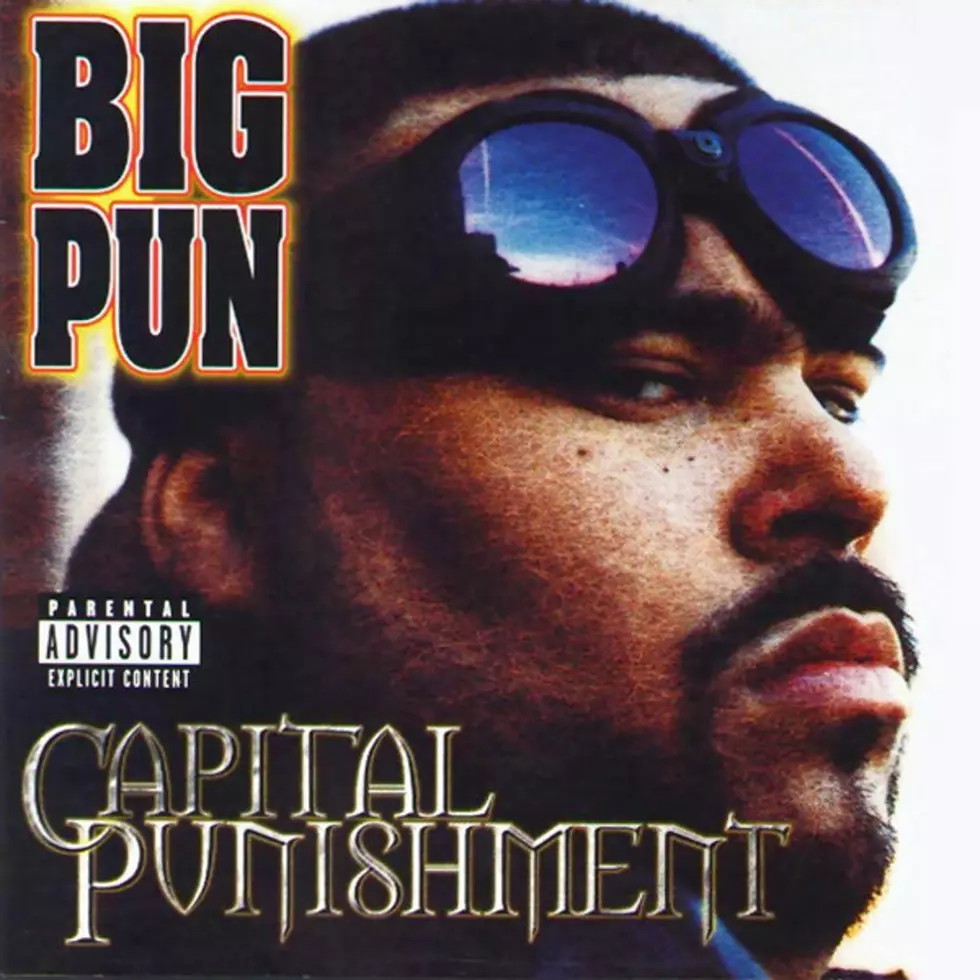 How Big Pun's 'Capital Punishment' Album Established Him as A Cultural Icon
Loud
The makings of hip-hop have been largely attributed to black youth --particularly African-Americans and people of the Caribbean diaspora, however, those in tune with the roots of hip-hop are well aware that Latinos have also played an integral part in shaping and molding hip-hop culture.
Whether it's through their contributions in graffiti, break-dancing, or as the role of the DJ, Latinos have long been arbiters of hip-hop culture, but one area in where they fell short to make their mark in the '80s was in rap as MCs. Even in the early '90s, when acts like Cypress Hill and Fat Joe found success, hip-hop had yet to be introduced to a Latin emcee with the skills and charisma to be a bonafide superstar. All of that changed thanks to the arrival of Big Pun, who would take the music world by storm with his debut album, Capital Punishment, making him one of the most influential rap artists of all-time.
Born Christopher Rios on November 10, 1971, in the Bronx, NY, Big Pun would endure physical and psychological abuse at a young age but he would find his refuge in sports, excelling in boxing and basketball before beginning to hone his skills as a rapper during the late '80s. Forming his own rap crew called "Full-A-Clips," he would assume the moniker Big Moon Dawg, catching wreck in local ciphers and battles throughout his Bronx stomping grounds. One day, the rapper caught his big break after running into rap star and fellow Bronx native Fat Joe and would take advantage of the opportunity by spitting a rhyme so impressive that the Relativity Records signee decided to take Pun under his wing immediately. By the time Fat Joe released his sophomore album, Jealous Ones Envy, in 1995, Big Pun and his Full-A-Clips brethren would be inducted into Fat Joe's Terror Squad crew and making noise in the underground scene due to Pun's show-stealing appearance on "Watch Out."
Wowing listeners with couplets like, "I doom the world like I was God and throw my gun away/Then snatch the moon out the sky, and blow the sun away," and showing glimpses of the rhyme animal the world would eventually get to know, Big Pun would spend the subsequent years raising his profile with guest appearances alongside Raekwon ("Firewater"), Flesh-N Bone ("No Mercy"), and Veronica ("Some 1 2 Hold").
In 1997, Big Pun's buzz would reach a fever-pitch with his guest spot on The Beatnuts' 1997 single "Off The Books," which would help earn him and Terror Squad a deal through Loud Records, opening the door for the release his debut album, Capital Punishment. During the time of Pun's ascent, the rap game was in a state of uncertainty, particularly the east coast, which was reeling from the murder of The Notorious B.I.G., an artist whom a number of critics had compared the Bronx upstart to primarily due to their similarly rotund physical frame and otherworldly abilities in the art of rhyme.
The absence of The Notorious B.I.G. would leave a void that would need to be filled and Big Pun would be one of the first to step up to the plate, after unveiling his debut solo single "I'm Not A Player" in August 1997. Produced by Minnesota, "I'm Not A Player" would be geared more towards the underground scene and Pun's core fan base, but would contain wrinkles akin to Biggie's earliest hits, from sly references to his heritage ("Puerto Rican to the core and all Boriquas eat the pussy") to self-deprecating digs at himself ("Far from ugly but they used to say I'm too chubby/But since the money the honeys got nothin' but love for me") and become a minor hit, peaking at No. 57 on the Billboard Hot 100, his highest chart position to date. "I'm Not A Player" would also be accompanied by a music video directed by ****** and featuring cameos by The O'Jays, Fat Joe, Cuban Link and other Terror Squad members clad in suits and portraying mafioso characters. The clip would shine a light on Big Pun's charisma and effortless charm all while being the calm before the storm that would launch Pun into superstardom the following Spring when he delivered "Still Not A Player." "Still Not A Player" would be game-changer not only for himself but hip-hop culture as a whole.
Produced by Knobody, "Still Not A Player" would continue to cast Big Pun as a ladies man, albeit this time with more sleek production and an addictive hook suited for massive radio airplay. Featuring r&b singer Joe, "Still Not A Player" would be released a month prior to Capital Punishment hitting shelves and would be an instant hit, rising to No. 24 on the Billboard Hot 100 and No. 6 on the Hot R&B/Hip-Hop Songs, due in large part to its festive music video, which included cameos from Cormega, Onyx, The Beatnuts, Guru and Tony Touch and captured Pun and Joe surrounded by a harem of boriquan cuties and celebrating Latin culture. The music video would garner a rare showing of Latin pride across mainstream outlets and would galvanize the Latino community to rally around Big Pun and the Terror Squad as the crew that would finally lend unquestioned credibility and respect to rappers of Latin descent. The 90s saw a Latin explosion in music thanks to the success of artists like Ricky Martin and Jennifer Lopez, and Big Pun's rap takeover seemed to fall under that same umbrella, creating the perfect storm for Capital Punishment.
Released on April 28, 1998, Capital Punishment would enter the marketplace as one of the most anticipated rap albums of the year. This was proven true by its Top 5 debut on the Billboard 200, a position it would hold for two consecutive weeks. Songs like "I'm Not A Player" and its platinum-certified remix were the selling points to goad fans into buying the album. Upon purchasing, rap fans quickly realized they were in for a treat, as Big Pun would put forth one of the strongest performances in rap history throughout the album's 24-tracks. From the moment the album opener "Beware" comes on, you're transported to the treacherous streets of the BX, where Pun's reign of terror seemingly never ends, with lines like "I'm the epitome of catchin' wreck, catch you when you cash your check/Smash you when you pass, then jack you for your fuckin' 'Lex," showing that his thuggery has no bounds.
If lyricism was a car, Big Pun would be in the class of a Ferrari, a comparison that makes even more sense after listening to "Dream Shatterer" and "You Ain't A Killer," both of which are considered among his most significant songs to date. On "Dream Shatterer," Pun revs up with motor with reckless abandon, serving up a hailstorm of couplets that hit hard and with impact, while "You Ain't A Killer" mixes style with substance, as the artist formerly known as Big Moon Dawg comes across as a smooth assassin, killing listeners softly with his measured rhyme spills.
Big Pun may be capable of slaughtering a track on his own accord, but Capital Punishment strays away from the approach of predecessors like Nas, The Notorious B.I.G., and JAY-Z, all of whom had minimal features on their respective debuts. Instead, Pun enlisted a who's who of the rap world to take part in the festivities. The decision was one based as much on competition as it was collaboration, as Big Pun tested his sword against some of the most feared rhymers in all of rap, starting with Black Thought on "Super Lyrical," a track that is a meeting of the minds between the two MCs that still causes rap nerds to drool to this day. On "Caribbean Connection," the tracklist may indicate that Wyclef is the featured performer, and although the former Fugee appears on the hook, it is Canibus' unlisted guest spot that is the true draw, as he and Pun go toe-to-toe over a festive instrumental courtesy of 'Clef. Busta Rhymes popping up to infuse his energy onto "Parental Discretion" serves as an additional highlight, but the crown jewel in terms of outside talent locking horns with Pun comes via "Tres Leches," which features appearances from Prodigy and Inspectah Deck, both of whom were at the height of their powers at the time of its recording.
Capital Punishment may have included more than a few hired guns, but will ultimately be remembered as a family affair and the genesis of the Terror Squad, as Big Pun would make sure to give Fat Joe and his underlings some burn in order to lay the foundation for their eventual step into the spotlight. Young gun Prospect turns in an admirable performance on the album's title-track, his first credited appearance on wax, but the two songs from Capital Punishment that are indicative of the Terror Squad's strength as a crew are "Twin (Deep Cover)" and "Glamour Life."
On "Twinz (Deep Cover)," Fat Joe and Big Pun position themselves as the east coast Dr. Dre and Snoop with effective results, creating one of the most talked-about covers of a classic rap song. While "Glamour Life" would find crew members Cuban Link, Triple Seis and Armageddon getting air-time on what is one of the more underrated posse cuts of the late '90s. However, for all of the dexterous flows, witty rhyme schemes and high-profile features littered throughout the album, Capital Punishment wouldn't be what it is without Big Pun's engaging personality and comedic nature on and off the wax. Take for instance the music video for the Noreaga-assisted single "You Came Up," Big Pun plays the part of a secret agent and thwarts a criminal enterprise, all the while displaying his charm. Also throughout the album's interludes and skits, both of which play on his jovial nature.
Upon its release, Capital Punishment would be hailed as a masterpiece and be given universal critical acclaim with many critics announcing Big Pun as a superstar in the making, with the potential to become as successful as The Notorious B.I.G. during the height of his career. Capital Punishment would also become a huge commercial success, selling over one million copies and earning platinum certification, making Big Pun the first Latino solo rapper and the second Latino rap act overall to achieve that feat, essentially disproving the notion that a Latino rap artist could not be commercially successful.
In the wake of Capital Punishment's release, the Terror Squad would also make strides, with Fat Joe earning his first gold-certification with his third solo album, Don Cartagena, and Terror Squad releasing their own debut as a collective, titled The Album, in Fall 1999. Unfortunately, Big Pun would be unable to fully capitalize off his newfound success, or have the chance to reach his full potential as he would pass away on February 5, 2000, due to health complications.
Big Pun's untimely death left unanswered questions about how much of a force he could've truly been in all facets of life, however, Capital Punishment remains a testament to his legacy as one of the greatest rappers to clutch a mic, a pioneer and cultural icon.
20 Classic Hip-Hop and R&B Albums Turning 20 In 2018