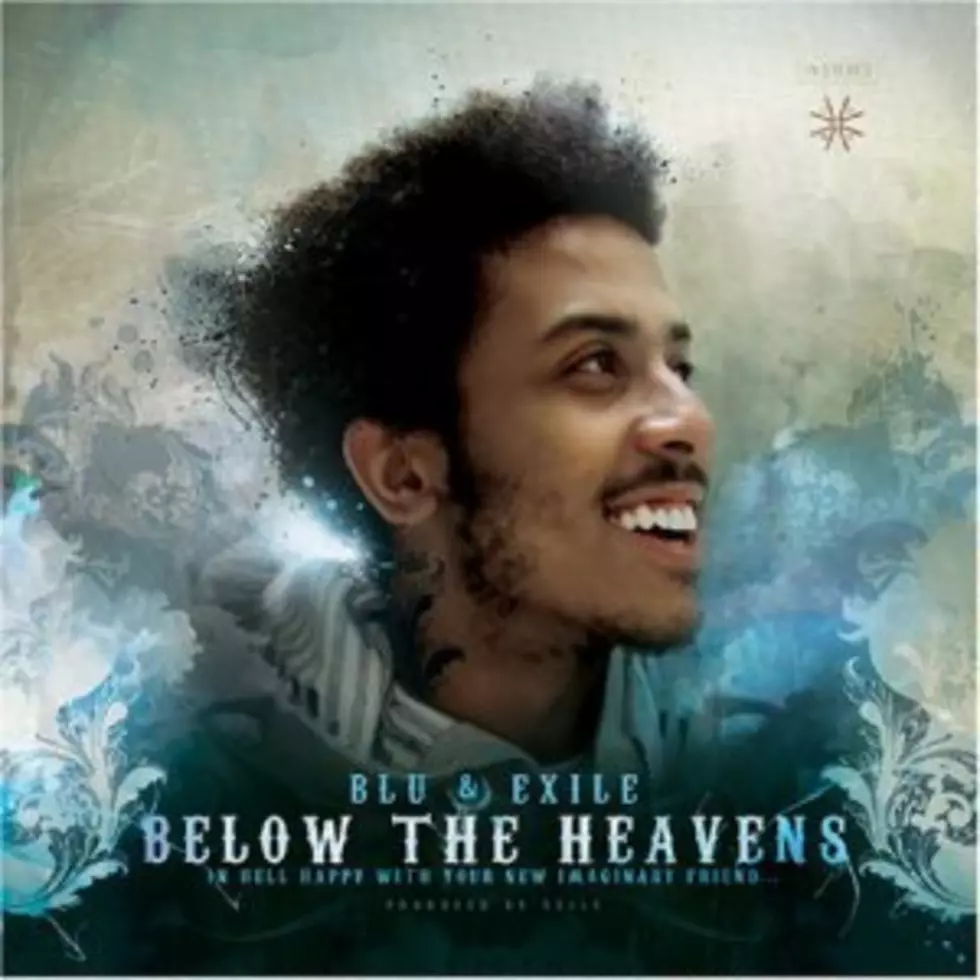 'Below The Heavens' Turned Blu & Exile Into Indie Rap Heroes
Sound in Color
California has definitely been active when it comes to contemporary hip-hop. Kendrick Lamar sits perched atop a throne fit for a rap king, mainstream stars like YG and ScHoolboy Q represent for the bangers, rising stars like KYLE, Kamaiyah, and Anderson .Paak continue to build the foundation of their promising careers. Cali is fertile with quality rap music. The west coast may be booming in 2017, but a decade ago, that was far from the case, with Cali looking for another upstart to follow in the footsteps of The Game and help boost the state's profile while it struggled to gain the visibility it had enjoyed throughout the 1990s. L.A. native Blu was touted as a savior, with the lyrical chops and artistry that countered The Game's gruff brand of aggression, and potential to become a west coast emcee who would take the music industry by storm.
Blu teamed with producer Exile in 2007 for Below the Heavens, an album that would garner favorable comparisons to legendary acts like Gang Starr, Pete Rock & CL Smooth, and Reflection Eternal, other duos that crashed the game with music that catered to rap purists and beat junkies alike. However, long before he came to prominence, Blu's main musical influences came from outside of rap, with the rapper admittedly not discovering his love affair for beats rhymes and life until his teenage years. "I was listening to Al Green a lot, Aretha Franklin, and, like Fred Hammond Jr or something. I got into those before I got into hip hop," the rapper shared during a 2008 sit-down with Red Bull Music Academy.
Gravitating to rap albums from artists like DMX (It's Dark And Hell Is Hot), Common (One Day It Will All Make Sense), and Planet Asia (Planet Asia), Blu participated in ciphers as a student in high school; but he wouldn't fully delve into exploring his own rap aspirations until an ankle injury derailed his hoop dreams. He would drop out of school and continue to pursue rapping while working a number of odd jobs. However, his rhyme skills would quickly earn Blu a reputation of one of the more formidable rappers in the Cali underground, performing at staples like the Knitting Factory, House of Blues, and The Rumba Room while recording with various crews from the local scene. That buzz soon led to the young rapper being offered record deals by the likes of Suge Knight's Death Row Records and producer Megahertz' boutique label, but in the end, Blu would decide to spurn both and release his first solo album, California Soul, on independent label RRAG, while increasing his volume of collaborations with local talent. One guest appearance, alongside rap group Science Project, led to Blu being introduced to singer Aloe Blacc, with the two quickly striking up a rapport, with the latter suggesting that Blu collaborate with Exile, DJ/producer of Blacc's group Emanom, and the boards man that would help establish him outside of the confines of southern Cali.
Initially meeting after one of Blu's performances, what was initially meant to be a standard collaboration, with Blu appearing on Exile's 2006 compilation, Dirty Science, soon turned into something more. The chemistry between him and Exile clearly evident after the recording of "Party of Five," the first song the two ever crafted as a unit, the pair agreed to work on a full-length project together, setting in motion the making of an album that would have a considerable impact and thrust both into the upper echelon of indie rap acts from the left coast. Inking a record deal with Sound in Color Records, where Exile was already established, Blu, who was also working on the side-projects The Piece Talks (as part of C.R.A.C., alongside producer T'Raach) and Johnson & Johnson (alongside producer Mainframe), began cultivating Below the Heavens. As for the title of this joint project, Blu found inspiration while looking back to his formative years as a rhyme specialist, settling on Below the Heavens, a title that spoke to his anti-establishment sensibilities, but quickly took on a more spiritual meaning. "In high school I was on some "Fuck mainstream" shit when I came up with the title, so I was like "Below The Heavens", for all the underground heads," Blu recalled during a 2008 interview. "But as I started working on this record, the title fit due to the album just being day to day life on Earth, striving against something, whether it was the mainstream, or whatever people thought heaven is. It was striving towards a better place, day to day. I just felt like that fit the album that me and Exile were working on."
Recorded and completed in 2006, Below the Heavens would initially spring a leak that same year, an incident that appeared to be a disaster at face value, but would prove to be a blessing in disguise, as the music gradually reached the ears of tastemakers, who took notice of the rising duo. Creating a considerable amount of fanfare among boom-bap enthusiasts and champions of grassroots indie hip-hop, upon its official release, on July 17, 2007, Below the Heavens would be highlighted by popular social media sit MySpace, posting the album cover on its homepage, and hailed by fans and critics as a refreshing breath of fresh air of west coast rap. "For us, it was when independent music on the internet really cracked off through MySpace," Blu said in a 2009 interview of when him and Exile's buzz reached a crescendo. "So it helped us, just in the nick of time." Although a major conduit connecting Blu and Exile directly with their fans, it took Blu time to adjust to access his followers on MySpace had in terms of reaching out to him, but quickly got a hang of the formula and on board with the benefits that interactions on social media could bring. "I was denying people I didn't know. "Who was that? Who was that?" So the record company was: "Yo man, how are you gonna sell a record if you keep doing that?"
When all was said and done, Below the Heavens would fail to yield Blu & Exile any plaques from the RIAA or turn them into superstars, however, it did transform them from regional favorites into lords of the underground and one of the more respected rapper/producer combos to emerge during the latter half of the aughts. "The Narrow Path," one of the initial offerings from Below the Heavens, captures the listeners attention with its urgent, percussion driven beat, with jittery drums and crashing cymbals complimenting Blu's onslaught of couplets. "Picture me sitting in front of eighty-eight keys trying to escape/From a shady place where babies blaze trees on a daily day," he muses, painting a bleak picture of life in the California streets, where stagnation can become engulfing and inescapable if you tread to close the ledge. On "So(ul) Amazin' (Steel Blazin')," derived from another Blu & Exile collaboration "Soul Provider," Exile employs a sample of Common's "The 6th Sense (Something You Feel), an airy number over which Blu struts leisurely. Boasting "the new Pete and C.L. was Exile and B-L," a proclamation that would sound blasphemous coming from most new jacks, but doesn't omit much of an uproar, as Below the Heavens falls right in the mold of the sonic blueprint set by classics like Mecca & The Soul Brother and The Main Ingredient.
Speaking of Pete Rock & C.L. Smooth, a sample of the duo's classic 1992 single "They Reminisce Over You (T.R.O.Y.)" gets lifted on "In Remembrance of Me," a take on the process that is coming of age and taking his first steps into adulthood and becoming a man, which also includes wrinkles of "One Love" by Nas. Rhyming "My first fuck was that year and still I don't call her/My own father brought me to her house that weekend/He was cheating so I lost my big V while he was beatin," Blu also touches on his complex relationship with his father, who is a recurring character that's mentioned throughout Below the Heavens, and one of the few members of Blu's immediate family that he gives real estate within his lyrics. Many of the selections on Blu's debut feature sublime backdrops, but one of the more lively offerings on Below the Heavens arrives with "Blu Collar Worker," which finds Blu attempting to balance his love life with being an overworked, yet unsung indie artists trudging along the road to prosperity. Exile, who works magic with samples of "When Sunny Gets Blue" by Johnny Mathis, and "Quicksand" by Martha Reeves and The Vandellas" on "Blu Collar Worker," shines throughout the album, serving up an array of soundscapes that fit Blu's velvet flow snugly, the backdrop "Dancing in the Rain" being one of them. Finding solace in the midst of sorrow with a rain dance, Blu laments his air of despair, lamenting "Feel like I'm finna shoot my own dome with chrome to escape/Zonin' out 'cause work ain't working out, ain't worth what I make" on a premier composition from the pair's inaugural long player.
Blu & Exile mesh together seamlessly throughout the fourteen tracks on Below the Heavens, but reach a peak with "No Greater Love," a dusty number that chops up Smokey Robinson's 1972 cut "Theme From Love Story" and catches Blu waxing poetic about the wonders of romantic relationships and the joy that family brings. Despite controlling the reigns for much of the album's content, the collaborations and costars that Blu appears alongside may have been relatively unknown to the general public, but would go on to become stars in their own right, adding to Below the Heavens' legacy. Aside from Ta'Raach, who appears on "Juicen' Dranks," and Joseph, who contributes a verse to "Show Me The Good Life, a ditty on which Blu touches on the anxiety of fatherhood on "Show Me The Good Life," the only other contributors are soulful crooner Aloe Blacc and r&b superstar Miguel, both of whom had yet to reach their apex and transcend their indie roots to become two of the biggest stars in all of music. Miguel, "who adds his flavor to the lady-friendly tune "First Things First," also appears on "Cold Hearted," a sobering number on which Blu bares deep scars, with the lyrics "And pain comes and it goes/But my wounds shows the room where my pops beat my moms/Moms screamin' for help, myself hot as the sun/Cold hearted and young."
The outset of Below the Heavens consists of a stream of poignancy and introspection via "The World Is... (Below the Heavens)," one of the final selections on the album dense with insight and perspective on spirituality, equating reality as hell while urging us to create our own sense of heaven on earth. Concluding "So you can call it hell but brah.../I can say I'm below the heavens," Blu closes out the proceedings amongst glorious horns and glorious vocals guest vocals courtesy of Miguel, rounding out the proceedings and closing out Below the Heavens in effective fashion.
Regarded as one of the superior albums of 2007, Below the Heavens would be subjected to numerous accolades, with respected outlets and publications touting it as the breakout indie rap projects to drop that year, and exposing Blu as one of the more buzzworthy newcomers out of the pack of the new generation of online favorites. With an attention to detail, observation, and streetwise parable injected with a healthy dose of intellect, the possibility of being to the west coast what talents like Nas and Mos Def were to New York City was not too far-fetched, with XXL going as far as making him a member of the magazine's inaugural Freshman cover, dubbing him one of rap's leaders of the new school. The buzz and projections of greatness would land Blu a record deal with Warner Bros. Records in 2009, announcing his major label debut, No York, that sane year, however, due to label red-tape, the album would be delayed, impeding any aspirations of mainstream stardom, leading him to toil away with one-off releases and collaborative projects until finally extricating himself from the label in 2012
Although Blu would not become the bonafide mainstream star, his standing as one of the most gifted rap artists to emerge from the west coast has not been forgotten and is still recognized to this day, much of it off of the strength of Below the Heavens, one of the definitive albums to impact the independent rap scene of the last decade and a classic body of work.
Watch Blu & Exile's Video for "So(ul) Amazing":
Watch Blu & Exile's Video for "Blu Collar Workers": 
50 Greatest West Coast Hip-Hop Artists of All Time