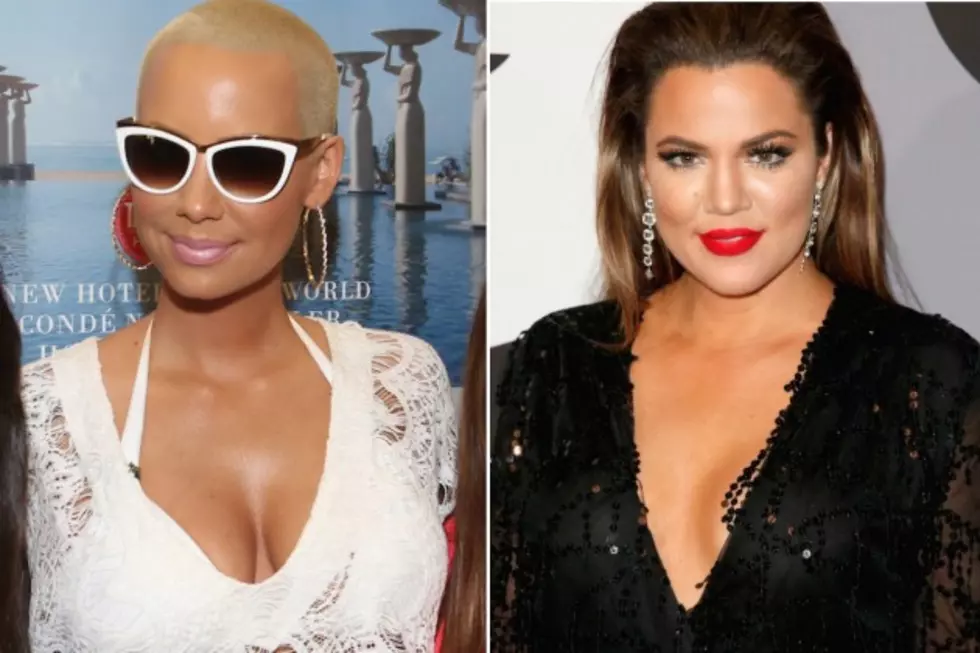 Amber Rose and Khloe Kardashian Engage in Twitter Feud
Alison Buck / Joe Scarnici, Getty Images
Amber Rose is famous for showing off her curvaceous body on social media, but recently she found herself in a Twitter beef with Khloe Kardashian on Monday (Feb. 16).
Is a strange twist, Khloe is the sister of Kim Kardashian who is the wife of Kanye West whom Rose very publicly dated. Talk about six degrees of separation.
Apparently, when the blonde-haired beauty appeared on Power 105.1's "The Breakfast Club," she was asked about Tyga and Kylie Jenner's relationship. Side note: Kylie is Khloe's half-sister.
Rose threw a little shade and said that Tyga should be ashamed of himself for dating a 17-year-old girl.
"She's a baby, she needs to go to bed at 7 o'clock and relax," she said. "That's ridiculous. He [Tyga] should be ashamed of himself. That's how I feel. For sure. He has a beautiful woman and a baby and left that for a 16-year-old who just turned 17."
This didn't sit well with Khloe who lashed out at Rose for poking her nose in their business. The 30-year-old reality-TV star went on Twitter and tweeted about Rose being a stripper when she was 15 years old.
"Please don't worry about my sister who has a career & her shit together at ONLY 17 people who live in glass houses shouldn't throw stones," she wrote.
Khloe then added that reporters often ask her about other celebrities and she makes it a point to not comment about them. She then tweeted that Rose doesn't know any of the family members and should keep quiet.
"3 sides to EVERY story. His, hers and the truth. I'm not passing judgment but I wish others would do the same until they have FACTS," she tweeted.
Rose clapped back with a couple of tweets but she left two photos with some biting commentary. One pic features her ex-boyfriend West and the statement, "When Ur Sister in Law Calls Out Ur Ex for Being a Stripper...But Ur Wife Has a Sex Tape."
Ouch! It looks like Rose threw Khloe and Kim under the bus.
Finally, Rose went on Instagram and shared a creative illustration of Kanye warning the Kardashian women, "She's From South Philly, Y'all Might Not Want This Problem."
Clearly, Rose is insinuating that she can and will deliver the fade if need be on any Kardashian who wants it.
Check out Amber Rose and Khole Kardashian's Twitter Feud below:
UPDATE: Khloe responds to Rose.
What's Beef? 10 Hip-Hop Twitter Feuds