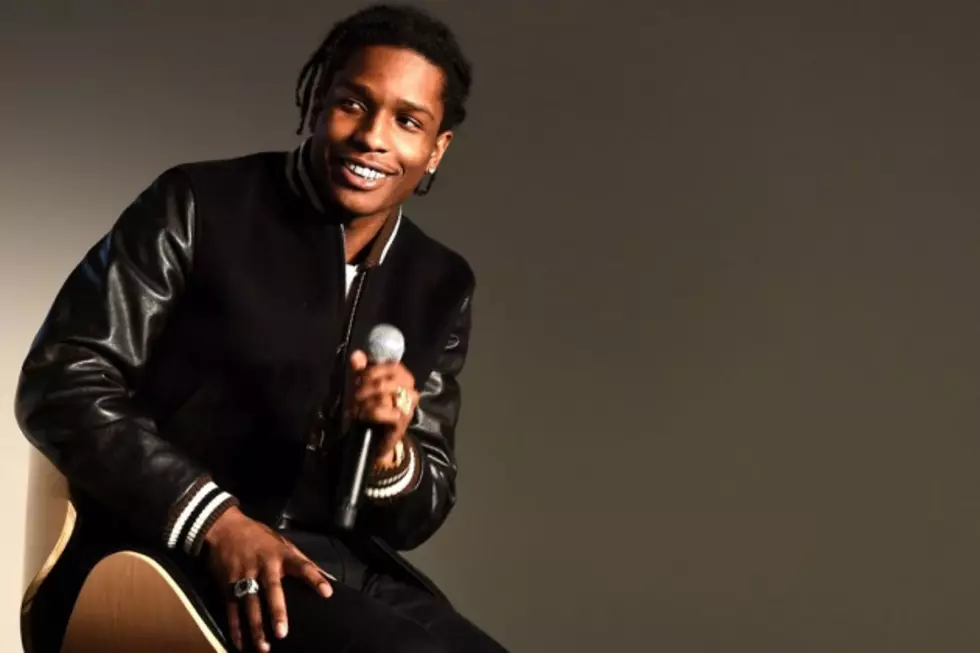 10 A$AP Rocky Songs That Made You a Fan
Ilya S. Savenok, Getty Images
When you think of Harlem, N.Y., the first thing that comes to mind is style. And being stylish is one of the most indelible traits that its native son, A$AP Rocky, possesses. The latest in a lineage of flashy rappers from the uptown section of Manhattan that have captivated the rap world, the lanky braided-up artist is kind of a big deal. Rocky quickly moved from aspiring rapper to one of the brightest young stars in hip-hop in what seemed like the blink of an eye. He has done what many hopefuls from the five boroughs have tried to achieve -- but fell short of -- and that is mainstream recognition, which Rocky definitely has plenty of.
While some may knock his Houston-influenced rap sensibilities, call him a swagger jacker and criticize him for being in stark contrast to New York MCs of old, Rocky makes some pretty damn good music. When he released his "Purple Swag" video in 2011, he got a few blog mavens and tastemakers chattering, but it wasn't until his debut mixtape, Live. Love. A$AP was released that same year to much fanfare that he really became a part of the rap conversation.
The tape was considered one of the hottest of the year and played a large part in the self-proclaimed "Fashion Killa" securing a multi-million record deal with RCA Records, which culminated in his major label debut, Long. Live. A$AP. The album was a success, spawning numerous hit singles and serving as evidence that his hype was well deserved. The A$AP Mob was flourishing.
Two years removed from his first LP, Rocky is looking to avoid the sophomore jinx with his upcoming release, A.L.L.A., and solidify his standing as a superstar. But before witnessing the next step in his evolution, we take a look back at 10 A$AP Rocky Songs That Made You a Fan.
10

"Ugh, god damn, how real is this?" Rocky asks on the intro to his Live. Love. A$AP mixtape while ushering in the era that is A$AP in 2011. Produced by Clams Casino, the beat immediately hits you in the chest with its booming drums and is ominous in sound, making for an epic soundbed for Rocky to formally introduce himself. "Don't remember me as a wannabe New Orleans n---- slash lean-sipping Tennessee n----, nah / Influenced by Houston, hear it in my music / A trill n---- to the truest, show you how to do this," he rhymes. Rocky sets his mission statement as he enters the door and lets you know exactly what he's about. Not to mention that it's one of the more memorable intros to on a debut mixtape in recent years, which guarantees it a spot on this list.

9

This song, produced by Soufien3000, is a trippy selection, which finds Rocky rapping about being under the influence of purple drank between chants of "get lit," which serve as the de facto hook. "I get so high, I touch the sky 'til I can't even function / I get so high, I f--- around and wanna leave the function," Rocky spits on this effort off the Live. Love. A$AP mixtape. While featuring minimal rapping and far from the best that he has to offer, "Get Lit" embodies a large part of his H-Town influenced lifestyle and the perfect track to listen to while getting wasted.

8

A$AP Rocky teamed up with Memphis veteran Juicy J on "Multiply," a song set to appear on his forthcoming sophomore album, A.L.L.A. Produced by Curtis Heron, the track features Rocky throwing the gauntlet down and addressing his foes. The A$AP Mob leader is at his braggadocious best. "I ain't really f---in' wit that Been Trill / Swear them n----s booty like 'Tip Drill' / Nah, I ain't really into throwing shots / But these motherf---ers better give me my props, word to Pac," he rhymes, airing out his grievances with little regard for keeping the peace and holding court all over the track. The video for the effort is also one of the last times we see A$AP Yams before his untimely passing. R.I.P.

7

"Brand New Guy"

Feat. Schoolboy Q

Despite being from opposite sides of the country, A$AP Rocky and California native Schoolboy Q have developed a rapport that has resulted in a number of collaborations, the first of which was the Live. Love. A$AP banger, "Brand New Guy." Produced by Lyle, Rocky sets it off, spitting, "I'm camo'd down to my boxers, gold teeth, a Bathing Ape / It's animals in my project, like monkeys, orangutans" before Q takes over on the second verse and spazzes with lines like "Put him in the ground, he was down to earth / An act-up n----, I been down since birth / Backpack full of random work, with two bad hoes, I'll teach you how to jerk" and touts himself as a mix of Biggie, Nas and 50 Cent. Pretty Flacko and Schoolboy Q have an undeniable chemistry and kick verses back and forth with ease. This track expanded both artists' fan base and makes for a pretty dope selection.

6

"Wild for the Night"

Feat. Skrillex & Birdy Nam Nam

Hip-hop meets EDM when A$AP Rocky linked up with Skrillex for this amped-up cut off his 2013 debut album, Long. Live. A$AP. "Wild for the Night" is a departure from the rapper's usually hazy sound and features more synthesizers compared to all of the songs in his catalog. But that sure didn't faze Rocky, as he sped up the flow a notch and tackled the beat with finesse, making for an unlikely hit record. "Wild for the night f--- being polite," couldn't be any truer words to describe an evening with the Mob.

5

Many fans may have discovered A$AP Rocky via more popular songs in his catalog, but "Purple Swag" was the original record to put the spotlight on him. Produced by A$AP Ty Beats, the track begins with a "screwed" vocal sample describing just what's in store: "This is for my n----s getting high on the regular / This is for my bitches getting high on the regular." While the song itself is definitely worthy of praise, the real draw was the accompanying video, which featured a Caucasian woman wearing a gold grill in provocative fashion as well as appearances from the late A$AP Yams and other members of A$AP Mob.

4

Rocky gives the listeners a dose of slick talk on the brooding Live. Love. A$AP cut, "Wassup." The sparse track, produced by Clams Casino, is perfect for the A$AP Mob general to stunt on and reiterate where he's from and what he's about. "I ain't talking 'bout no money, I ain't talking 'bout no cars / Talking 'bout no diamonds 'cause that s--- is a facade / Times is really hard, I f---ed a couple broads / Smoked some purple out the jars, let me tell you who we are," he delivers on the mellow groove. Rocky is in his zone on this selection and adds another heater to his growing list of fan favorites.

3

When it came time for A$AP Rocky to release his debut album, Long. Live. A$AP, fans and critics were curious as to what the lead single would sound like, let alone the whole album. Well, that question was answered when "Goldie" arrived in 2012. The Hit-Boy-produced track was far from a breakout hit, but was yet another stepping stone in cementing Rocky's brand in the mainstream and is still sure to rock a party with its addictive soundbed. "You could call me Billy Gates, got a crib in every state /
Man on the moon, got a condo out in space / Open up your legs, tell me how it taste / And them n----s talkin' s--- so tell 'em, 'Tell it to my face,'" he rhymes.

2

"F---in' Problems"

Feat. Drake, 2 Chainz & Kendrick Lamar

A$AP Rocky called in a few of his peers to collaborate on his Long. Live. A$AP track, "F---in' Problems," and walked away with the most recognizable track of his career thus far, moving him into the spotlight as an artist that can craft a record with mass appeal. 2 Chainz, Drake and Kendrick Lamar assist Pretty Flacko here, with each delivering rewind-worthy bars. Deuce carries the hook, Drizzy gives a nod to Nelly, Kendrick knows your girl wants the D and Rocky ends up delivering the perfect club banger. The rapper has more than just those smoked-out anthems up his sleeve after all.

1

His name may have been bubbling on the internet and in his uptown New York stomping grounds prior to "Peso," but after its release, Rocky quickly rose from a promising upstart to a hip-hop star, seemingly overnight. Produced by A$AP Mob's in-house producer Ty Beats, the track gained traction on New York City radio and played a huge part in creating the bidding war that would ultimately net Rocky a multi-million dollar recording contract with RCA Records. "I be that pretty mothaf---er, Harlem's what I'm repping / Tell my n----s quit the bitchin' and we gon' make it in a second / Never disrespect it, plus I'm well-connected / Wit' this coke that I imported, just important as ya president," he raps, continuing to name-drop designer brands and give idle threats alike with the calm of a smooth criminal.