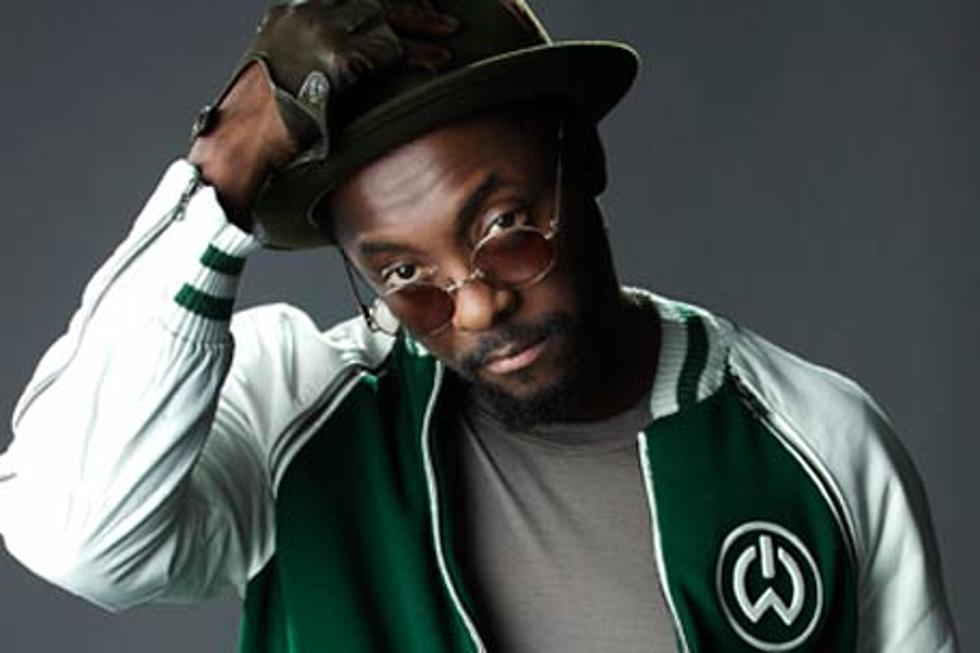 Will.i.am Reveals Guests on '#willpower' Album, Teams With Eva Simons, Mick Jagger
Interscope
There's little need to hype up a will.i.am interview. He is what we call in this music journalism biz a quote monster. The outspoken leader of pop behemoth Black Eyed Peas is gearing up for the release of his fourth solo studio album, #willpower. But really, you get the feeling that the genre-jumping artist and producer would enthusiastically rattle on for days about the glorious power of European music, how hip-hop has lost its way, what's it like breaking bread with rock & roll god Mick Jagger and the future of the Peas. Of course when will.i.am spoke with The BoomBox there was a lot more discussed. And as usual, the music visionary is not one to mince words. Read on as the L.A. native reveals the names of the superstar guests on his forthcoming LP, speaks on his collaborations with Mick Jagger and Eva Simons and breaks down the notion of "hip-hop is dead."
Let's talk about the new project, #willpower. What was your musical frame of mind given that you are not one to stay with one particular style album to album?
I didn't want to force this album. A lot of times an artist can overthink things. You get to the point that you are so wrapped up in your music that you feel like you can just put buffalo knuckle sound effects on a track [laughs]. It's like, "Yo, you seriously making buffalo knuckle noises on a beat and you think that's hot?"
On your latest single "This Is Love" you hooked up with Dutch singer Eva Simons. How did that collaboration come about?
Let me tell you about Eva Simons. She is the next big star. There are a lot of girls that are pretty and that can sing a little bit. And they are usually connected to some powerful dude that gets them a whole bunch of songs that some unknown people did in the bedroom. So the next singer-songwriter are the people that know how to write the songs, sing the songs and come up with their own sound and produce their own stuff. And that's Eva Simons.
Watch will.i.am's "This Is Love" Video Feat. Eva Simons



What surprised you the most about Simons?
She produces her own music! I sent her over the files of a song and she sent it back to me with her own changes. I'm like, "Who did your studio session?" And Eva says, "I did." Her sound is so clean. She's telling me about how she consolidated all her files. We are having conversations about music producing. Now here is a hot girl who has a crazy, cool style and she's her own producer. Get out of here! She just told me what the next star is going to be. She's from Europe. So whenever I switch gears musically or change directions, it's because of the adrenaline and the influence of being around the world and dealing with different people like Eva.
Can you talk about how being in another country helps you prepare for the next wave of music styles?
When you travel you start realizing things like, "Yo, hip-hop is not going to be on the radio like it used to be." I remember when there was Ja Rule and every other single rapper on the radio. You think back to the early 2000s when you had Ja Rule on the radio, 50 Cent on the radio, hip-hop was everywhere. It was the new pop music. But that wasn't the case in 1992. Hip-hop was still looked at differently; it was still feared and rarely [got that mainstream airplay]. Maybe you had an Arrested Development and the Black Sheep's "The Choice Is Yours." You had Ice Cube doing his thing. And you had groups like De La Soul and A Tribe Called Quest pushing hip-hop forward. But you know what radio was playing a lot of back in 1992? C+C Music Factory.
Wow, you're taking it back.
Well, that's what was all over the radio -- that European based dance music like Technotronic's "Pump Up the Jam." That was all over the radio. Meanwhile, hip-hop was still looked at as an alternative, underground movement. Artists reaped the fruits of crossing over in 2002. But a few years later, I was like, "I don't know what's going to come of this." That's why I did "Hip-Hop Is Dead" with Nas. Listening to Nas makes me miss groups like the Poor Righteous Teachers and Brand Nubian. What happened to groups like Public Enemy? What happened to artists using hip-hop as an educational tool? What happened to that hip-hop?
We know what Nas was getting at. But did you really think hip-hop was dead?
I didn't mean the genre of hip-hop was dead. Because it will always be alive. I was talking about it from a business standpoint. I don't see a lot of artists raking it in from radio and sales off hip-hop. People were mistaking what hip-hop was as opposed to what it had become commercially. From that point, I knew electronic music was going to be a better vehicle. That's why I switched gears. Black Eyed Peas is doing dance music. And not just doing dance music from America or someone's interpretation of European dance music. I'm going to collaborate with European dance producers. So it was bold for me to work with a David Guetta.
What was it about Guetta that made you say, "This guy has talent"?
He is a producer. People were asking me, "Why are you featuring a DJ that doesn't scratch?" Because that's what you think of when you think of a DJ in our hip-hop culture. You think of DJ Jazzy Jeff or Cash Money Marvelous. But now there is a new breed of DJ out today. They now actual produce and perform. Now Guetta is one of the biggest artists on the planet.
Can you describe the reality of having a legendary figure like Mick Jagger on one of your singles, "T.H.E. (The Hardest Ever)"?
Man, that's Mick Jagger. A lot of times you tell someone, "I want to do a song with such and such." And the manager tries to track that artist down to figure out some swap. But I actually called Mick on the phone and he was like, "Come down. I want to hear the song." We chilled for a night and Mick said he would come to the studio the next day. He came and Jimmy Iovine was like, 'Wow, I've never worked with Mick Jagger before." Jimmy was like, "When I was younger I wanted to be Mick Jagger. What A Tribe Called Quest is to you, that was Mick for me." We are talking about someone who has produced everyone and their mom from John Lennon to Bruce Springsteen. So I asked Jimmy, "Why don't you produce Mick's vocals?" When was the last time Jimmy produced? I was like, "Let me bring you out of retirement."
How has technology changed your approach to songwriting?
Technology is so big right now. It's that advanced, man. You can set your own studio up with a microphone that you bought from Best Buy. You can record your vocals onto your laptop and put a little compression on it because everybody is listening to music now on their phones and computers. Nobody listens to music on big systems anymore like back in the Thriller days.
Can you talk about some of the other collaborations on the #willpower?
I worked with LMFAO. I got songs with Chris Brown, Ne-Yo, Britney Spears and a few other people.
Will the Black Eyed Peas be on the album?
No, because then it would be a Black Eyed Peas album [laughs].
Will we be hearing another Peas album in the future? There continues to be rumors of Fergie leaving the group.
Of course. Black Eyed Peas ain't going nowhere. We are too close a family to break-up.


Check Out 10 Rising Rappers in Honor of Black Music Month