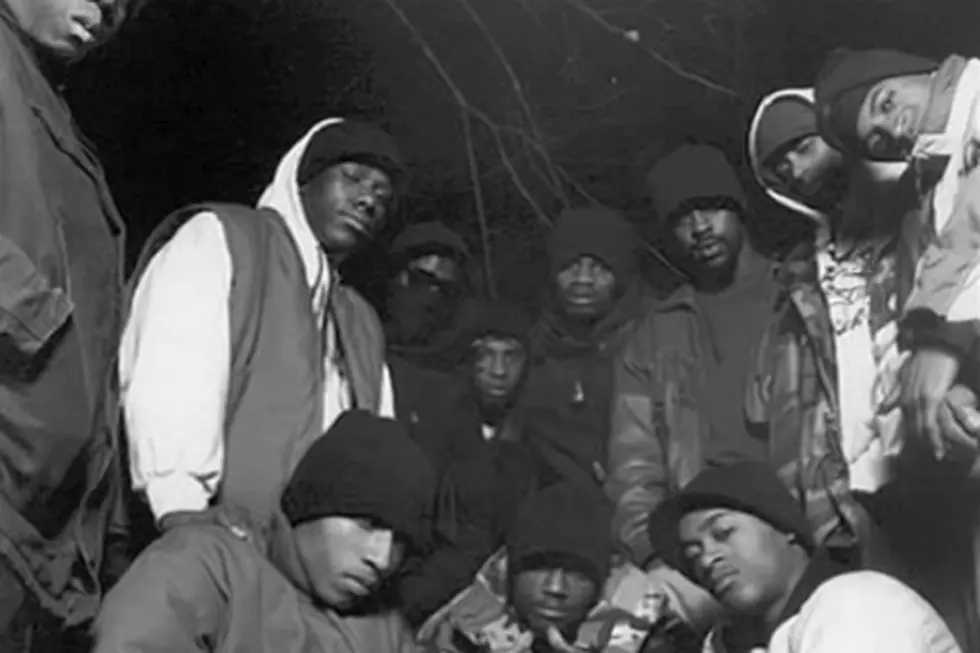 20 Videos That Show Why We Love The Boot Camp Clik
Duck Down Music YouTube Channel
The Notorious B.I.G, Nas, the Wu-Tang Clan and Jay-Z. Obviously, '90s New York hip-hop wouldn't be what it is today if those legendary acts never existed.
But before Biggie talked about his rough childhood on "Juicy" and before Wu brought the ruckus, there was a crew from Brooklyn that changed the New York rap scene forever — an eight-man rhyming collective called The Boot Camp Clik.
Although there were others included in the unit, the leading members were Black Moon's Buckshot —   the leader — Tek and Steele from the group Smif-N-Wesson, Rock and the late, great Sean Price of Heltah Skeltah, and OGC's Starang Wondah, Louieville Sluggah and Top Dog.
With a perfect mixture of hardcore street rhymes and underground lyricism, the respective BCC groups didn't only churn out classic albums like Enta Da Stage, Da Shinin', and Nocturnal; they helped establish the crew approach within the music industry that's still being followed today.
Additionally, Buckshot was ahead of his time when it came to taking hold of the BCC members' careers. In the early '90s, he linked with former Nervous Records employee Drew "Dru-Ha" Friedman, and they established Duck Down Management, then later Duck Down Records.
And the production team Da Beatminerz can't be left out either, for the way they influenced the entire musical landscape in New York City at the time.
Even Tupac Shakur, in the throws his beef with Biggie, wanted to work with BCC. In 1996, before the "Hail Mary" rapper was killed, he and the Brooklyn crew were working on a joint album called "One Nation,"  which was supposed to ease some of the tension between  East and West Coast rappers. Sadly, it was never released due to Pac's death.
Of course, BCC would suffer their biggest tragedy as a crew of friends when Sean Price passed away in 2015 at age 43, which the hip-hop community is still reeling from.
Today, with the help of music videos, we celebrate the Boot Camp Clik for their innovation in music and business, their phenomenal rapping ability, and for just making a huge, permanent mark on the game.
And here's 20 other reasons we love them:
1

Because Buckshot Always Let Others in the Clik Shine

Buck gave us a peek at what he and his crew had in store with the "Who Got Da Props" single and video: Gritty, no-frills hip-hop that contained witty lyricism.

Plus, it was evident early on that Buck wanted to share the spotlight and not just keep it for himself, which is why there are so many other people in the video with him.

2

Because BCC Was Able To Mix the Gritty With the Comedic

Not every rap crew could be funny at times and still come off as real street dudes not to be played with, but the Boot Camp Clik pulled if off lovely — especially in their 1996 "Leflaur Leflah Eshkoshka" video. The single itself is the biggest of BCC's career so far.

In regards to the video, it shows how much chemistry these guys had, and it's easy to tell they were close friends, not just a music group.

3

Because Their Videos Have Inventive Concepts

For this one, Sean P, aka Ruck, and his Heltah Skeltah partner Rock, are dressed in Native American attire and spit their rhymes in tents and around campfires.

There are tribal-like dances, carvings in a cave, then all of a sudden at the end, the Native American clothing vanishes and they're back in their street clothes.

Sure, Rock and Ruck just could've made a video where they spit rhymes in front of a bodega, but they're way more creative than that.

4

Because the Quality of Their Videos Match the Quality of Their Songs

This video has it all. The horror movie imagery, the dope back-and-forth rhyme display, and the story of the characters Mr. Rippa and Mr. Vicksta.

A lot of times in music videos, the song outshines the visuals or vice versa, but Smif-N-Wessun and the rest of the Boot Camp Clik made sure the quality of both were equal.

5

Because They Incoperated a Dope Military Theme In Their Work

There's something magnificent about seeing a tight-knit, seemingly disciplined hip-hop crew marching down the streets in army fatigues. That's what the video to the remix of Black Moon's "Buck Em Down" looks like.

Buck is at the helm in the clip dressed as the general, leading his Boot Camp troops into battle. Then there's that memorable boat scene where he's at the bow looking every bit in command.

The video doesn't look incredibly high budget, but you couldn't tell based on how creative it is.

6

Because They Could Step Outside of the Box and Still Be Relatable

Whether they were sporting war paint or army fatigues, Boot Camp members were never afraid to shed the Timbs and hoodies for outfits that would go with the concept of their videos.

The visuals for OGC's "No Fear" are a perfect example because all three members stay true to the fisherman's theme by sporting the appropriate outfits and spitting in front of a lighthouse.

7

Because Black Moon Was One of the First To Drop Videos For Remixes

At the time, there weren't a lot of folks dropping videos for all of their remixes, which is another way BCC changed the game.

And the remix didn't involve the track, because Buck switched up his lyrics too.

In this particular cut, he let us know that he would no longer be referred to as "Shorty," just Buckshot.

"It's the G-O-D, Buck to the shot / Steele to the Tek, then Ruck to the Rock / So forget the past, no more Shorty / Strictly Buckshot, I rock you one down to forty, below," he spits in the third verse.

8

Because the Members of Each Group Have Amazing Chemistry Between Them

A jet black room and a silver mic.

That's all Tek and Steele needed for their classic video "Let's Get it On."

Although the camera leaves the jet black room and follows the group through the Brooklyn streets, the highlights are just the two of them going back and forth.

9

Ever since we heard Sean Price on Smif-N-Wesson's Dah Shinin, it was hard to deny that he was a musical force.

So now sit back, watch, listen and enjoy.

R.I.P. Sean P.

10

Because They Stayed Dope and Also Stayed Together Throughout The Years

How many clans, posses, crews, and clicks have come and gone throughout the years because they couldn't get along, lost interest in rhyming, or couldn't spit anymore? Not Boot Camp.

For the most part, they remained an active unit through the ups, downs, and changes in the music industry. Plus, there was never a story of a big falling out between them.

On top of that, BCC remained incredibly skillful, as this "Trading Place" video displays.

11

Because Members Still Shine When Working Outside of the Clik

Surely, Special Ed and Masta Ace held down their parts of "Crooklyn Dodgers," the title song for Spike Lee's 1994 film Crooklyn but arguably, Buck shined the most.

In the video for the song, which was produced by A Tribe Called Quest's Q-Tip, Spike pulled together footage from the movie, as Buck, Ace and Ed wandered Brooklyn.

"Heads from state to state, travel as I unravel the rate / Howard, Tapscott and Sutter / I remember way back in the days playing Hot Peas and Butter," spit Buck.

12

Because Their Extended Crew is Solid Too

Whether it was the Representativz, Raz Fresco, or Ruste Juxx, Duck Down always recruited talented spitters.

.

13

Because They Rep Their West Indian Roots Beautifully

If you've ever lived in or been to Brooklyn, then you know how rich it is with West Indian culture.

Jamaicans, Trinidadians, Guyanese, Haitians, and other island folk give the borough much of its flavor, both in everyday life and in tasty dishes.

In their songs, videos, and overall presentation, the Boot Camp Clik gave you some that culture and it was beautiful to take in.

14

Because They Never Disappoint When Asked to Rhyme on the Spot

Duck Down posted this clip in 2009, and it shows Heltah Skeltah at a radio station delivering some mind-blowing verses.

Whether in the booth, at a radio station, or in a street cipher, Rock, Sean P and the other BCC members always seemed prepared for lyrical warfare.

15

Because They Command Respect As a Unit and Individually

As many of the members showed throughout the years, in this case, OGC's Starang Wondah, the Boot Camp Clik were a force to be dealt with as a unit or as individuals.

16

Because They Represent Everything We Love About '90s Hip-Hop

You could hear it in their music and see it in their videos; BCC was passionate about hip-hop and the craft of MCing.

Isn't that why you love 90s hip-hop? Because there were so many acts at that time, who were the same way?

17

Because There Wasn't One BCC Member Who Tried to Hog The Spotlight

From the outside looking in, it seemed like all the members of BCC shared the spotlight equally.

Of course, behind the scenes, they could've been arguing over who was going to be the star, but if that was the case, fans didn't know about it.

18

Because They've Always Defended Hip-Hop Culture

The BCC members always criticized those who went away from traditional rap approaches, like being lyrically sharp and having a different style than others.

Of course, the members were experts at tough talk, but they also knew how to get at an MC who wasn't up to par.

19

Because They Are All For One and One For All

It was clear that Boot Camp wanted to roll as a unit from the very beginning, as opposed to Black Moon seeing success, then deciding to put everyone else on.

It's safe to say the first time many people heard of Tek and Steele was when they appeared on the Enta Da Stage cuts "Blac Smif-N-Wessun" and "U Da Man," which also featured a young Havoc from Mobb Deep.

And presumably, the first time you heard Heltah Skeltah and OGC were on the Smif-N-Wessun songs "Sound Bwoy Bureill" and "Wontime."

That's been the BCC way from day one: To pull your comrade up when you get into a higher position.

20

Because They Stuck to Their Guns

"I show you motherf--kers how the indies do it / Duck Down servin' n---as like Wendys do it / While y'all fight over release dates, I'm dropping motherf--kin every month with a new briefcase," spits Buck in the BCC song "Hate All You Want."

Buck and Dru Ha were ahead of their time because when everyone was making demos and camping out at labels to be signed, they started their own company and designed a blueprint for many others to follow.