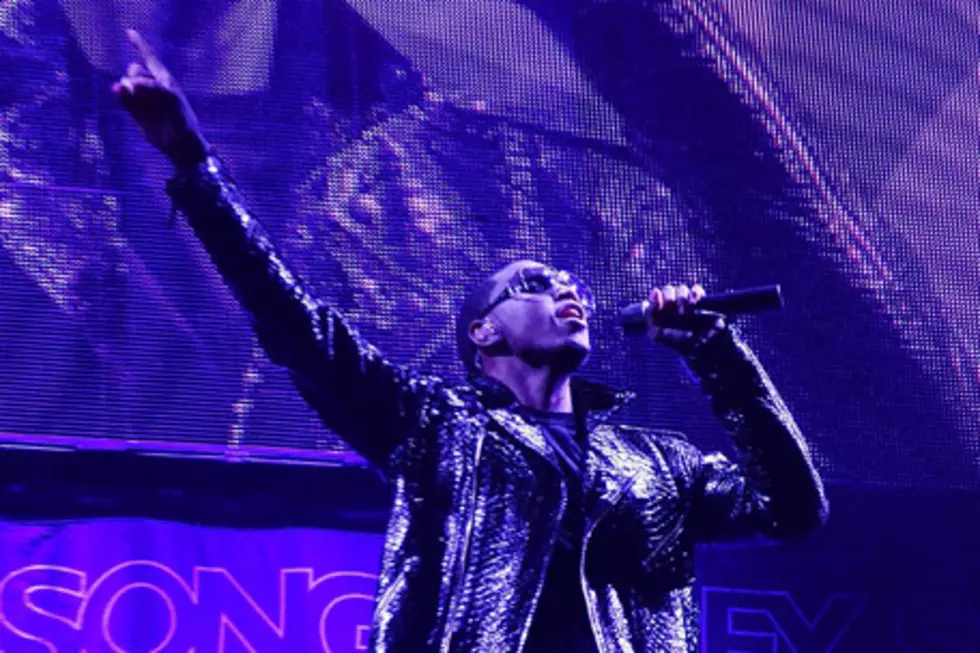 Trey Songz Brings 'Love Faces' Tour to Madison Square Garden
Getty Images
Valentines Day is a mere three days away, but judging from the crowd's response last night (Feb. 11) at New York City's Theater at Madison Square Garden, the 14th had already arrived. Trey Songz romanced the sold-out audience--teeming almost entirely with women--on the first stop of his four-date "Love Faces 2011" tour featuring opening act Lloyd.
Emerging from an elevated stage out of a trapdoor bubbling over with smoke, Trigga Trey kicked off his two-hour set with 'Doorbell,' playing a cat game of call-and-response before removing his shades to inspect the crowd. As the lights dimmed low, the R&B singer strutted across the stage in a white suit accented by a black tie, pausing to address the worked-up patrons filling the venue.
"Valentine's Day came early," whispered Trey, asking permission to remove his shirt as two keyboardists, a guitarist and a drummer vamped behind him. "Can I take this off? You see, y'all can be so many different places on your Friday night. Such a special weekend, and you're here with me so I appreciate that."
The audience lapped it up, roaring as he slowly stripped away pieces of clothing during a cover of Boyz II Men's 'I'll Make Love to You' and exiting the stage while his band filled time with renditions of Aaliyah's 'Rock the Boat' and Destiny's Child's 'Cater 2 U.' Trey reemerged to perform 'Bottoms Up' and 'Say Aah,' bringing out special guest Fabolous to drop a verse and show his hometown audience some love.
The R&B lothario soon slowed the tempo and pandered to the ladies for 'Jupiter Love' and 'Can't Be Friends,' bringing a nervous woman in the crowd on stage to show him his 'Love Faces.' The crowd caught the fever as he peeled off his shirt during 'Neighbors Know My Name,' telling the room, "Valentine's Day, baby. You're supposed to feel extra good."
Opening act Lloyd was greeted with similar fanfare, singing hits in his signature falsetto and looking dapper in a bowtie, untucked dress shirt and a crushed velvet blazer. The Young Money associate performed 'Girls Around the World' and 'Southside' with his backing band State of Emergency, turning up the house lights to catch a glimpse of the females in the house.
"We up here for the ladies tonight," Lloyd said with a smirk, dazzling the girls with 'Player's Prayer' and an inspired cover of Michael Jackson's 'Human Nature.' After retreating from the stage, Lloyd reemerged shirtless and grabbed a seat at the piano to perform 'Angel,' a sultry ballad off his upcoming album 'King of Hearts.'
He added a touch of hip-hop to the set by bringing out Lloyd Banks to collaborate on 'Any Girl,' playing the background as the G-Unit member performed 'Beamer, Benz, or Bentley.' He closed the set with his recent smash 'Let Your Hair Down' and wished everyone a happy Valentine's Day. Mission accomplished.
Watch Trey Songz' Bottoms Up'