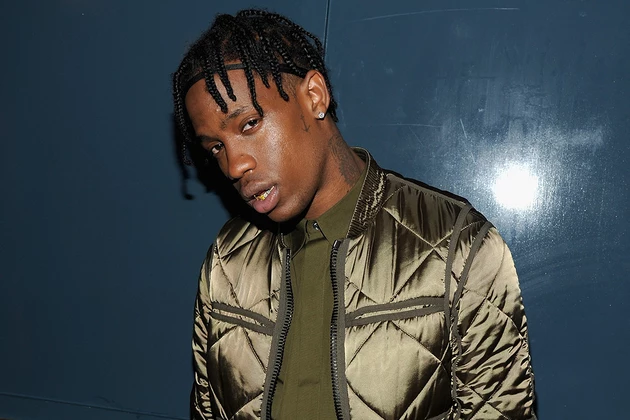 Travi$ Scott Responds to Allegations He's Delaying Rihanna's 'Anti' Album
Bryan Bedder, Getty Images
Travi$ Scott's name has been shrouded in controversy over the past few days and he's finally decided to set the record straight. The rapper-producer is being accused by songwriter Glass John of delaying Rihanna's highly-anticipated album Anti. The "Antidote" rapper responded to the allegations by posting a clip on Snapchat.
Scott posted one of the articles detailing Glass John's accusations and left the caption "Don't believe this s---" with a emoji symbolizing frustration beside it.
John Glass contends that RiRi's album was slated to be released on two different occasions (Nov. 6 and Christmas), but has been pushed back due to Scott's incessant meddling. Glass took to Twitter this past Monday to air out his grievances about the delay of the project.
"I'm fighting to get 'Kiss It Better' to the world...But Travis Scott has been delaying it," tweeted John. "I can no longer be on the low w/ my wife... So now I'm letting it be known. I put that on my life and on God."
Just when you thought things couldn't get more bizarre, Glass John makes the shocking insinuation that he and Rihanna are secretly an item and that Scott is doing everything in his power to delay the album or news of their alleged romance coming to light. "It was suppose to drop on my birthday 11.6th so then me and her could tell the world about us," he wrote. "Then it was supposed to drop on Christmas...but Travis keeps putting doubt in her mind."
While Rihanna herself has yet to respond to the allegations, what we do know is that this whole fiasco has done nothing but increase anticipation for Anti, which will be Rihanna's first full-length release since 2012's Unapologetic.
Hopefully, the album will be released sooner than later and all parties involved, most importantly the fans, will be happy.
Check out the 20 Best R&B Albums of 2015