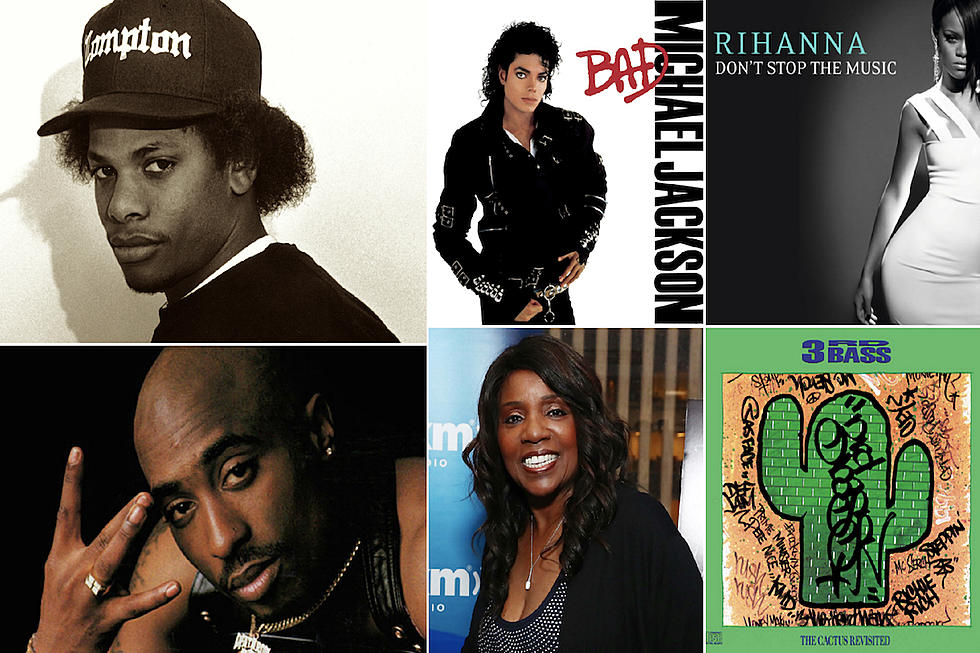 Eazy- E Is Born and 2Pac Gets Shot: Sept. 7 in Hip-Hop History
Hulton Archives, Getty Images / Epic / Def Jam / Death Row Records / Astrid Stawiarz, Getty Images / Def Jam
Today in hip-hop history, we celebrate the life of Eazy-E and discuss the death of Tupac Shakur. In addition, 3rd Bass revisits their classic debut album, Michael Jackson gets "Bad" and Rihanna turns it up for the clubs. Check it all out below.
1987: Michael Jackson Shows Who's Really 'Bad'
On this day, Michael Jackson shook the pop world once again with his single "Bad." Produced by Quincy Jones, the song was Jackson's statement of his royal badness in pop. "And the whole world has to answer right now, just to tell you once again, who's bad," he proclaims on the chorus.
"It's a bold statement to say, but I mean it in all goodwill ... don't take it too seriously," Jackson told Jet in 1987. "It's like a way of saying 'you're cool, you're alright, you're tough.' I'm not saying I'm criminally bad, of course that's how people would take it. It's a bold statement to make."
"Bad" rose to No. 1 on the Billboard Hot 100 singles chart, where it reign for two consecutive weeks. For his hard work, Jackson received three Grammy nominations for the album Bad, including Best Pop Vocal Performance, but lost to Sting's Bring on the Night at the 1988 Grammy Awards.
1990: 3rd Bass Enlists Iconic Producers to Remix Songs on 'The Cactus Revisited'
In 1989, 3rd Bass released their debut effort The Cactus Album, a fantastic project from MC Serch and Pete Nice (along with DJ Richie Rich) who displayed genuine talent and respect for hip-hop culture without being pretentious. Although the rap duo didn't come from the streets, they were authentic in their rhymes and in their B-boy style, an authenticity that was embraced by both rap fans and fellow rappers alike. With the Bomb Squad and Prince Paul providing the beats, The Cactus Album is a classic for its raw lyricism and ingenious sample-based productions.
While fans waited for 3rd Bass to dropped their second album, Def Jam decided to keep the momentum going with a remix record, The Cactus Revisited. The seven-track collection boasts one unreleased song ("The Catcus") and six remixed tunes from iconic producers Marley Marl, Sam Sever, the Stimulated Dummies (Dante Ross, John Gamble and Geeby Dajani) and Prince Paul, among others. Standout tracks include the head-nodding banger "Products of the Environment," the gritty funk of "Steppin' to the A.M." and 3rd Bass' redo of "The Gas Face."
1996: Tupac Shakur Is Fatally Shot in Las Vegas
On this day, amid the East Coast vs. West Coast rap rivalry, Tupac Shakur was fatally shot in Las Vegas after he and Suge Knight attended the Bruce Seldon vs. Mike Tyson boxing match at the MGM Grand. According to the Las Vegas Metropolitan Police Department, an all-white Cadillac with allegedly four Southside Crip gang members (Orlando Anderson, his uncle Duane Keith "Keffe D" Davis, Terrance "Bubble Up" Brown and Deandre "Dre" Smith) pulled up next to the BMW 2Pac was riding in and fired four shots from a Glock 9mm handgun. 2Pac was hit four times: twice in the chest, once in the arm, and once in the thigh. One of the bullets went into the rapper's right lung. Knight was grazed on his head by a bullet fragment.
Despite his injury, Knight was able to drive away until bike patrol stopped their vehicle. Paramedics were eventually called and they rushed 2Pac and Knight to the University Medical Center of Southern Nevada where 2Pac was place on life support in a medically-induced coma.
Prior to the shooting, 2Pac and his entourage were involved in a brawl with Orlando Anderson inside the MGM Grand Hotel. Investigators believe that Anderson, looking for retaliation, spotted 2Pac's vehicle and set the wheels in motion to shoot the rapper. Anderson, however, has denied any involvement in the shooting. In 1997, Anderson told the Los Angeles Times that he was a fan of 2Pac and his music and denied pulling the trigger. A year later, Anderson was killed in a shootout against rival gang members.
The LVMPD insists that the Tupac Shakur homicide case is still an open investigation.
2007: Rihanna Gets the Clubs Bumping With 'Don't Stop the Music'
On this day, the R&B/pop star released "Don't Stop the Music," a bouncy club jam produced by Norwegian production duo StarGate and penned by Tawanna Dabney. The late Michael Jackson also shares a songwriting credit for the sampled chant, "Mama-say, mama-sa, ma-ma-ko-ssa" from his 1983 hit "Wanna Be Startin' Somethin'."
"Don't Stop the Music" became a No. 1 dance hit all over the world including the Billboard Dance/Club Songs chart in the U.S. The song was also certified triple-platinum by the RIAA and has sold over four million copies worldwide.
1949: Gloria Gaynor Is Born
Gloria Gaynor, whose real name is Gloria Fowles, was born on this day in 1949 in Newark, N.J. The iconic soul singer is mostly known for her 1978 disco anthem, "I Will Survive," which sold over 14 million copies worldwide and has been remixed by DJs all over the world. Recently, to celebrate the 40th anniversary of its release, the song was re-issued on vinyl to include the full 12-inch disco versions of both "I Will Survive" and "Substitute" (the original A-side).
---
1956: Diane Warren Is Born
Legendary songwriter Diane Warren was born on this day in Van Nuys, Calif., to parents David and Flora Warren. In her 35-year career, she has won Grammys while delivering hits for TLC, Ginuwine, Aaliyah, Beyoncé, Ciara, Jon B., Brandy, 112, Xscape, Al Green and the late music icons Luther Vandross, Aretha Franklin and Whitney Houston. In 2018, she garnered her ninth Oscar nomination for Best Original Song for co-writing "Stand Up for Something" with Common (featuring Andra Day), which appears in the 2017 film Marshall.
1964: Eazy-E Is Born
Born in Compton, Calif., Eric "Eazy E" Wright was the founder and CEO of Ruthless Records, one of the most influential rap labels on the West Coast in the 1990s. In 1986, Eazy-E decided he wanted to start a record label as a way to get paid. So with the help of his manager, Jerry Heller, he established Ruthless. Eazy then teamed up with World Class Wreckin' Cru members Dr. Dre and DJ Yella, and enlisted local rappers Ice Cube and MC Ren to form N.W.A.
Sadly, on March 16, 1995, Eazy-E was diagnosed with HIV and died on March 26, 1995.