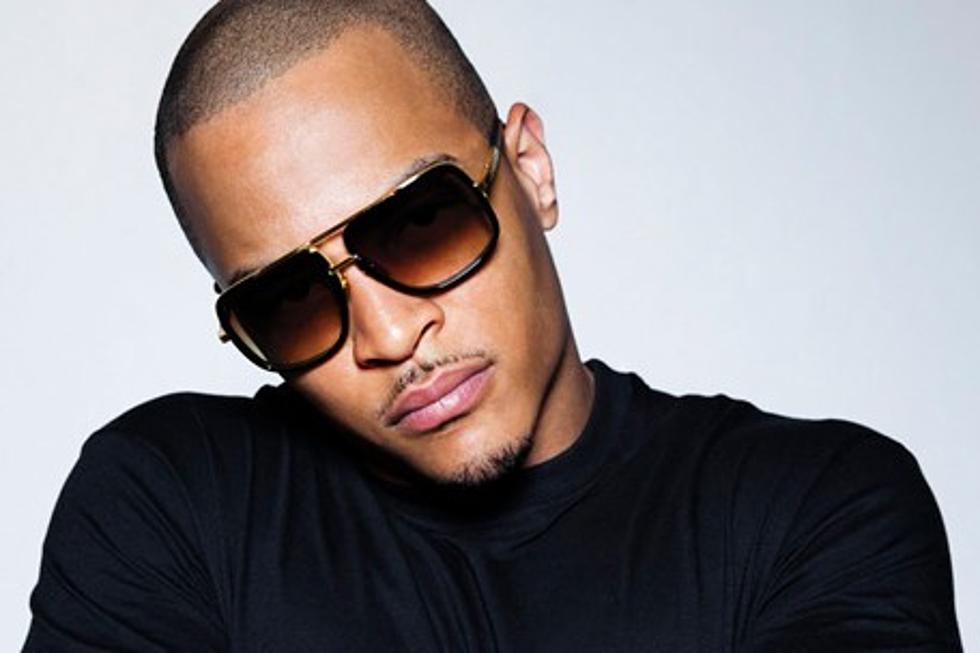 T.I., 'Trouble & Triumph' Book: Rapper Shares Challenges, David Ritz's Skills
Atlantic Records
"I've always been the young guy who was groomed by the older guy," T.I. tells The BoomBox of the similar characteristics he shares with Power, a character in his new book, Trouble & Triumph. "And I always found myself developing a lot quicker than they expected me to, mentally at least."
The rapper-turned-author's novel, out today, continues where his 2011 read Power & Beauty left off. David Ritz, who's written biographies on Ray Charles, Smokey Robinson, Aretha Franklin and Marvin Gaye, among others, helped T.I. pen both efforts. "We embellished a little more on the characters and had a little bit more fun," the southern MC reveals. "It's still a very likeable story and it's compelling."
With two books under his belt, a memoir on T.I.'s life seems like the next logical step. He and Ritz initially planned to create such a project, however, the aforementioned literary works became the final result. "[Power & Beauty] started as a non-fictional piece," T.I. explains. "But I didn't think it was time for an autobiography yet. So from there, we just expanded and explored the option of doing a novel. And here we are."
As two powerhouses in their respective careers, Ritz and T.I. collaborated to produce an intriguing story surrounding love and deceit. "David and I were very respectful of one another's talents and abilities," the rhymer says. "We definitely took time bouncing ideas off of one another's heads and just coming up with the best options of ideas."
Just as he's experienced his own triumphs and tribulations with his music business success, T.I. had some hiccups along the way when writing the book. He had to record a new album, Trouble Man, and film a new season of his reality show, "T.I. & Tiny: The Family Hustle," while still having to find time to complete the book. "Scheduling is probably the most challenging part about it," he reveals. "Dividing the time between all of my other obligations and responsibilities."
T.I. aims to increase literacy with the release of Trouble & Triumph and inspire others to follow a similar dream of publishing a book. "How people can write a book?" the Grand Hustle boss asks. "The foundation or structure of any literary piece is your ideas. If you have ideas then you have an opportunity."
Another person who's helped T.I. unearth some of the creative ideas in his head is producer Pharrell Williams. They've logged countless hours of studio time as a team, crafting "Here Ye, Hear Ye" and other tracks for his upcoming opus. "We been working together since my first album," the father and husband states of Williams. "We have just a phenomenal chemistry."
Trouble Man, the follow-up to his 2010 LP, No Mercy, arrives Dec. 18. Trouble & Triumph is in stores now.
T.I.'s Trouble & Triumph Book Signing Dates
9/18/12 @ 7PM EST

BOOKS AND GREETINGS

271 Livingston ST

Northvale, N. 07647
9/19/12 @ 7PM EST

CHOCOLAT RESTAURANT LOUNGE (Hosted by Hue Man Bookstore)

2217 Frederick Douglass Blvd. at 120th Street

Harlem, NY 10026
9/26/12 @ 6:30PM EST

BOOKS A MILLION

258 City Circle

Peachtree City, GA 30269
9/27/12@ 7PM EST

BARNES AND NOBLE

2900 Peachtree Road Northeast

Atlanta, GA 30305
10/1/12 @ 7PM PST

BARNES AND NOBLE

1201 3rd Street

Santa Monica, CA 90401
Watch "T.I. Announces Release Date For New Album"
#fivemin-widget-blogsmith-image-437753{display:none;} .cke_show_borders #fivemin-widget-blogsmith-image-437753, #postcontentcontainer #fivemin-widget-blogsmith-image-437753{width:476px;height:357px;display:block;}
try{document.getElementById("fivemin-widget-blogsmith-image-437753").style.display="none";}catch(e){}


See Hip-Hop's Most Expensive Album Covers Valued by a Jeweler
%VIRTUAL-MultiGallery-161082|164536|161673%