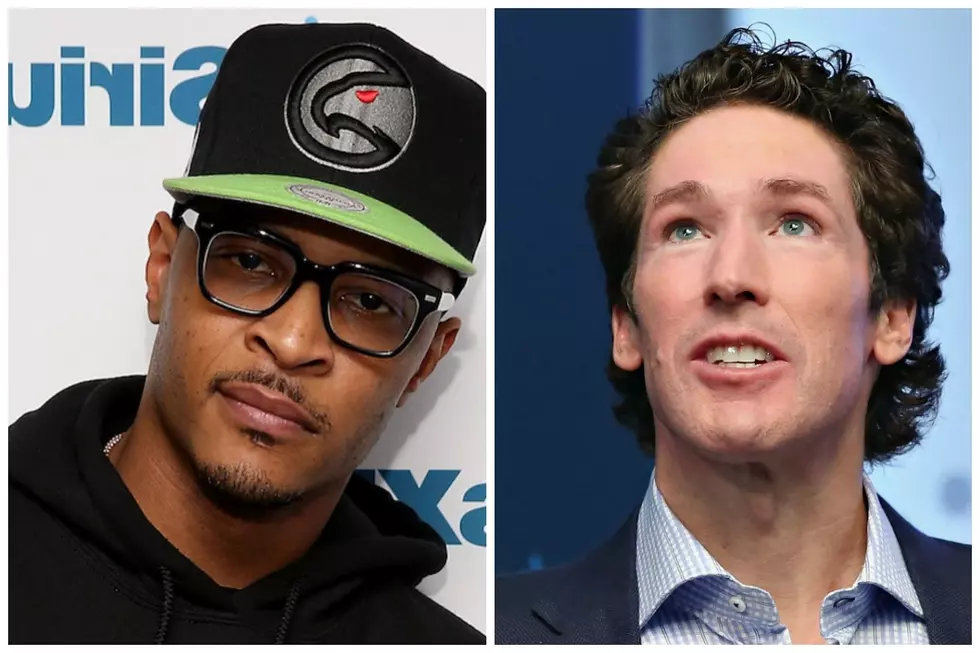 T.I. Calls Joel Osteen a 'Fraud' for Not Opening His Houston Church to Hurricane Harvey Victims
Robin Marchant, Getty Images/Cindy Ord, Getty Images
Megachurch pastor Joel Osteen has come under fire over the past couple of days, following what critics say is a lackluster response to the chaos caused by Hurricane Harvey in Houston.
The preacher, who has a massive church in Houston, and is reportedly worth over $50 million, directed victims of the hurricane to shelters, as opposed to opening his church doors for those seeking shelter. After coming under fire, Osteen responded in an interview with TODAY, saying the city didn't need the church as a shelter at the time.
"If we needed to be a shelter, we certainly would've been a shelter right when [the city] first asked," Osteen said. "Once they filled up, they never dreamed that we'd have this many displaced people, (and) they asked us to become a shelter. I think this notion that somehow we would turn people away or we weren't here for the city is about as false as can be."
Osteen also said the church had flooded before, so there were safety issues.
However, T.I. isn't buying it. In fact, he says Osteen's response is exactly the reason why folks don't trust megachurches, a thought he shared yesterday (Aug. 29) on Instagram in great, capitalized detail.
"This is why people (like me) don't trust the mega churches," Tip writes. "How can someone (especially a so called man of God) make 70+Ms a yr TAX FREE from citizens of a city that's now in distress & in dyer need of food water & shelter NOT OPEN THE DOORS OF GODs HOUSE (supposedly) to help those in need?"
Then Tip went all the way in, calling Osteen a "fraud."
"YOU SIR ARE A FRAUD!!!! Ministers,preachers,pastors,reverends are all supposed to be SERVANTS sent here to do the LORDS work. Not just sitting back in comfort watching as satin has his way!!!! FOH!!! We CANNOT AFFORD to continue to just go & give our money away to people who pose as "Preachers" or their BIG lavish MEGA CHURCHES WITHOUT HOLDING THEM ACCOUNTABLE WHEN WE NEED THEM!!!!! Tithing is selfless acts of kindness & what you do for OTHERS. Stop giving y'all money to these LIKE THEY GON TURN YOUR BREAD OVER TO GOD!!!! N---- please."
Check out his post below.
2017 MTV Video Music Awards Red Carpet [PHOTOS]