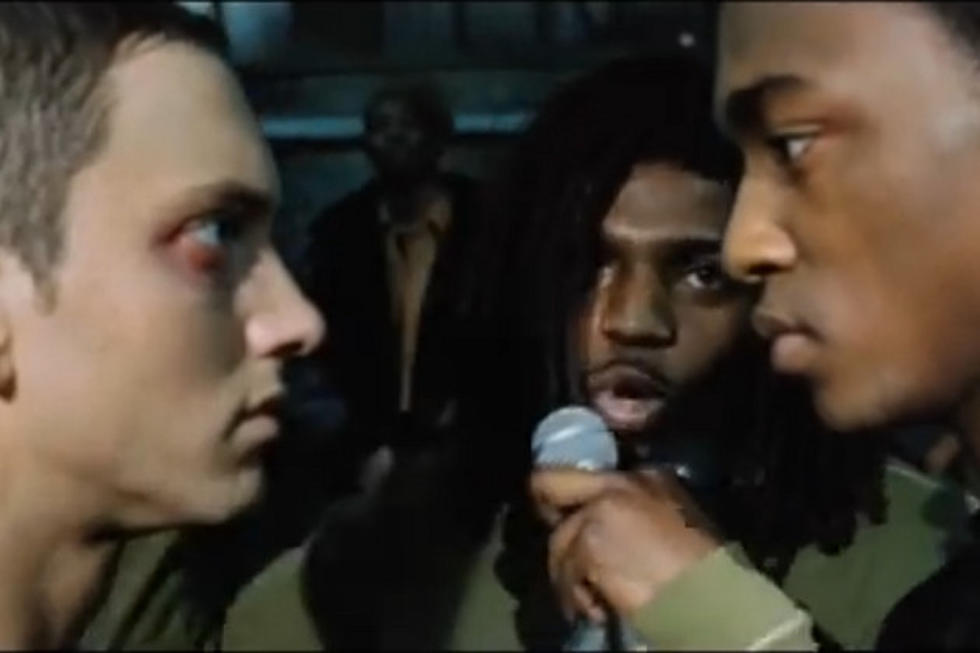 See the Cast of '8 Mile' Then and Now
YouTube
Music fans probably didn't expect much from 2002's '8 Mile,' after all, most hip-hop-related films, with a few exceptions, were either disappointing ('Beat Street') or flat out embarrassing ('Rappin''). But who were we to doubt Eminem?
Directed by Curtis Hanson, '8 Mile' tells the story of a young Detroit rapper named Jimmy "B-Rabbit" Smith, Jr., who's trying to launch a rap career while navigating through a host of personal troubles. The plot echoed Eminem's real-life road to riches, and his dramatic portrayal of Jimmy won him critical praise and helped the film go on to make over $200 million in worldwide box office receipts. The cherry on top was the Best Original Song Oscar the rapper won for 'Lose Yourself.'
Over a decade has passed since '8 Mile' hit screens, so we've decided to take a look at the cast of the film to see what they've been up to since.
Eminem Plays Jimmy "B-Rabbit" Smith, Jr.
Then: Eminem played Jimmy, a blue collar worker from Michigan with deep-rooted family issues, struggling to find his place in the local rap scene.
Now: One of the most commercially successful and influential hip-hop artists of all-time, Eminem has sold over 100 million albums to date. His 'The Marshall Mathers LP 2,' released in November 2013, debuted at No. 1 on the Billboard 200 chart. The 41-year-old MC is currently touring across the globe.
Mekhi Phifer Plays David "Future" Porter
Then: Phifer played "Future," Jimmy's best friend and biggest champion.
Now: The Harlem, N.Y., native has had a fruitful acting career, appearing in television hits like 'ER,' 'Lie to Me' and most recently, 'White Collar.'
Kim Basinger Plays Stephanie
Then: Basinger played Stephanie, Jimmy's alcoholic mother.
Now: At 60, Basinger is still a vision of beauty. 'Cellular,' 'The Burning Plain' and 'Grudge Match' are a few of the films she's starred in this past last decade.
Taryn Manning Plays Janeane
Then: Manning played Janeane, Jimmy's ex-girlfriend.
Now: Appearing in such critically-acclaimed films as 'Cold Mountain' and 'Hustle & Flow,' Manning has also kept a parallel music career going since 2003. Her brother Kellin formed the pop duo Boomkat and they've released two albums to-date. Manning released a solo single called 'Send Me Your Love' in 2012.
Michael Shannon Plays Greg Buehl
Then: Shannon played Greg, Stephanie's abusive boyfriend.
Now: One of Hollywood's go-to character actors, Shannon was nominated for a Best Supporting Actor Oscar for his work in 2008's 'Revolutionary Road.' You might also recognize Shannon from his portrayal of Nelson Van Alden on HBO's 'Boardwalk Empire' and General Zod in 2013's 'Man of Steel.'
Evan Jones Plays "Cheddar Bob"
Then: Jones played "Cheddar Bob," one of Jimmy's friends who ends up shooting himself in the crotch by accident.
Now: The Texas-born actor has appeared in movies such as 'Jarhead,' 'The Book of Eli' and 'Gangster Squad,' among others.
Omar Benson Miller Plays "Sol George"
Then: Miller played "Sol George," one of Jimmy's friends.
Now: The actor has had parts in 'Miracle at St. Anna,' 'The Express,' and in 2013, the Jason Statham action-thriller 'Homefront.'
Eugene Byrd Plays "Wink"
Then: Byrd plays "Wink," a friend of Jimmy's who ends up sleeping with his new girlfriend, Alex (played by late actress Brittany Murphy).
Now: The 38-year-old actor can currently be seen in 'Bones,' where he plays Dr. Clark Edison. On Jan. 6, 2011, it was reported that Byrd was arrested in California by the Glendale Police Department on suspicion of spousal abuse.
Anthony Mackie Plays "Papa Doc"
Then: Mackie played "Papa Doc," a fierce rapper that battles Jimmy.
Now: 'The Hurt Locker,' 'Real Steel' and 'Runner, Runner' are just a few of the many films Mackie has appeared in since '8 Mile.' In 2011, the Julliard-trained actor also opened a bar called NoBar in the Crown Heights section of Brooklyn, N.Y. He's also set to play the role of "Falcon" in the upcoming 'Captain America: The Winter Soldier' film.
Curtis Hanson Directed '8 Mile'
Then: By the time he took on '8 Mile,' Hanson was already a seasoned director, responsible for films such as 'L.A. Confidential' and 'Wonder Boys.'
Now: Hanson kept his critical darling status with 2011's political drama, 'Too Big to Fail,' but got slammed for 'Chasing Mavericks,' a 2012 surfing biopic starring Gerard Butler that he co-directed with Michael Apted.