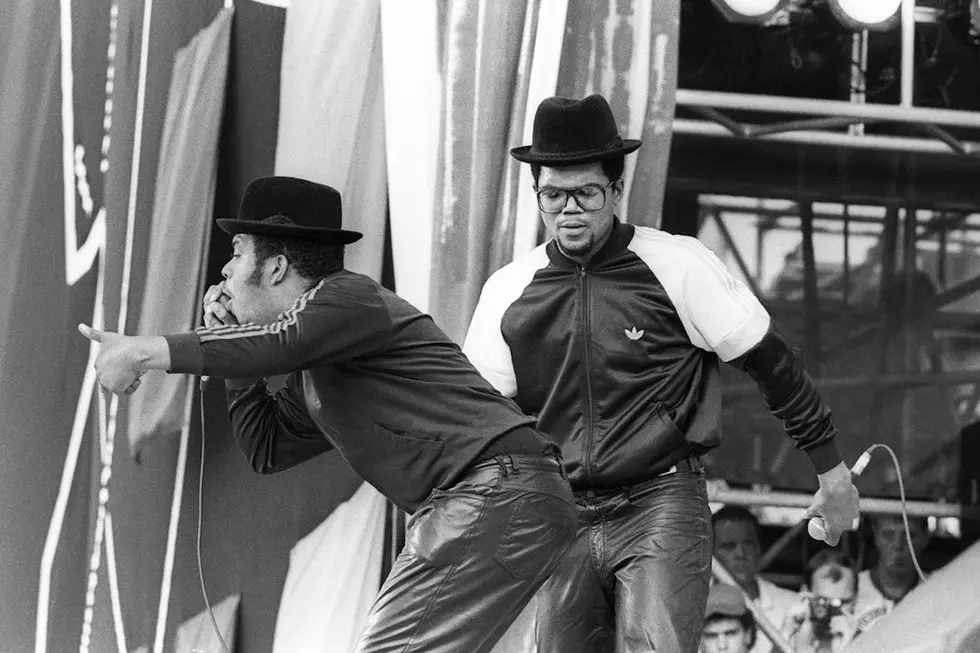 Walk This Aid: Run-DMC Performs at Live Aid in 1985 [VIDEO]
Frank Micelotta Archives, Getty Images
Thirty-three years ago, over 60 artists donated their time to perform at Live Aid, a charity concert organized by musician/activist Bob Geldof to raise money for the impoverished people of Ethiopia suffering through a famine crisis. The event was held simultaneously at Wembley Stadium in London and JFK Stadium in Philadelphia on July 13, 1985, and televised live via 14 satellites to over 1.6 billion people in 160 countries.
The concert brought together several soul, rock, and pop icons to the center stage including Patti LaBelle, Led Zeppelin, Billy Ocean, Paul McCartney, Madonna, Queen, B.B. King, Sade, Hall & Oates with the Temptations, Ashford & Simpson with Teddy Pendergrass, and Mick Jagger with Tina Turner, and dozens of more artists.
But hip-hop was in the building as well as by way of iconic rap group Run-DMC. The trio -- Joseph "Run" Simmons, Darryl "DMC" McDaniels and the late DJ Jason "Jam Master Jay" Mizell -- were on a promotional run for their second album King of Rock when they got the call to do Live Aid in Philly. The group didn't know what to expect when they accepted the gig.
"That was another instance where we didn't know what we were doing here," DMC recalled in an interview with Whomag.net.  "We have the DJ's and MC's, but by the looks of Mick Jagger and all these superstars and Madonna, this must be big. We went out there and looked out in the audience like, wow! There are 80,000 people out there! This isn't like the show we did in the hood last night!'"
Although their set was brief (most artists were limited to 10-20 minute sets), Run-DMC made the most of it. Jam Master Jay kicked it off by showing off his turntable skills with "Jam Master Jay." Then, wisely, since it was a heavily rock-curated concert, the group chose the perfect song for their performance –– their classic track "King of Rock."
"We got a whole lot of rock groups backstage tonight, but D wants y'all to know one thing," said Run said before launching into their guitar-heavy anthem. "I'm the king of rock, there is none higher / Sucker MCs should call me sire / To burn my kingdom, you must use fire / I won't stop rockin' till I retire," he rapped.
Wearing derby hats, Adidas jackets, black leather pants, and matching shell-toe Adidas sneakers, Run-DMC was the perfect fit among the A-list rock stars scheduled to perform.
In the end, Live Aid raised $127 million in famine relief for  Ethiopia and other African nations and spearheaded other Western nations to donate surplus grain to help end the hunger crisis in Africa as well.
"We knew this was something big...but we didn't know of the impact until afterwards," said DMC. "That's why on the record "My Adidas," we said, 'stepped on stage, at Live AID / All the people gave / And the poor got paid!"
25 Historic Moments in Run-DMC's Career