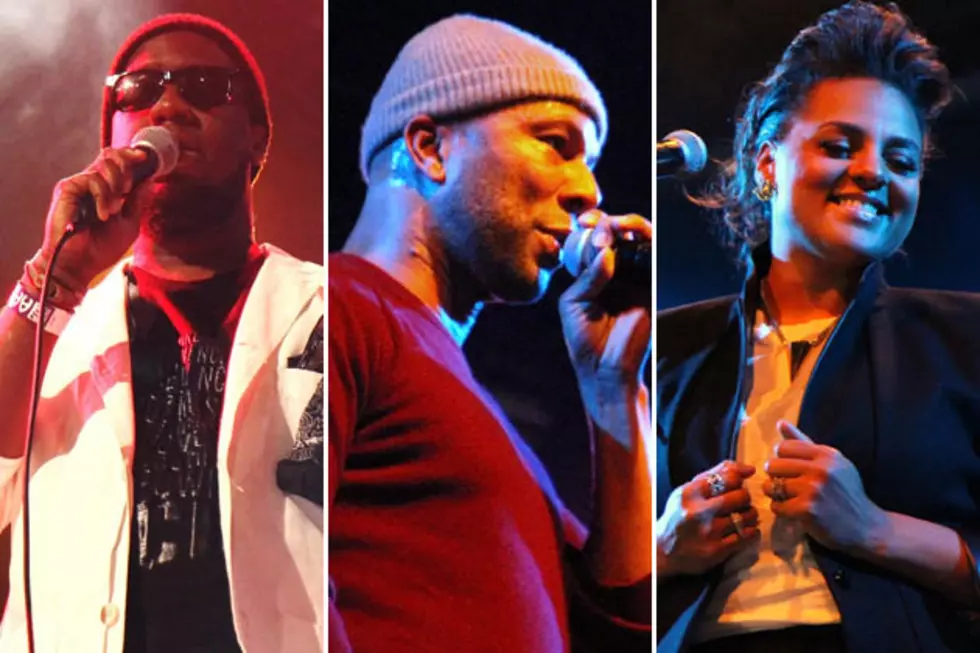 Robert Glasper Celebrates 'Black Radio 2' With Common, Marsha Ambrosius in New York City [Photos]
Liz Ramanand, TheBoomBox
Jazz pianist and music producer Robert Glasper treated New Yorkers to a special album release show at Best Buy Theater to commemorate his newly released sixth record, 'Black Radio 2,' Tuesday night (Oct. 29). Special guests included Marsha Ambrosius and Common, who both appear on the album.
Even though Common's set was brief (clocking in at under an hour), within those few minutes he showed why he has remained a force in hip-hop for over 20 years. His sharp lyricism and charismatic stage presence were on full display as he went through his catalog of hits, performing 'The Dreamer,' 'Break My Heart,' 'I Used to Love H.E.R.' and 'Black Maybe.'
The talented rapper, actor, and writer ended his set with the crowd favorite 'The People' and 'I Stand Alone,' which rests on Glasper's 'Black Radio 2.' A true poet at heart, Common mixed music with motivational speaking.
Marsha Ambrosius could have headlined Best Buy Theater herself with her powerful set. Not only is she charming and gorgeous onstage, but her voice soars. Ambrosius kicked off her set with 'Trust,' off of 'Black Radio 2,' and also sang renditions of Michael Jackson's 'Butterflies' and Minnie Riperton's 'Lovin' You.' The songstress even performed 'Hope She Cheats on You (With a Basketball Player)' from her debut album.
The man of the hour, Robert Glasper, and his band, were the backed all of the vocalists during the show. Glasper's piano melodies moved from dreamy to jazzy in a split second. When witnessing his talents live, there's no question why he is a Grammy award winner.
Multi-instrumentalist Casey Benjamin, a member of Glasper's crew, is a true talent in his own right. He supplied the crowd with smooth vocals, played the saxophone and created a unique experience with a synthesizer and vocoder.
Together, the Robert Glasper Experiment performed new tracks 'Baby Tonight' and 'Let It Ride.' Glasper and Benjamin also got the crowd moving with a sensual and psychedelic version of Daft Punk's 'Get Lucky.'
Check out photos of Common, Marsha Ambrosius, the Robert Glasper Experiment and Questlove, who served as the opening DJ for the night, below.
The Robert Glasper Experiment: