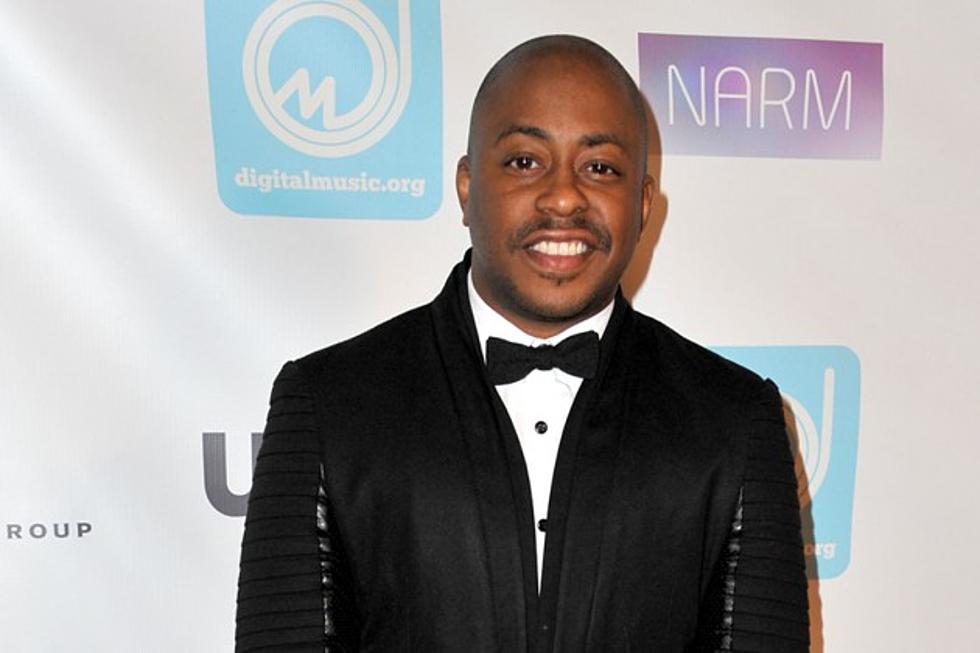 Raheem DeVaughn's 'Love Sex Passion' Album: A Track-by-Track Breakdown [EXCLUSIVE INTERVIEW]
Angela Weiss, Getty Images
After a long hard day at work, coming home, pouring a glass of wine and listening to the sounds of Raheem DeVaughn's new album, Love Sex Passion, is the perfect way to relax and unwind. His storytelling abilities are on point and with the vocals to match, the 18-track opus could easily be DeVaughn's best work yet.
Two years have passed since he released his indie project, A Place Called Love, which didn't find as much chart success as his previous efforts, Love Behind the Melody and The Love & War MasterPeace. The singer has now found a new home with the label Entertainment One and his work is being widely recognized once again. DeVaughn continues to do what he does best on his fifth album -- unlock love, passion, fire and desire -- and the fans took notice by pushing Love Sex Passion to a No. 4 debut on the Billboard Top R&B/Hip-Hop Albums chart in its first week of release.
On the lead single "Queen," he recognizes the beauty and strength of women, worshipping them as deities and creators of all mankind. Honest and forthright, his lyricism and captivating vocals speak from the male perspective on vulnerable issues like being the side dude on "All I Know (My Heart)" or begging for his lady to return on "Baby Come Back."
The Washington, D.C. native visited The Boombox's New York City office to deliver a track-by-track breakdown of his new LP. Read on to find out which queen inspired a track, why he calls himself the "Christian Grey of R&B," the importance of R. Kelly's lyrics and why black ice cream is his favorite.
1

"Welcum 2 Love, Sex & Passion (Intro)"

"I started off with a medley from my past albums because I am not ignorant to the fact that everyone may not know me or who Raheem DeVaughn is. It's an advertisement at the same time. I'm like, since you grabbed Love Sex Passion, let me put you on to some other music you may not know. Ultimately, I wanted to take it back and get people familiar with me."

2

"I love women -- all types, all colors, petite, plus size. But in particular, I was raised by black women and I feel like there is just something beautiful about black women. The song starts off creative and flirtatious with innuendoes and things… I wanted to be poetic but like 'Damn, did he just say that?'"

3

"Pretty Lady"

Feat. Trombone Shorty

"The track listing on this album is very strategic. Pretty Lady is the conversation piece where you just need to compliment your lady. If you are in a club setting and you just been eyeing a beautiful woman, this song came from me trying to compliment women and them turning their face up at me. Just because I am complimenting you, it does't mean I am trying to rap to you or come on to you. I just want to let you know I like something. There's no motive."

4

"A lot of beautiful women that I have come across are the most insecure. I don't know if it's the pressure. But they are like, 'You think I am beautiful, you think I am pretty,' so 'I said as a matter of fact you are so pretty you are a queen.' But the song wouldn't be here without Aretha Franklin. I wrote that song for her.

A few years back, Aretha invited me to perform at a private birthday party for her. She is a big fan of my music and I didn't know it at the time. "Woman" is one of her favorite songs. She performs the song live sometimes. So when I finally met her she was like, 'Can you do something like that for me?' and two days later I wrote ['Queen'] with Chucky Thompson. She fell ill and has since bounced back and now I put the song out."

5

"This is when you start to kick it with somebody and the emotions that you start to feel and the different analogies that start to cross your mind hopefully during pillow talk. Those moments where you are feeling somebody and stare at him or her while they're butt-naked cooking you some eggs and grits or something. You are thinking to yourself, 'This is a cool moment right now. How the the f--- did this happen?'"

6

"The cool moment goes from the cool moment to 'What are we doing?' Certain expectations start to happen, like 'Why you didn't return my phone call or text?' Or it's 4 o'clock in the morning, you are telling 'em 'Hit me when you land. Let me know that you landed safely.' All those scenarios. It's just another opportunity to tell someone when you love, how it feels -- the good and the bad of it. There is a line in there when I talk about a lady scratching up your car. In the name of love, we do some crazy things."

7

"I sing, 'All I know is that I love ya / Love you like you love him / Like I've never loved another / That's all I know / It's kinda crazy that you love him / Love him like I love ya / I love you like I never loved nobody / And all I know.' I am basically telling the chick, 'I love you like you love the dude you are with.' The response that I get from the song is that women want to hear men being vulnerable."

8

"Terms of Endearment is just another interpretation of all the cool stuff that happens when you are falling for someone. This track is saying I don't know how long this will last, maybe this won't pan out because you have a dude, but just know the way that I love you isn't on no physical s---; it's a whole other level. If I had to give you my right leg I would. Until we are old and grey, you know I am rocking with you from a distance."

9

"You miss the sex when… Well, what I have learned is the s--- that you usually love and want is not meant for you to have. When a woman really loves you, even if they are in the [music] business, the battle is going to be that you love them how you love that music."

10

"You can't be afraid to beg. Once again, I am showing the vulnerability of a man. Baby Come Back is the only song I co-wrote on the album with BJ the Chicago Kid. I personally called him up to work with him on the album because I think he has great talent, but he's underrated. When we sat down and he played it, he brought the whole the concept to life. The song fits into the story line of the album. It's pretty much self explanatory. You have to fight for what you want."

11

"Never Never Land is that dreamy place you are trying to get back to. Frederico Peña is an amazing talented guitarist and producer. The song just sounds like the heavens are opening up. I wanted to take it back."

12

"I took a hot line and made it a hot song. That song wouldn't have been that song if I had not chose to use those lyrics and that interpretation. I can't say without R. Kelly's lyrics 'temperature's rising,' it would have still been that hot. It still would have been a dope song. The verses would have been fly, but it just felt right. People love what's familiar to the ear and at the same time, it's paying homage to the great. When you think about the '90s and baby making music, that's all R. Kelly. It sounds like sex and it feels like sex so you want to keep having sex."

13

"Sun Proof Room (50 Shades)"

"That's me being the Christian Grey of R&B. What happens in the Sun Proof Room stays in the Sun Proof Room."

14

When you hear the word strip, you automatically think of the strip club. I wanted people to be like, 'What? He's singing about strippers? He made a booty shaking song?' With this record, it's so different. It's sensual, something you can play for your man for a special day, his birthday or something. You play Strip and you already know what's going down."

15

"This is one of those joints when you leave the club and on your way home. You are driving, counting down the minutes until love. Cruising and almost there. This song is that player mode where I am talking that stuff."

16

"Feather Rock Lovin'"

Feat. Boney James & the Illadelph Horns

"This is one of those cuts if Marvin Gaye was still living he would have had to sing this. This is one of those tracks for my grown and sexy, wine drinkers, Boney James jazz lovers. He's on this song as well."

17

From track No. 4 all the way through is what I call bed music. Infiniti is a perfect way to end the album. It's acoustic. I love acoustic songs. Ultimately, I want to be that artist who goes out and does an acoustic set. Make 20 bands a night. Two or three thousand people singing along."