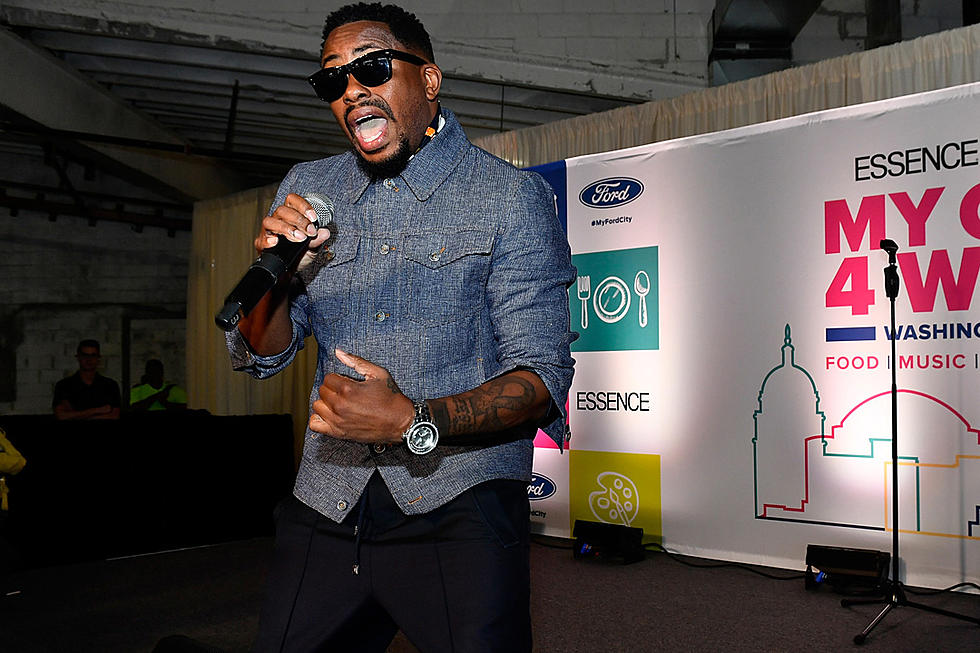 [EXCLUSIVE] Raheem DeVaughn Talks New Music, '90s R&B & How Rap Influenced Him with The Boombox
Larry French, Getty Images
After five solo albums and 13 years in the game, Raheem DeVaughn still sounds like a hungry, new artist. The lucky fans that will attend the ATL Soul Life Music Fest this weekend will get to witness some of that hunger when he performs.
DeVaughn is gearing up to release a new album later this year, but he's keeping the details surrounding it under wraps, at least for now, to give people some surprises.
In an exclusive interview with The Boombox, DeVaughn talked about the upcoming festival, his soulful new single "Don't Come Easy," as well as some of his favorite R&B and hip-hop artists from the 90s.
For those who haven't seen one of your shows, what should they expect when they see you perform at the Atl Soul Life Music Fest this weekend?
Humility. One of the greatest shows on earth. When you talk about the exchange of energy between performer and audience and audience and performer, I hope that I'm one of the best. People pay their hard-earned money; they want to be entertained. We do an hour set; we get into five and six albums. We been in the game for 13 years.

It's one of those things where you got some people in the audience who conceived their first child or all their children to your music, so [the audience] comes through memory lane, and they come to sing along, and they come to be entertained. I just want to give my all every time I step on that stage.
Do you prepare differently when you do a big festival compared to when you perform at a club or a small venue?
It's cruise control. Once the magic wand comes out, the magic wand comes out. Whether I'm playing a room of 100 people or 50 people or 100,000, it's all the same to me, regarding what the message is and what the exchange is and what the conversation piece is.

I have been giving more thought to my stage performance, me being here 13 years. More thought, in not only in what Raheem DeVaughn sounds like but what does Raheem DeVaughn exude from the stage? What do I want them to take from the message? What does it look like? With this album, with this single, with the launch of the new me, I've taken a lot more thought into what I'm doing.
I heard that thoughtfulness in your new single "Don't Come Easy," and thought you had an interesting take on relationships.  What made you want to cover the challenging parts of love, in terms of finding it and then keeping it?
I think it's a combination of where I am in my life, and what I've encountered, what I see from myself. I'm doing a better job of loving me more than I ever have, and this allows me to love my kids better, love on my parents, a significant other, whatever. Until we love ourselves and know ourselves, that's the biggest challenge.

Me as a man that particular song shows my growth and strength as a vocalist and as a crooner, but there's a stronger message behind that, and the message is anything that [you really want] you've got to commit to. If you're not going to commit it's in vain. Relationship-wise, from that stand point, you've got to fight for it. Far too often we just walk away from things unfinished, unsaid and leave people in a hurt state.
Changing topics, some of your music has a definite '90s feel. Who are some of the R&B artists from that period who influenced you the most?
I feel like that was like the best time for music. I see it on stage every night. We take people through different decades of music.

My influences range from, and for various reasons, Babyface, Jodeci, the production and songwriting of DeVante [Swing], Timbaland and Missy [Elliott]. Every so often you have a producer or a songwriter or both or a team that comes along and really re-shapes and re-defines sonically what music is and the interpretation of it to the masses.

Teddy Riley is another person that comes to mind, and I can go on and on, but these are like personal influences for me in terms of culture and business. Of course, you have Prince and Marvin Gaye. Prince I met on a few different occasions.

Me being an entrepreneur, JAY Z is another person that stands out to me, and I'm a lyric guy, so he basically told everything that he was going to do and he did it.
Speaking of hip-hop, who are some of your favorite rappers from the 90s and early 2000s? Who really wanted to make you write?
The influence that hip-hop has had on me as an R&B singer as a soul singer [has been huge]. If you pay close attention, you can kind of see that. I'll pop up on a record with Bumpie Knuckles, or I'll pop up on a record with UGK, over the years, it's been pretty diverse. I'll have a record with Scarface and Talib Kweli and then turn around and have a record with The Roots.

Dr. Dre, I've always been a huge fan of. The Roots as well. The Roots gave me an appreciation for live music.
Through your LoveLife Foundation and performing at events like "Vote for Justice," you've been known to tackle sociopolitical issues head-on, both in music and in your life. Why was it important for you to be that kind of artist, instead of being one who just sings and records?
I just felt there wasn't enough being done community-wise in my hood to support different initiatives, not just locally but globally. Those being HIV and AIDS, something that's running rampant in my city.

I started with my foundation. Shout out to the LoveLife Foundation, my wonderful organization. We've been in existence for five years now. I've always been known for making socially-conscious music in the midst of the love songs and the bedroom songs. I live woke, you know what I mean? And I try to put that energy into these records when I make a record like a "Bullet Proof" or an album like Foot Prints on the Moon under The Crossrhodes brand. 
Besides the festival and the new album, what's next for Raheem DeVaughn?
I feel like we're just getting started. We got some more treats coming, some more singles coming. Got the video dropping soon for "Don't Come Easy." I'm super excited about that. Shout out to my little brother Chris Skyler, not just a dope director and visual guy but a dope artist.

The album will definitely be out this year. I'm on my second decade, man, so it's a celebration, and I'm where I want to be sonically.
20 Hilarious R&B Tweets Guaranteed to Keep You Entertained