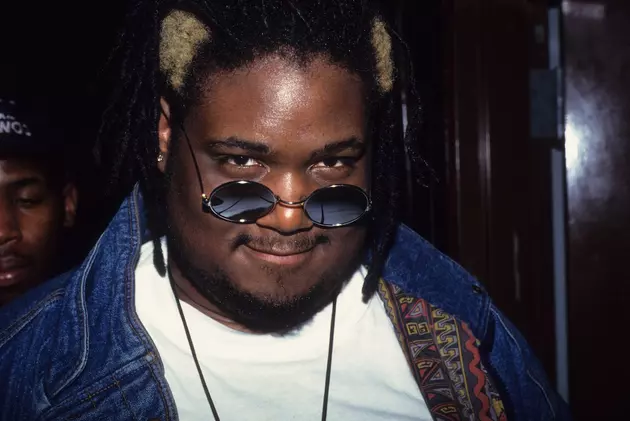 Prince Be of P.M. Dawn Dead at 46
Steve Eichner, Getty Images
Attrel "Prince Be" Cordes, founding member and frontman of the popular 90s hip-hop/R&B duo P.M. Dawn, died Friday (June 17) in a New Jersey hospital following a battle with renal kidney disease. Cordes was 46.
A representative for the group confirmed Cordes' death to People.
Attrel formed P.M. Dawn in 1988 with his brother Jarrett "DJ Minutemix" Cordes in their hometown of Jersey City, New Jersey. The pair hit it big in 1991 with "Set Adrift On Memory Bliss," becoming only the third hip-hop act and first black rappers to top the Billboard Hot 100. P.M. Dawn's first two albums, 1991s Of the Heart, of the Soul and of the Cross: The Utopian Experience and 1993s The Bliss Album…? both achieved gold status.
DJ Minutemix would depart the duo in the 2000s, but Be would continue performing with Doc G. "Prince Be suffered diabetes and in 2005 he had a stroke that paralyzed the left side of his body, and his one of his legs was amputated below the kneecap.
"Prince Be Rest In Peace forever more, Pain from Diabetes can't harm you anymore," Cordes' cousin and P.M. Dawn member Doc G wrote on the group's Facebook page after Cordes' death. "My Heart is at Peace B-Cuz U suffered so long, Tell Grandma I said Hi & Stay Blisstatic & Strong."
"Kanye West, T-Pain, Outkast... but you can't mention P.M. Dawn without mentioning De La Soul, and you can't mention Arrested Development without mentioning P.M. Dawn," Doc G said in a 2011 interview of the artists P.M. Dawn inspired. "Everybody begets somebody. We had the weirdness. Now it's okay to be weird; it's okay to wear bizarre things."