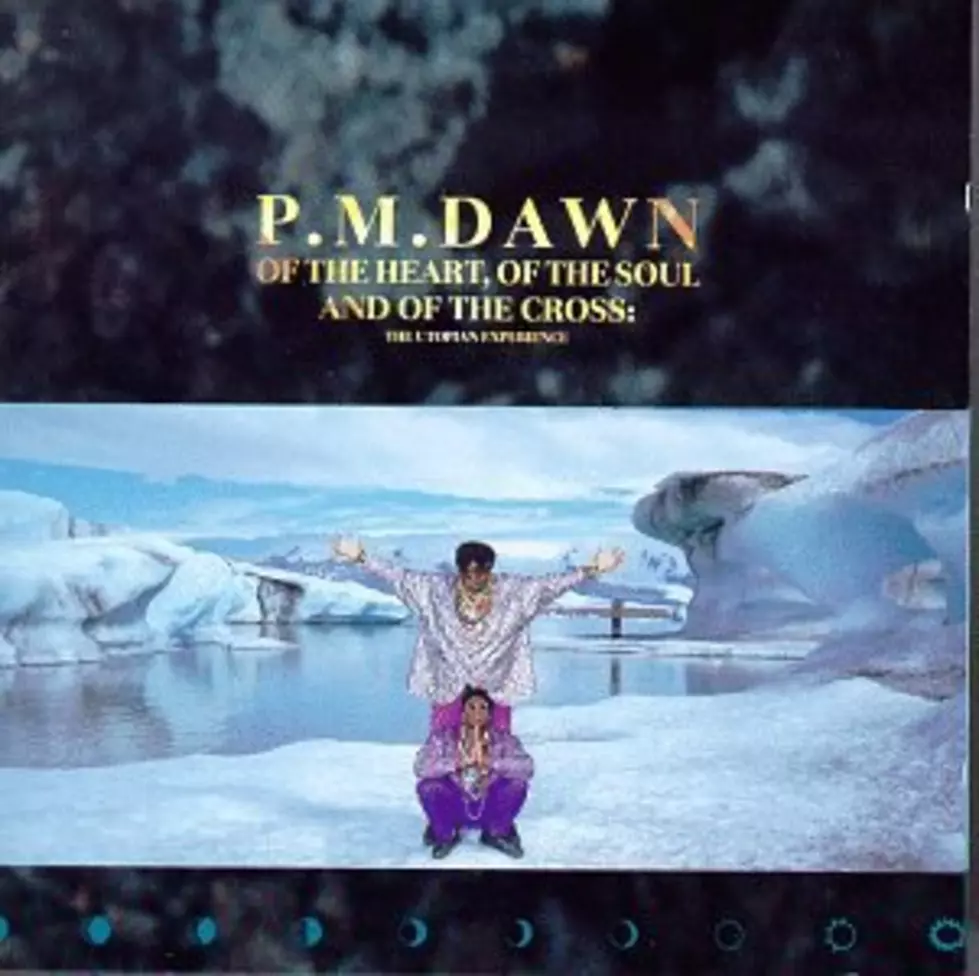 Five Best Songs from P.M. Dawn's Debut LP 'Of the Heart, of the Soul and of the Cross: The Utopian Experience'
Island
When many outsiders think of hip-hop as a whole, the catchphrase "rough, rugged, and raw" may come to mind. And while that may be a big part of the spirit of the culture and spur from its roots in impoverish urban America, the late '80s and early '90s saw a different kind of rap emerge that trended more towards peace and tranquility than money and violence.
Groups like Jungle Brothers, De La Soul, A Tribe Called Quest, and Queen Latifah would help break the mold as part of their Native Tongues collective, but one rap act that played a big part in bringing those sensibilities to mainstream America that often goes unsung is P.M. Dawn.
Comprised of the late rapper-songwriter Prince Be and his partner-in-rhyme, DJ Minutemix, the duo would overcome adversity and become critical darlings with their debut album, Of the Heart, of the Soul and of the Cross: The Utopian Experience, which was released on August 5, 1991.
Originally signed to Gee Street Records after gaining traction in the U.K., P.M. Dawn's contract would be acquired by Island during the album's recording, exposing the group to the American audience they were once thought to be too highbrow for by industry execs. Of the Heart, of the Soul and of the Cross: The Utopian Experience would be a widespread success, moving over a million units and turning P.M. Dawn into critical darlings.
Although P.M. Dawn would be ostracized by members of the hip-hop community like KRS-One, who, along with his Boogie Down Productions outfit, infamously tossed the group offstage during a perfomance at their own concert, the group's influence cannot be understated.
Of the Heart, of the Soul and the Cross: The Utopian Experience would be an integral release for beat-junkies, who marveled at the group's knack for layered sampling and quirky production techniques, remnants of which can be found in work of many boardsmen that emerged in their wake.
With 25 years having passed since the release of their classic album, we went back and found the five choice cuts from the album that had the biggest impact on listeners and remain worthy of a spin.
5

"In the Presence of Mirrors"

Conceptual brilliance occurs on "In the Presence of Mirrors," an uptempo selection from Of the Heart, of the Soul and of the Cross: The Utopian Experience that sees Prince Be opting to convey his stream of consciousness by crooning rather than rapping. Taking listeners through two separate encounters with the man in the mirror, as well as the world around him, Prince Be delivers a tune that's both quirky and non-specific in nature, but in line with their doctrine of confidence, inner-peace and care-free living. "In the Presence of Mirror" is an off-beat song that, while bordering on cheesy, is simply undeniable and a guilty pleasure for anyone that enjoys a little harmony in their hip-hop.

4

"Reality Used to Be a Friend of Mine"

Powered by dusty drums and earnest piano keys, "Reality Used to Be a Friend of Mine" is a clap-happy track with Prince Be serving as the narrator, flowing nimbly over a sample of Gaz's 1978 tune, "Sing Sing." The fourth and final released the album, the song helped prolong P.M. Dawn's assault on the charts and is a groove that has retained its polish 25 years later.

3

P.M. Dawn basks in the serenity of what it feels like to be outside "On a Clear Day," a rollicking jam that sees Prince Be showcasing his vocal prowess atop drums lifted from the classic breakbeat of "Synthetic Substitution" by Melvin Bliss. Lyrics like "Maybe I'm just another something / Maybe on a clear day I'll see you" allude to the dynamic duo's desire for a little romance on a lovely afternoon. Yearning and longing are emotions that Prince Be shares on this outstanding song that packs enough punch to even capture the interest of pop and rap fans alike, which is a testament to P.M. Dawn's artistic craftsmanship.

2

After the worldwide success of "Set Adrift on Memory Bliss," the anticipation for a follow-up single was high, but P.M. Dawn delivered with the masterful composition, "Paper Doll." DJ Minutemix lifts elements from The Soul Searchers' 1974 song, "Ashley's Roachclip" and Gil-Scott Heron and Brian Jackson's "Angola, Louisiana" for this pulsating jam. While "Paper Doll" didn't set the world on fire, it did become a definitive song the New Jersey-based rap duo. Undoubtedly, it is one of P.M. Dawn's most addictive tracks from their debut album.

1

"Set Adrift on Memory Bliss"

It's not everyday that a rap group throws props to the likes of Christina Applegate, but Prince Be and DJ Minutemix did just that on their 1991 single, "Set Adrift on Memory Bliss." P.M. Dawn would become one of the biggest rap groups in hip-hop following the song's release. Built around samples of Spandau Ballet's 1983 hit, "True," and The Soul Serachers' "Ashley's Roachclip," the infectious tune would eventually reach the top spot on the Billboard Hot 100 chart. Prince Be would catch some flack for his tender lyrics and music snobs labeling P.M. Dawn as "cloud rap." But in retrospect, the song is simply timeless and an influential masterpiece that has been borrowed from time and time again and remains the group's signature record to date.

BONUS

The 25 Greatest Rap Albums of 1991

[gallery galleryid="625:226508" galleryindex="0" portraitmode="yes" ids="226578,226566,226597,226579,226569,226584,226604,226549,226626,226570,226585,226550,226553,226596,226547,226567,226551,226542,226568,226554,226556,226544,226559,226609,226548" enablefullscreen="yes" showthumbs="no"]