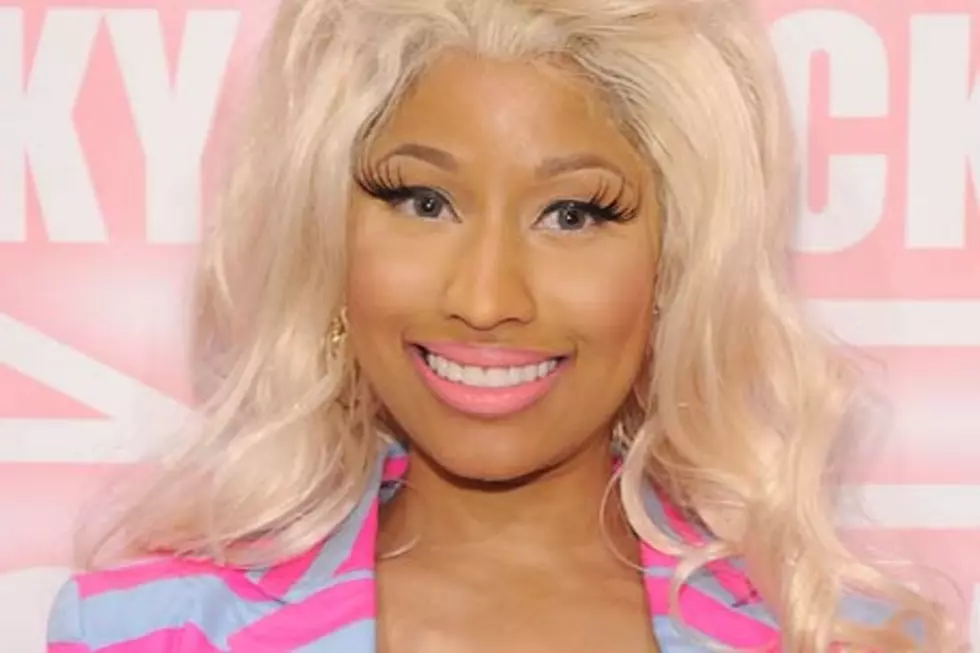 Nicki Minaj, Charlamagne Tha God: Countdown to 'Pink Friday: Roman Reloaded' — Day 8
Getty Images
Nicki Minaj is here to stay. In two years, she's gone from a student of the music game to bona fide teacher. The 29-year-old, who hails from Queens, N.Y., isn't the only dope MC to come out of the borough, but null of having more than one album in stores, and on the brink of releasing her sophomore effort, Onika Miraj has written herself into the history books.
Out the gate, the then-aspiring rapper used her confidence and lyrical skills to make a buzz. And as she -- and the rest of us -- awaits the release of her Pink Friday: Roman Reloaded LP, her assurance has reached the stratosphere. In an interview with Complex Magazine, Young Money's frontwoman predicted that she will sell 5 million copies of her forthcoming record. For a lesser artist, such a hefty sales goal seems far-fetched, but with the likes of Madonna, Britney Spears and Kanye West clamoring to get a verse from hip-hop's one and only Barbie, she has every reason to believe in herself.
In honor of the colorful wigs, endorsement deals and undeniable hits, The BoomBox kicks off the countdown to Roman's official revenge project, one week from its debut on April 3. For the next eight days, eight entertainment industry professionals comprised of TV personalities, celebrity bloggers, fashion experts, pop culture aficionados, music journalists and more are deconstructing the brand that is Nicki Minaj.
Radio personality Charlamagne Tha God is up first, sharing his words on the wig-wearing rhymer. As a bold co-host of The Breakfast Club morning show on New York City's Power 105.1, he's in-tune with Minaj's lyrics and radio presence. He's also never one to hold his tongue. Read on as Charlamagne reveals why he "expects the unexpected" from Nicki Minaj and breaks down "Nicki pop."
__________________________________________________________________


Charlamagne Tha God's Countdown
to Pink Friday: Roman Reloaded


___________________________________________________________________
"I think Nicki is in a space that no female hip-hop artist has ever been in. She's broken all these female rap records. She resurrected rap again for women. Most of these award shows had eliminated the female rap category from their programs before Nicki rose to prominence. For all she's accomplished, she still doesn't get the credit she deserves. She's at the point now where she has won so much that people don't want to like her.
I expect the unexpected [from her album]. Nicki doesn't play by any rules and that's what I like about her. She does what she feels. She makes music, and that's what it's about. If the music is good, it's good. If it's wack, it's wack, simple and plain. From what we've heard so far 'Beez in the Trap,' featuring 2 Chainz is 'mixtape Nicki.' 'By Your Side' featuring Chris Brown is the Nicki who likes to sing, 'Starships' is 'Nicki pop,' so we're getting all angles of Nicki. I will say this, the [album] tracklisting has 22 songs, that's too many songs to me. I don't care who the artist is or how much I'm a fan, 22 songs is too much! I actually wish if she was going to do 22 songs she should have did a double album, which would have been a first from a female MC. One CD could have been the mixtape-singing Nicki, the other could have been 'Nicki pop,' but what the f--- do I know, I'm just a country ass negro thinking about getting married strictly for the lower tax rate!
If Nicki stays true to herself and true to her fans, she will [always] be here. It's nobody else in her lane, but it all boils down to the music. Right now she's a musical artist so she just has to deliver the hits. I don't see her staying a musician though, I see her doing the Will Smith, Queen Latifah thing and going into movies and television. I can see her doing a sitcom and then movies. Her background is in the theater so it should be an easy transition. I don't see her being a passing fad though. She has a cult-like following and she stands on her own. Even though she's signed to YMCMB she's still her own entity. Long as she stays true to herself and her fans, makes smart, organic moves, I think she will be here."