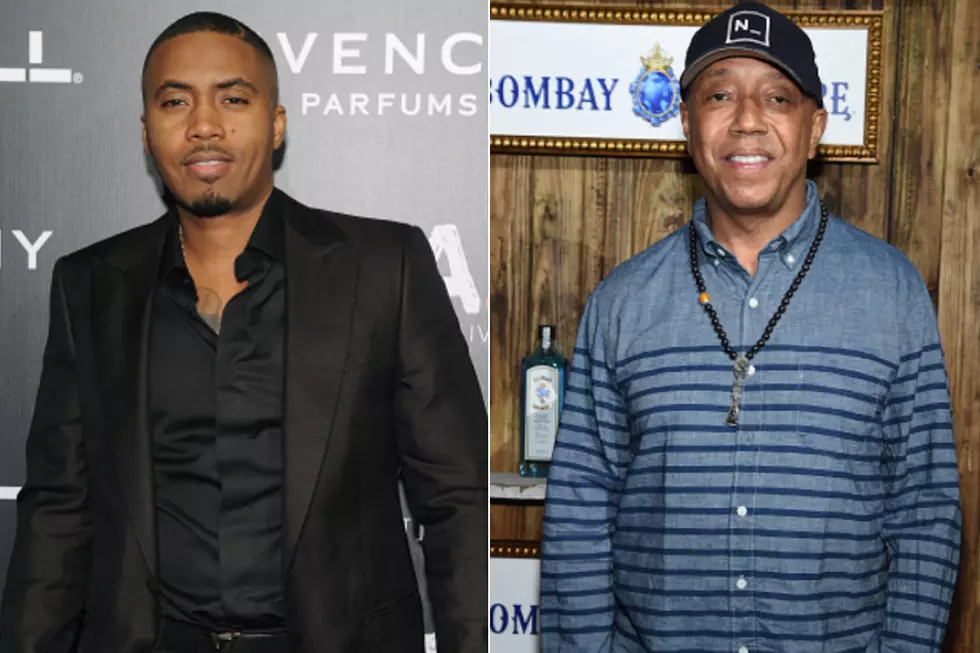 Nas and Russell Simmons Join Millions March Protest in New York [PHOTO]
D Dipasupil / Jamie McCarthy, Getty Images
In New York, Washington, D.C., and around the globe, thousands of demonstrators marched on Saturday (Dec. 13) in protest of police violence on black men and women. Among the demonstrators were members of the hip-hop community including Nas and Russell Simmons.
At the "Millions March NYC" protest in New York people from all walks of life marched from Washington Square Park to the NYPD headquarters calling for justice. According to unofficial estimates, nearly 30,000 people were marching through the streets. Nas and Russell Simmons were among several hip-hoppers spotted at the event, which was led by organizers Synead and Umaara Iynaas Elliott.
At the "Justice For All" march in Washington, D.C., thousands of protesters marched through the nation's capital and heard a rousing speech from Dr. Michael Eric Dyson. The families of police shooting victims, including relatives of Michael Brown, Eric Garner, Tamir Rice, Akai Gurley and John Crawford also spoke at the event.
The demonstration was organized by the National Action Network, a civil rights organization headed by the Rev. Al Sharpton who spoke at the D.C. event. Demonstrations were also held in San Francisco, Oakland, Calif., Chicago and Los Angeles.
Nas and Simmons weren't the only hip-hop figures out in protest. Indie rappers Immortal Technique, Torae (of the Barrel Brothers) and others were out in force at the New York rally. Meanwhile, artists like Big Boi, Q-Tip, Rihanna, 9th Wonder, Ludacris, French Montana and Pharrell Williams showed their support through social media. Check out their tweets below.
Watch Time Lapse of Protesters Marching in New York