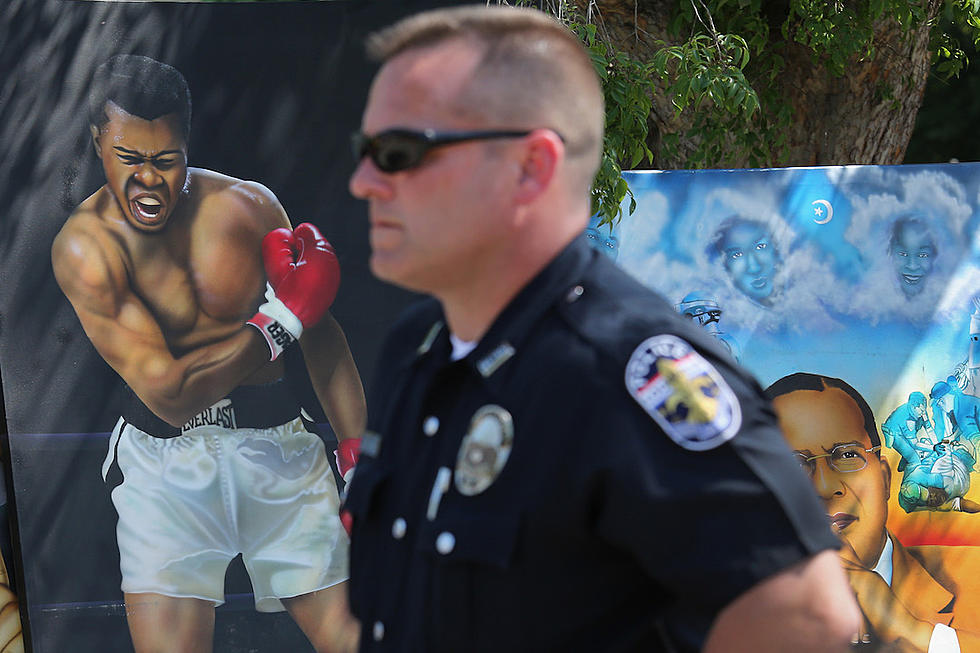 Muhammad Ali Jr. Detained By Immigration Officials at Florida Airport
John Moore, Getty Images
Muhammad Ali Jr. and his mother, Khalilah Camacho-Ali, the second wife of Muhammad Ali, were detained by immigration officials at a Florida airport. According to Miami New Times, Ali Jr. was returning from a speaking engagement in Jamaica when he and Camacho-Ali was stopped by customs at Fort Lauderdale-Hollywood International Airport on Feb. 7.
Immigration authorities let Camacho-Ali go after she showed them a picture of herself with her ex-husband, but her son didn't have a photo like that. From there, according to family attorney Chris Mancini, the nightmare began.
Ali Jr. was reportedly questioned for two hours with officials asking him repeatedly "Where did you get your name from?" and "Are you Muslim?" When Ali Jr. responded that yes, he is a Muslim, the officers kept questioning him about his religion and where he was born. Ali Jr. was born in Philadelphia in 1972 and holds a U.S. passport.
"This is an outrage," says Mancini. "I don't know what is going on with Mr. Trump's claim that his ban is not religion-based. We do not discriminate in this country based on religion."
"To the Ali family, it's crystal clear that this is directly linked to Mr. Trump's efforts to ban Muslims from the United States," he added.
Ali Jr., 44, had no criminal record and carries a United States passport, Mancini says. He recently moved to Deerfield Beach, Fla., to live with his mother. Last year, Ali Jr. received a substantial cut of his father's multimillion-dollar estate.
On Friday (Feb. 24), a spokesman for U.S. Customs and Border Protection wrote in response to this incident, "Due to the restrictions of the Privacy Act, U.S. Customs and Border Protection cannot discuss individual travelers; however, all international travelers arriving in the U.S. are subject to CBP inspection."
Mancini said he and the Ali family are considering filing a federal lawsuit and are seeking to find out how many other people have been subjected to the same treatment as Ali Jr.
"What right does the United States have to inquire about somebody's religion when they enter the country?" states Mancini. "There was no other basis for a secondary inspection. This is an instance where the ban has been enforced even though it has been thrown out. The government is still trying to find grounds to keep Muslims out."
10 Most Shocking Arrests in Hip-Hop