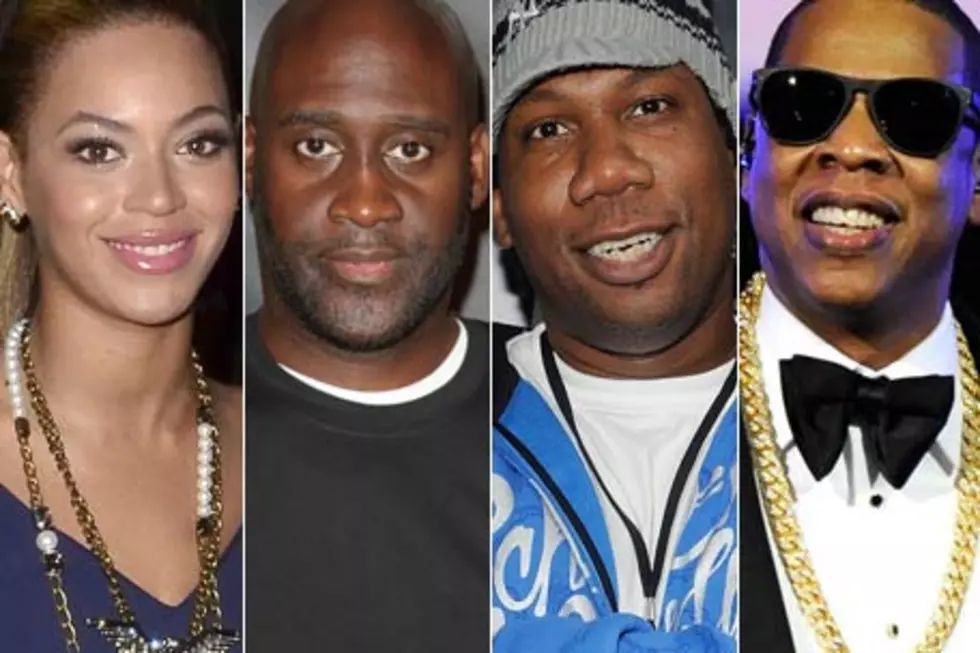 Math Awareness Month: 10 Artists From Beyonce to De La Soul Play the Numbers Game in Lyrics
Getty Images
Artists have been known to play number games within their lyrics from time to time. Only some singers are able to carry metaphorical word problems but rappers love to implement math in a bar or two. Some are simple enough to grasp while others make listeners pull out the notepad and calculator. A clever play on words and the right flow can make any equation sound like a hip-hop quotable.
April is Mathematics Awareness Month and in honor of that, The BoomBox takes a look at some mathematical operations used in music over the years, including fractions and geometry. That includes entire songs as well as sharp couplets dedicated to the subject. Sharpen your pencils.

"Yo, it's one universal law but two sides to every story/ Three strikes and you be in for life, mandatory/ Four MC's murdered in the last four years/ I ain't tryin' to be the fifth one, the millenium is here/ Yo, it's 6 million ways to die, from the seven deadly thrills/ Eight-year-olds gettin' found with 9 mills/ It's 10PM, where your seeds at? What's the deal..."
Mos Def (currently known as Yassin Bey) paid homage to numbers with his song "Mathematics" from the Black on Both Sides LP. In classic Mos fashion, he effortlessly tackles social ills while remaining faithful to the theme of the track. This verse isn't as much an equation as it is a slick countdown from one to 10, describing the pitfalls of hood life and avoiding the trappings of rap fame.

"My baby is a 10/ We dressing to the nine/ He pick me up, we eight/ Make me feel so lucky seven/ He kiss me in his six/ We be making love in five/ Still the one I do this four/ I'm trying to make us three/ From that two/ He still the one..."
As the only R&B song on our list, Beyonce's "Countdown" holds its own amongst the most savvy rap lyrics devoted to numbers. The Houston rocket breaks down the formula to her loving relationship while counting backwards from 10 to one. The hook is brilliant as she plays on the homophonic characteristic of certain numbers ("He picked me up, we eight [ate]") as well as that quick nod to Miss Blue Ivy at the end ("I'm trying to make us three/ From that two").

"Ayo nobody on the corner run circles 'round squares/ Like my circle, 'cause my circle run circles 'round theirs/ Lions in my circle form circles 'round bears/ Cause we circle 'round blocks and knock circles out squares/ Yeah, you bring your circle out where/ When my circle out bitches form circles out there/ Square biz they just wanna see math/ So we make them try angles like geometry class..."
The Baltimore Bad Boy makes Diddy proud of his investment with regular freestyles like these. Los goes in over the "Swagga Like Us" beat, and takes us back to geometry class. The heady usage of the terms "circle" and "square" in every line except the last, is enough to give Los infinite props, but the fact that he plays on the multiple meaning of each word accurately, painting a clear picture, makes this one of the best lyrics on this list.
"Affirmative Action," The Firm

"Keys is one and two-fifth, so how we flip/ Thirty-two grams raw, chop it in half, get 16, double it times three/ We got 48, which mean a whole lot of cream/ Divide the profit by four, subtract it by eight/ We back to 16, now add the other two that 'Mega bringin through/ So let's see, if we flip this other key/ Then that's more for me, mad coke and mad leak/ Plus a 500 cut in half is 250/ Now triple that times three, we got three quarters of another key..."
Quite possibly one of the most complicated mathematical rap equations ever, Foxy Brown's verse on "Affirmative Action" is a doozy. Clearly, she's referring to the profit to be made off a dope deal, from the point of preparation to the actual sale. The inclusion of fractions, weight units and operations put these bars at an SAT level.
"Funkmaster Flex Freestyle," Canibus

"They eat away at your materia, I'm superior/ While you only pretend to be, I can double my density/ From 360 degrees to 720 instantly/ Six multiplied by five by four by three by two, then one, go 'head and calculate the sum..."
Canibus has always been pretty deft at coming up with some head-scratching one liners. For his Funkmaster Flex freestyle, the MC starts off with an imaginary word -- "materia." We'll let that slide though, as the next couple bars redeem his skills mathematically. After claiming to double his density when compared to an opponent, he breaks the formula down visually in degrees -- 360. Then he "doubles" the degrees, which equal 720. The finishing touch is the actual equation he throws in, which indeed, equals 720.
"The Magic Number," De La Soul

"Three forms the soul to a positive sum/ Dance to this fix and flex every muscle/ Space can be filled if you rise like my lumber/ Advance to the tune but don't do the hustle/ Shake, rattle, roll to my magic number/ Now you may try to subtract it/ But it just won't go away/ Three times one? What is it? One, two, three/ And that's the magic number..."
De La Soul has always been about producing fun, light-hearted hip-hop and "The Magic Number," off their debut LP, Three Feet and Rising, is no different. Anyone familiar with the "Schoolhouse Rock" series will recognize the phrase from one of their more famous jingles, based on one of the more basic mathematical ideas, "three" being "the magic number." In this verse, rapper Dave pays homage to the collective group comprised of him, Maseo and Posdnous, and taunts that the number "three" is tough to get rid of.
"Streets on Lock," Young Jeezy

"Want to assassinate my character but I ain't acting/ It ain't adding up so you n----s subtracting/ B.I.G. said it first more money more problems/ The way I see it more problems more money..."
Trap rap extraordinaire Young Jeezy doesn't do too much math in the song "Streets on Lock," keeping things fairly simple to understand, in his way. The concept of the one-liner is clear: Jeezy is "the real" and those attempting to prove otherwise by "subtracting" from his character are setting themselves for failure.

"You said you been in this 10/ I've been in it five, smarten up Nas/ Four albums in 10 years n----? I could divide/ That's one every, let's say two, two of them shits was due/ One was - Ehh, the other was Illmatic/ That's a one hot album every 10-year average..."
One of the best mathematical metaphors of this generation is buried within Jay-Z's coup de grace against fellow rap vet Nas in "Takeover." His inflection in addition to the actual word use takes no mercy on the Queensbridge MC. After a scathing series of insults, Jay states his five-year career span, then performs a quick analysis of Nas' career by division, claiming that of the four albums released in 10 years, only one of them was influential.
"Live on Stage (Remix)," Dilated Peoples Feat. Talib Kweli

"Ayo, basic mathematics -- add shit, subtract shit/ Multiply, divide, break down shit to fractions/ Equality -- not greater than or less than/ Los Angeles, Brooklyn, connect to Manhattan..."
L.A.-based rap outfit Dilated Peoples have had a couple other math references in their catalog including "Third Degree" and "Work the Angles" but it was this concise rundown of operations that captured our attention. Here, Iriscience includes a few influential regions of the hip-hop culture, saying that it's the most basic level of mathematics, where even after applying said operations, all regions end up as equals.
"1, 2, Here's What We Gon' Do," KRS-One Feat. RZA & Tru Master

"We deal with mathematics, we can subtract or add it/ Divide it, multiply or breaking down the fractions/ From a cloud of blood and sperm cell we flashing/ The biochemical equation, walk and talk with reaction..."
As one of the genre's first true lyricists, KRS-One is always capable of creating a good metaphor, however RZA takes the lead here. His line starts off quite similar to that of Iriscience but by the end, takes on sort of a science-fiction feel when "a cloud of blood and sperm cell" create a "biochemical equation" -- a human being.