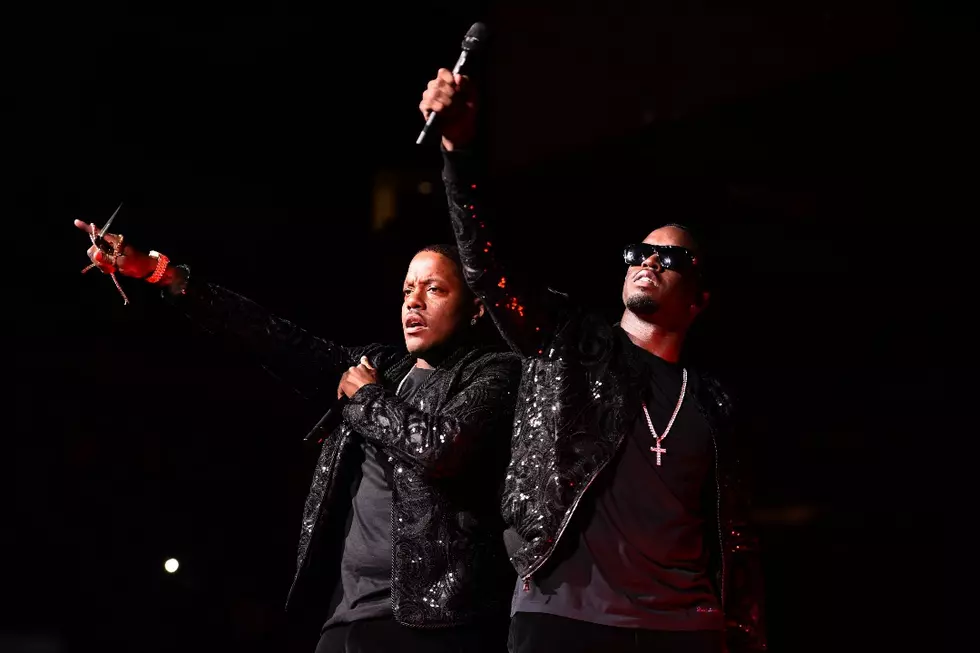 Chance Encounters: What If Ma$e Had Signed With So So Def Instead of Bad Boy Records?
Dimitrios Kambouris/Getty Images
In hip-hop, popularity and relevance is fleeting, at best, due to the constant influx of new talent and trends making it hard for to keep the attention of the public eye.
It's rare that a rapper's career can survive five years, let alone a decade without a proper album release, but Mason "Ma$e" Betha is far from your ordinary rapper.
With his last studio album, Welcome Back, released in 2004, Ma$e would find himself at the forefront of the conversation once again this past November after unveiling "The Oracle," a diss track directed at former collaborator and childhood friend Cam'ron due to comments made about Ma$e on a track from Cam's mixtape The Program.
Scathing in nature, "The Oracle" would quickly garner a response from Cam'ron in the form of his diss "Dinner Time," but the response from the hip-hop community would be in Ma$e's favor, with an overwhelming majority of fans, artists and critics deeming him the winner of the back and forth.
Prior to putting his career on pause in 1999 to delve into education and religion, Ma$e was a Bad Boy, inking a deal with the label in 1996. After a succession of appearances on high-profile singles like 112's "Only You (Remix)", The Notorious B.I.G.'s "Mo' Money Mo Problems," and multiple appearances on Puff Daddy's debut album, No Way Out, including the singles "Can't Hold Me Down" and "Been Around the World," Ma$e would unleash is own solo debut, Harlem World, in late-October 1997.
One of the most anticipated debut albums in rap history, Harlem World debuted at No. 1 on the Billboard 200 and would be a critical and commercial success, with hits like "Feel So Good," "What You Want," "Lookin' at Me" and "24 Hrs. to Live" pushing the album to quadruple-platinum status and confirming Ma$e as one of the biggest stars in all of hip-hop.
Ma$e's partnership with Puff Daddy and Bad Boy Records may have proved to be a match made in heaven and resulted in multiple classic songs and millions of copies sold, but if it wasn't for one chance encounter, Ma$e's success on Bad Boy would never have come to be, forever altering the course of hip-hop history.
Although the Harlemite would first come to prominence via his show-stealing appearance on the "Only You (Remix)," Ma$e's foray into music had begun a few years prior. As a teenager, Ma$e was part of local rap group named Children of the Corn, which included future rap stars Big L and Cam'ron, as well as member Bloodshed, who would later be murdered in a car accident.
The group ultimately disbanded by the time Ma$e arrived at State University of New York at Purchase in 1994 on a basketball scholarship, but his hoop dreams were put on hold permanently after his twin sister Stason introduced him to Cudda Luv, The Notorious B.I.G.'s road manager and an industry insider who was impressed by the aspiring rapper's demo.
Looking to secure a record deal for his new client, Cudda Luv brought Ma$e down to Atlanta for the Jack The Rapper music conference, which gathered the biggest artists and executives in all of music to showcase and acquire new talent. Ma$e, who rapped with a slight drawl due to his time spent in Jacksonville, Florida as a youth, was more suave than the average spitter making waves out of New York City during the mid '90s, meaning that he would require a certain kind of producer and label to mold him into a mainstream superstar.
Although Bad Boy Records and Death Row Records were the two most popular and successful record labels in hip-hop, one imprint that rivaled the two in terms of both aspects was So So Def, an Atlanta-based record label founded by producer Jermaine Dupri in 1992.
A child of a music executive himself (Michael Maudlin), Dupri was considered a protege of sorts, having discovered and introduced teenybopper multi-platinum rap duo Kriss Kross to the world, as well as platinum-selling R&B group Xscape before age 21. Already a proven hit-maker for superstars like Mariah Carey and TLC, as well as So So Def's stable of talent, Dupri was one of the powerful young moguls in music with a knack for developing artists destined for the top of the charts.
With this in mind, Ma$e and Cudda hit the road with the intent of catching Jermaine Dupri's ear and brokering a deal that would make Ma$e the newest addition to the So So Def roster. However, Ma$e had a chance encounter with Puff Daddy at JD's own party at the Hard Rock Cafe before ever running into Dupri, and as fate would have it, Puff was so impressed by an impromptu performance by the rapper that he promised Ma$e a record deal on the spot.
Making good on his word, soon after arriving back in New York City, Puff tacked the verse Ma$e rapped at JD's party onto the remix of Bad Boy R&B group 112's hit single "Only You," effectively minting him a Bad Boy for life.
But what would've occurred had Ma$e met Jermaine Dupri as intended and become aligned with Dupri and So So Def instead?
Well, for one, many of Bad Boy's greatest records would forever be altered or erased altogether, at least as we know it. In addition to his own material, Ma$e was the alleged pen behind many of Puff Daddy's earliest rap verses and hooks, including the majority of the material on Puff's 1997 debut, No Way Out, making him the most invaluable artist on Bad Boy in the wake of The Notorious B.I.G.'s death in March that year.
Without Ma$e in position to help Puff put the finishing touches on his debut and pick up the pieces as Bad Boy's newest franchise player, who knows if Bad Boy Records would've survived the immense loss of one of the greatest rappers of all-time and suffered a fate similar to that of Death Row Records, who quickly fell from grace after the fallout from the murder of Tupac Shakur a year prior.
On the flipside, if Ma$e were to have signed with the house that JD built, would he still be remembered as a rap legend and one of the more successful artists of his time? For as good as his track record is when it comes to producing hits, outside of his work with Kriss Kross and Lil Bow Wow, JD hasn't had much success cultivating male rap talent, let alone someone of age and hailing from New York City.
While J-Kwon and BoneCrusher both achieved moderate success before fizzling out following their debuts, R.O.C., SunN.Y, and Hot Dollar are former proteges of Jermaine Dupri who would fail to gain traction and languish in obscurity after falling under his wing.
One variable that could be indicative of what a Ma$e and Jermaine Dupri tandem would've brought to the table is the music the two have already recorded together throughout the years.
Despite ultimately signing with Bad Boy and building his career there, Ma$e and JD developed a creative bond, with Dupri producing the Harlem World track "Cheat On You" featuring Lil Cease and JAY-Z. and Ma$e making an appearance alongside Lil Kim on "You Get Dealt With," from Dupri's own 1998 debut album, Life in 1472. T
he two also shared airtime on the Ruff Ryders Ryde or Die Vol. 1 cut "Platinum Plus" in 1999, but the one venture that will keep their names aligned forever is Ma$e's All Out Records, which was established in spring 1998.
As a result of his overwhelming success, Ma$e was given the opportunity to start his own record label, which the rapper decided to house at So So Def, with Columbia Records serving as the distributor.
Harlem World, All Out Records' flagship act, comprised of members Baby Sta$e, Blinky Blink, Meeno, Cardan, Loon and Suga J, would first be introduced in 1998, with Ma$e's affiliation with the group putting the spotlight on the relatively unknown crew. When Harlem World's debut album, The Movement, was released in March 1999, the buzz surrounding the group was diminished by the lackluster lead-single "I Like It," as well as Ma$e's abrupt retirement from rap just months prior to the release of Double Up, Harlem World's anticipated follow-up.
The Movement was eventually certified Gold, as was Double Up, but it was the lone release on All Out Records, as the label would become dormant following Ma$e's departure from the rap game, effectively ending Ma$e's business partnership with Jermaine Dupri and So So Def.
Ma$e would eventually return to the rap game, releasing his comeback album, Welcome Back, in 2004, earning himself a gold plaque for his efforts before contractual limbo forced him to take yet another sabbatical, making Welcome Back his last body of work released to date.
With all of the fanfare and drama that surrounded him towards the end of last year, it's safe to assume that we can expect to hear more from Ma$e in 2018, as his buzz is hotter than it's been in over a decade and if his most recent rhyme spills are any indicator, is still more than capable of making waves behind the mic.
While his recent actions may bring us to question what would've been had his career taken a different route, they're also a reminder that all things happen for a reason and that while hindsight may always be 20/20, history has a way of writing itself regardless of our intentions, with Ma$e's unexpected return serving as a reminder of that fact.
25 Best R&B Albums of 2017