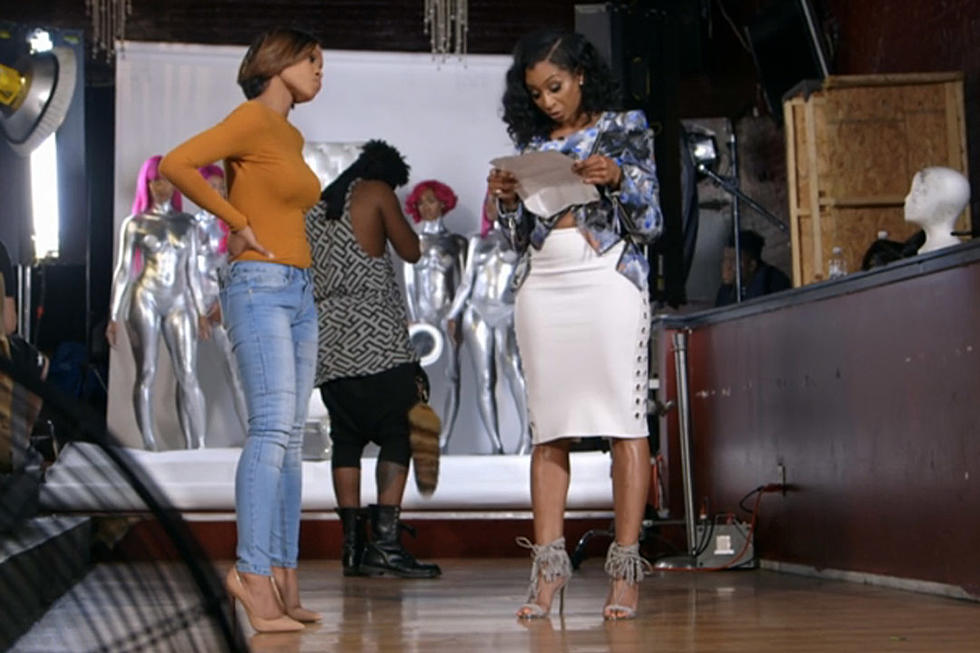 'Love & Hip Hop Atlanta' Season 5, Episode 15 Recap: Karlie Finds Out About Lyfe Jennings' Baby Mama
VH1
Throughout the fifth season, Love and Hip Hop Atlanta has been going through fight after fight. And on last night's (July 18) episode, all of the season's conflicts finally came to a head.
Let's start with Karlie. After Lyfe Jennings dumped her a couple of episodes ago, Karlie's problems continued to grow. After finding out that the ring Lyfe gave her was a fake, she then discovered that Lyfe was lying when he said he had no baby mama.
Jessica Dime invited Karlie to her photo shoot where Karlie met Lyfe's baby mama, who was already pregnant with his baby when Karlie and Lyfe started dating. Of course, Karlie thought it was all lies. However, the other woman whipped out the paternity test that she "conveniently" had in her pocket and proved that Lyfe was the father of her child. Karlie was obviously upset by the information, and the two women had to be separated.
Karlie soon realized that the baby mama shouldn't be the subject of her wrath; it should be Lyfe. So she dropped by his video shoot, where she found her ex with the woman that the blogs reported was his wife. And seeing the two together got her blood boiling--because it was clear that Karlie was duped. So what did she do? Confront him, and of course, he attempted to blame her for it all.
Speaking of other baby mamas, Mimi had some business to take care of with Stevie J. Now that she knew he wouldn't change, she had no choice but to start officially collecting child support for their daughter. Stevie was taken aback by the information and tried to make amends, but Mimi was done.
That wasn't the only thing she was finished with. After revealing in the last episode that she had a new woman in her life, she finally met up with her ex, Chris, to close that chapter. Chris was taken aback by the news and said that he never officially broke up with her but gave her space. But Mimi's mind was made up and didn't want to "fix" their relationship -- leaving Chris mad despite his love for the woman.
Although Chris and Mimi are done, Scrappy had his heart set on winning Bambi back. So he met up with Tammy for advice. Tammy told him that in order to get Bam back, he's got to pop the question. Although Scrappy wasn't shocked by that idea, especially considering all the drama with his ex, Erica, it was obvious that the idea did get his gears going.
Meanwhile KK proved that she could turn over a new leaf by making peace with Tiarra. Since the top of the season, we've seen her throw out some of the worst shade at her son's baby mama. But this week's episode proved that she wanted to keep her promise to Scrapp and become friendly with Tiarra. While Tiarra was hesitant at first, the moment she saw KK shed a few tears, something Tiarra pointed out that KK never did, she knew that KK was being sincere. Not only did Tiarra accept KK as part of her and King's, life but also agreed that grandma should plan his fourth birthday party.
The episode ended on a sour note -- as most Love and Hip Hop Atlanta episodes did with Tommie and Joseline. Since Scrapp went to jail, Tommie has been spiraling out of control. She started fooling around with Joseline, tried to entice Scrapp's uncle Stevie J and won't stop drinking. However her antics in Los Angeles went downhill when Joseline supposedly called the police on Tommie.
Tommie, while intoxicated, relayed the information to KK as well as the fact that both Joseline and Stevie had a threesome with her. Of course, KK had to get to the bottom of this new intel, aside from making sure that her friend Tommie get some help with her drinking problem. So she confronted Stevie, who completely denied the story about hooking up with Tommie. However, he couldn't really say much for Joseline's actions.
Meanwhile, Tommie made sure to confront Joseline about the police incident. Unfortunately for her, Joseline denied ever doing that but promised to do it at that meeting. Knowing how Tommie's temper can be, she immediately got up, and yet another rumble started.
When will these two ever stop fighting? Tune in next week to find out how this all unfolds.