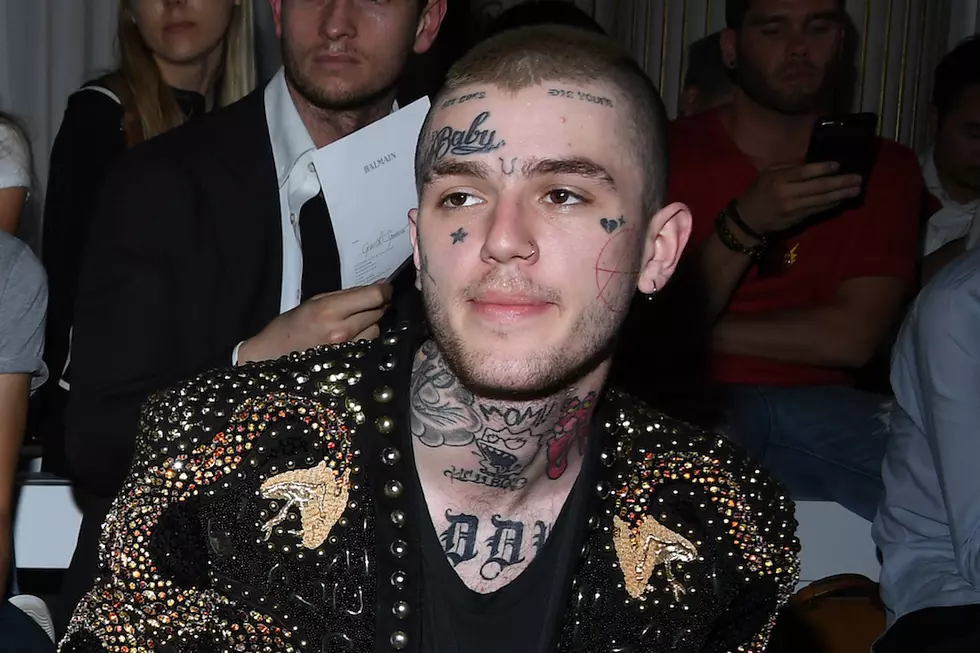 Lil Peep Remembered by Friends and Family at Hometown Memorial [VIDEO]
Pascal Le Segretain, Getty Images
Friends and family members gathered at a memorial service to celebrate the life of rapper Lil Peep in his hometown of Long Beach, N.Y., on Saturday night (Dec. 2). The service was also livestreamed on social media.
Lil Peep, whose real name is Gustav Åhr, died on Nov. 15 at age 21 of a suspected drug overdose before his scheduled show in Tucson, Ariz. According to Rolling Stone, hundreds of fans lined up to pay their respects outside the beachside Allegria Hotel. Some wore black "Come Over When You're Sober" sweatshirts in honor of Lil Peep's last recording, with hoods up in solidarity. Others wore some form of pink, which is Peep's favorite color.
Among the mourners in attendance was the late rapper's grandmother, Jenny Kastner, who started the service by reading a few letters from fans who praised Peep's music.
Emma Harris, who dated Lil Peep, also spoked at the service. She recalled falling in love with the late rapper and never meeting anyone who "colored his hair more than me." "I don't think it's physically possible to shed more tears for anyone," she added.
Lil Peep's mother, Liza Womack, also paid tribute to her and remembered him for his honesty and grace. During Womack's eulogy, she reflected on how her son felt like an outsider by people who judged him for his tattoos and not what's in his heart.
"Years later, Gus told me that it was easy to tell the difference between the people who saw his tattoos when they looked at him, and the people who saw him [on the inside]," she told attendees. "Please do not make assumptions about people or events in ignorance."
"Try to step outside of your own box and open your mind to new ideas," she continued "My sweet Lil Peeper is gone now, but he has surely left us a lot of wonderful material to review and consider...I am so proud of him. You have no idea."
You can watch the entire one-hour memorial service above.