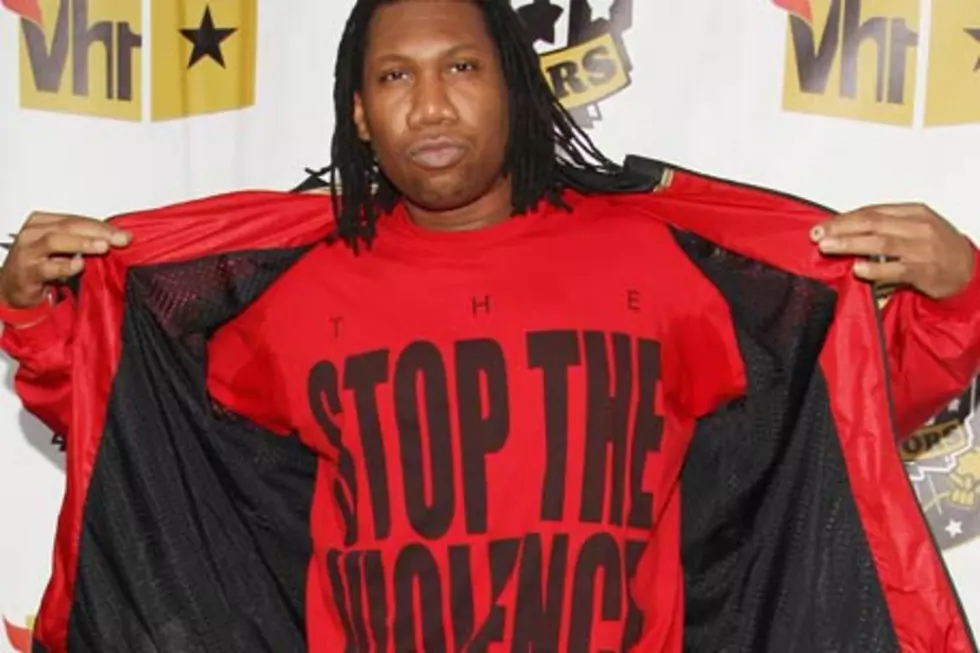 KRS-One: Connie Chung's Harsh Words, LL Cool J's Disobedience & Retirement
Bryan Bedder, Getty Images
The truth is KRS-One has always existed in extremes. The celebrated Bronx, N.Y., MC evolved from giving birth to the controversial rap genre known as gangsta rap to dropping a politically conscious classic. He was leader of the influential hip-hop group Boogie Down Productions, who crafted their landmark 1987 debut 'Criminal Minded,' then a year later they released the startling LP 'By All Means Necessary'. And that's just the first chapter of the 46-year-old's 25-plus year career as one of hip-hop's true lyrical giants. Indeed, when you dissect the impressive run of KRS-One, it's clear that the man does not lack conviction.
Fans who want empowering music that blasts the historical devaluing of black culture should check out 1990's 'Edutainment.' Or how about an unfiltered, two-fisted statement that thoroughly embraces the power of hip-hop with a pure, Evangelical zeal? That would be KRS' DJ Premier-featured 1993 solo classic 'Return of the Boom Bap'. The Blastmaster even dropped a born-again Christian rap album with 2002's 'Spiritual Minded,' a bold and much-debated work that was more than a risk for an MC that had a made a career out of questioning organized religion.
Yes, KRS-One is a complex artist. But he's also the most passionate ambassador for his beloved Bronx-bred artform as evident by his creation of the Temple of Hip-Hop school. With a new Boogie Down Productions release, 'The BDP Album,' currently out in stores, KRS-One is still fighting the good fight. The BoomBox caught up with the legendary MC to discuss Connie Chung saying his career was over, his respect for LL Cool J after disobeying his record label, denying Lyor Cohen his skill set and why he will never put down the mic.
Did you and the rest of BDP have any idea that you were helping create a new hip-hop genre called gangsta rap with the 1987 release of 'Criminal Minded'?
We didn't really look at it like that. 'Criminal Minded' was all about exposing the truth. The illusion was that we came out with 'Criminal Minded' just to satisfy the street head, but that wasn't the case. The truth is we were posing as revolutionaries trying to warn our people about the crack cocaine era and senseless street violence and how we can preserve hip-hop by getting more conscious about it.
But ironically it was senseless violence that took the life of your partner and friend DJ Scott La Rock, who died trying to peacefully settle a beef. Take me back to the summer of 1987 when Scott was gunned down. Did you believe that BDP was finished following such a ground-shaking death?
A lot of people felt that way, including some members of BDP. It was hard on everyone. I remember being interviewed by Connie Chung, who was working for Eyewitness News Channel 4 at the time. And she started out the interview with, "Well, now that your career is over what are you going to do?" So this is what we were going up against. But I knew we had to keep going. I knew Scott was watching over us.
Listen to KRS-One's 'Time's Up'
When did you know your life had changed after the immense success of that first album?
When 'Criminal Minded' came out, Lyor Cohen [former head of Island Def Jam and current Warner Music Group CEO], who at the time was running Russell Simmons' Rush Artist Management, asked me to sign with him after Scott's death. He threw me a gig at Madison Square Garden thinking I was going to be impressed. And I was impressed; I appreciated the Garden, but I wasn't signing with Rush. I was cut from a whole different cloth. It had nothing to do with them.
Looking back, how crazy was it for you, a relative newcomer, turning down the hottest management group in hip-hop at that time?
I wasn't trying to make a statement. I didn't need anyone to manage me. I knew they could not hold down an artist like me. So I told Lyor several times, "No, I'm not signing with you guys." And on top of that, I'm taking shots at the top rappers in the industry who happened to be signed to Rush [laughs]. It was crazy!
There are some great stories connected to the making of the anti-black-on-black violence single 'Self Destruction.' When you think back to leading such a monumental all-star project -- that featured everyone from the late Heavy D and Kool Moe Dee to MC Lyte and Public Enemy -- what comes to mind?
The fact that LL Cool J still showed up to the session even after Def Jam told him not to. Just imagine a triple-platinum artist wanting to show up and be part of a project so bad, but he can't because of his record company. But again LL still shows up! Can you imagine MC Lyte and LL together writing a verse for 'Self Destruction'? Lyte was so hardcore and so much New York female hip-hop. She was battling everybody back then. And she's in the corner writing with a superstar like LL Cool J and they are trying to figure out how to save our children! If I was a man that cried that was my time to do it.
It seemed like in the late '80s and early '90s, hip-hop thought it could really change the world through music. How important was it to showcase a socially conscious viewpoint during that era?
We all felt that way. In 1989, me and Chuck D [Public Enemy's founder and lead MC] did a lecture together at the University of California. This was one of the first times ever rappers were giving a college lecture. Me and Chuck tore that place down in terms of lecturing and speaking. We had peoples' minds right. That's what's missing from hip-hop today. But it doesn't take a rapper to speak about the truth. We are all hip-hop.
You were never the type of artist to stress over record sales. What is your view on having commercial success especially as an MC, who has made some of the most uncompromising albums in hip-hop history?
I look at it like this: you may only sell 20,000 to 100,000 albums. But those albums are going to be heard by future doctors, lawyers, judges, fireman, etc. Those albums are being sold to the right people that move society. They're interested in what you have to say. But really, the minute that I sell over a million records you should write up in this article that says KRS-One's career is officially over [laughs].
What was your mindset going into your first Boogie Down Productions album since 1992's 'Sex and Violence'?
That it's time for us to get off our asses and write a dope rhyme and put it out. Why isn't there any 50-year-old MC's killing it? I'm 46. Am I the only one? I can't wait to get to 50. I'm going to let everybody know it! I'm going to wear a shirt that says "I'm 50."
Is there one song on the new album, 'The BDP Album,' that makes you shake your head and say, "I'm still No. 1"?
My favorite song on the album is 'Times Up,' which was produced by Jesse West. The crazy part is Kenny [Parker] [longtime member of Boogie Down Productions] titled all the songs. Production wise, we are being daring with the beats because they don't sound like anything out today. We are bringing back that sparse, snare and kick album production. All of that is the Boogie Down Productions formula and Kenny nailed it.
So needless to say retirement is out of the question anytime soon, huh?
I'm going to do this forever. I'm going to be past 50 years old and still spitting that raw. This is what we dreamed about when we were kids. We said, "Yo, we never going to stop MCing. We gonna rhyme and be b-boys until we are grey." I'm here to inspire young people to be part of the most magnificent culture on earth: hip-hop. And to inspire older people to never put the mic down and sell you vinyl.
Watch 'Learn About the History of Rap'
#fivemin-widget-blogsmith-image-248051{display:none;} .cke_show_borders #fivemin-widget-blogsmith-image-248051, #postcontentcontainer #fivemin-widget-blogsmith-image-248051{width:476px;height:357px;display:block;}