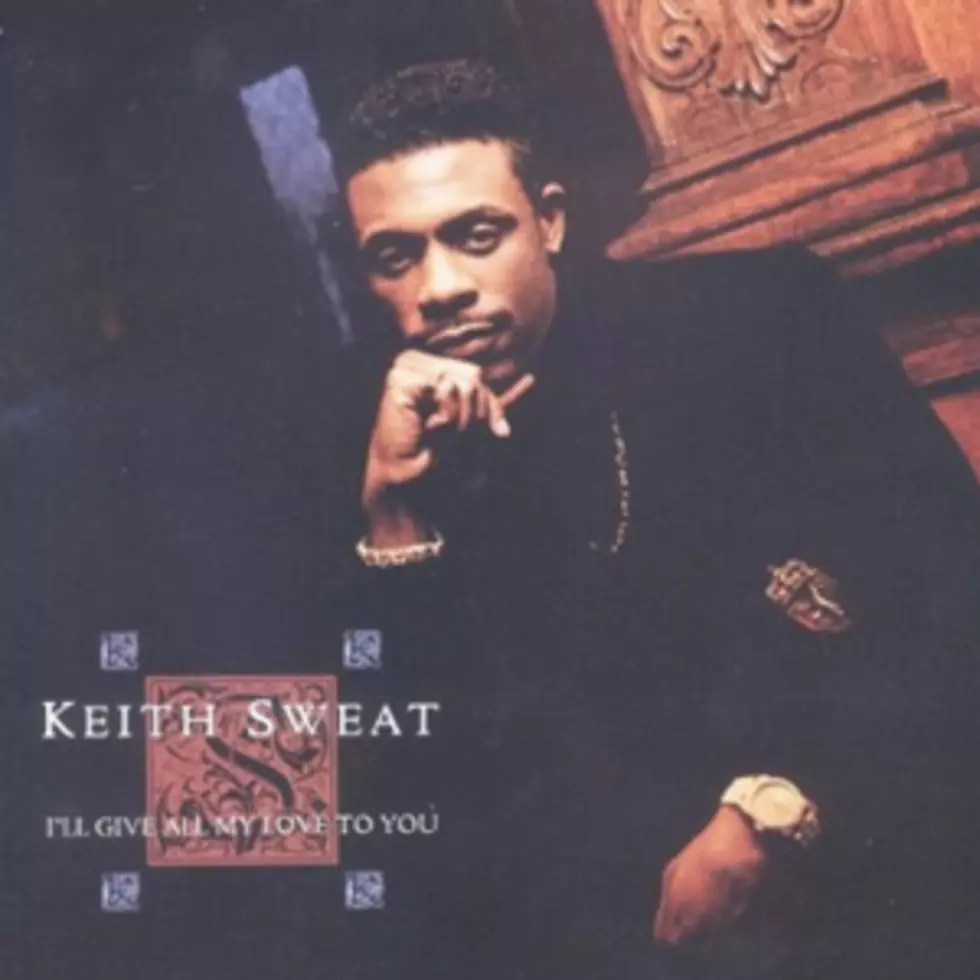 Five Best Songs From Keith Sweat's 'I'll Give All My Love to You' Album
Elektra
1990 was a pivotal year for R&B music.
The previous decade produced a number of notable groups and soloists that made a major impact on the direction of the genre, but along the way, the sound of the songs that were being made started to change. Instead of the traditional brand of R&B that relied on live instrumentation, innovators such as Teddy Riley began implementing drum kits and hip-hop elements into the production, which played a big part in the success of acts like Bobby Brown as well as Riley's own group, Guy, among others. One of his earliest collaborators was fellow New Jack Swing enthusiast Keith Sweat.
Born in Harlem, N.Y., the singer got his start as a performer in a local group called Jamila during throughout the late '70s and '80s. After deciding to pursue a solo career in 1984, he continued performing at various New York City venues before being discovered by Vincent Davis, who signed the buzzing singer to his label, Vintertainment Records, which was distributed through Elektra.
Sweat dropped his debut album, Make It Last Forever, in 1987, and became an instant star due to his undeniable charm on hits like "I Want Her" and the LP's classic title track. The album moved over two million units and was a critical success, leading to major expectations for his sophomore release.
Eventually arriving on June 12, 1990, I'll Give All My Love to You was a big success, but drew mixed reviews from a number of publications, which noted the absence of Teddy Riley as well as the lack of a recognizable hit single. But contrary to those assessments, the fans must have felt otherwise, evidenced by the fact that I'll Give All My Love to You spawned two No. 1 singles in addition to another top 10 hit, not to mention the fact it moved over two million copies within a year of its release. Today marks 25 years since this album touched down, so we've selected the five choice cuts from that are sure to satisfy your musical needs. Check out Five Best Songs From Keith Sweat's I'll Give All My Love to You Album below.
5

"I'll Give All My Love to You"

Keith Sweat closes out I'll Give All My Love to You with the sentimental title track. The final single released from the album, the song netted Sweat his third No. 1 R&B song on the Billboard charts and peaked at No. 7 on the Hot 100. The song, which was co-written and co-produced by Sweat and Bobby Wooten, further ingratiated the Harlem native with the ladies due to his impassioned vocals of emotional yearning.

4

I'll Give All My Love to You is chock-full of slow-burning numbers that showcase Keith Sweat's begging ways, but one of the better instances of this is the hot-and-heavy selection "Merry Go Round." The tender lover finds himself holding the short end of the stick in his relationship and noting his lady's neglectful ways. While the merry-go-round sound effects may be a bit of a nuisance, overall, the song gets our nod of approval.

3

Listeners get hit with an uptempo treat in the form of the standout tune, "Love to Love You." Co-written by Keith Sweat and Bobby Wooten, the song is a feel-good number that finds the singer expressing his love and infatuation with his main lady through song. From complimenting her on her stunning looks to detailing all the things he'd like to do to her, he holds no punches and lays out his desires all over the track.

2

The album reaches a crescendo with the addictive album cut "Your Love." Keith Sweat delivers an enthralling vocal performance as well as utilizes his skills as a keyboardist on the backing track. Singing "Your love is so good to me / And everything you do, it blows my mind," Sweat is hitting on all cylinders and domineering the beat with the finesse of a seasoned soloist. The Teddy Riley-produced version may have been the bigger hit, but falls a tad bit short when pitted against the monster that is the original.

1

Make It Last Forever may have been a hard debut to top, but Keith Sweat came out swinging with "Make You Sweat," the lead single from this sophomore album. Manning the boards himself on this outing, Sweat proves to be a serviceable beatsmith in addition to a talented singer and churns out a jittery soundbed that is sure to get the fellas feet moving on the dance floor and have the ladies sweating out their hair.