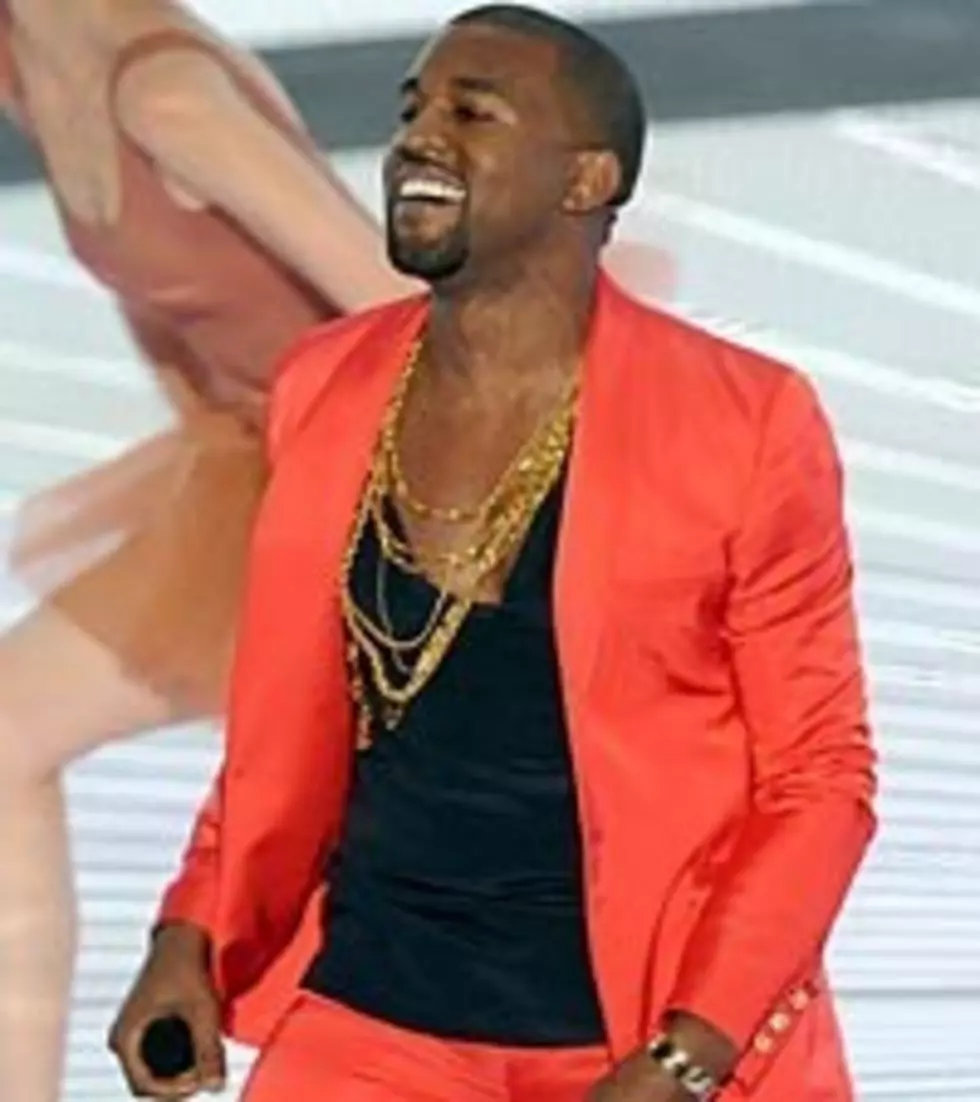 Kanye Toasts Douchebags and Scumbags at VMAs
Kevin Winter, Getty Images
One year after hijacking Taylor Swift's win for Best Female Video at the 2009 Video Music Awards, Kanye West returned to the scene of the crime hitting the MTV stage Sunday. Debuting the track 'Runaway' off his upcoming album 'Dark Twisted Fantasy, West ditched his usual elaborate stage show for a raw performance. After an introduction from funnyman Aziz Ansari, who addressed last year's infamous incident as "hilarious" rather than rude, the fiery emcee took center stage dressed in a bright red suit sharply contrasting the all white stage. Apart from a mic stand and synthesizer, West was joined by three ballerinas and the Clipse's Pusha T, who has a verse on the track.
In preparation for returning to the MTV stage, West attempted to make amends with the public after posting a series of emotional tweets and asking "yet again" for Swift's forgiveness. On the morning of the show the 33-year-old took to his Twitter page to express his excitement for a shot at redemption, even mentioning his mother -- whose death he revealed he is still getting over. "I wish my Mom was here but I know she's looking down," he tweeted Sunday afternoon. "I want to make her so happy today."
West's 'Runaway,' which samples Primitive Radio Gods' 'Standing Outside a Broken Phone Booth ...,' allowed him to playfully make fun of himself, and everyone else who tends to put their foot in their mouth from time to time. While Swift decided to address Kanye's immaturity in her performance earlier in the evening, Kanye did what he does best: keep the focus on himself.
"Let's have a toast for the douchebags/ Let's have a toast for the assholes/ Let's have a toast for the scumbags, everyone of them that I know." He continued, "Let's have a toast for the jerkoffs, that'll never take work off/ I gotta plan, runaway as fast as you can." He performed the final verse with heavy Auto-Tune beneath a shower of fire.
Judging by the crowd's response to his stripped-back performance, which ended with them chanting his name, it looks like West is finally being forgiven for that whole Taylor Swfit mishap, so long as he doesn't interrupt anymore acceptance speeches.