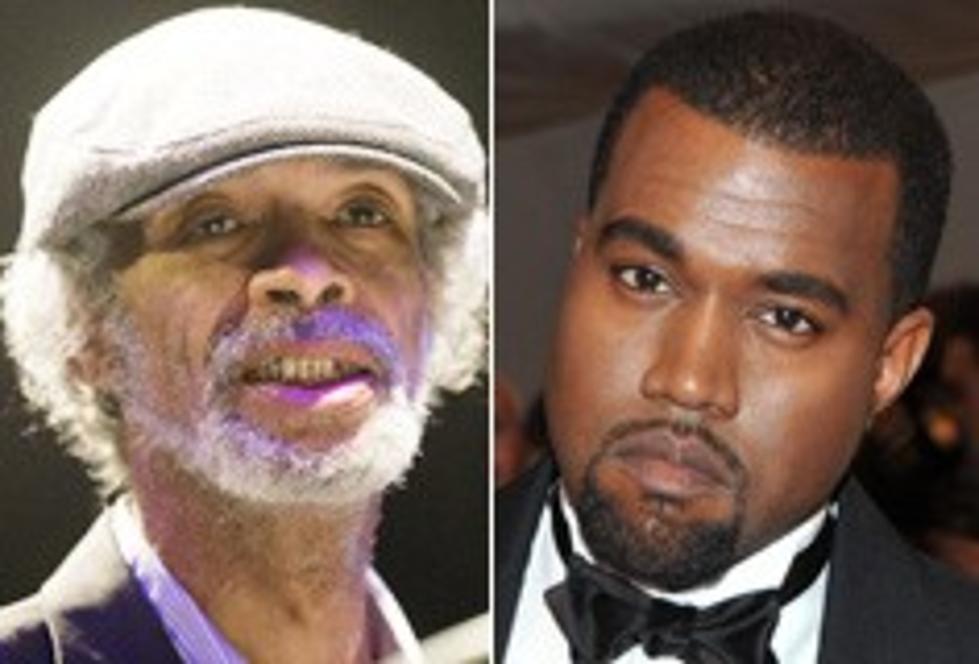 Kanye West Raps at Gil Scott-Heron Funeral
Getty Images (2)
Kanye West paid his respects to the late Gil Scott-Heron yesterday (June 2.) The Louis Vuitton Don, sporting shades and a black suit, attended Heron's funeral at the Harlem Riverside Church and closed out the memorial service with a performance of 'Lost in the World,' a track off his latest album, 'My Beautiful Dark Twisted Fantasy.'
The coda was an apropos example of Heron's significance in hip-hop culture. West samples Heron's poem, 'Comment No.1,' at the end of 'Lost in the World.' "Who will survive in America?" Heron charges at the end of both his poem and the West track. Besides paying tribute to Heron on his latest work, West also sampled him on the 'Late Registration' track, 'My Way Home.'
Heron released 15 studio albums in his lifetime, the last being 2010's 'I'm New Here,' which sampled West's 'Flashing Lights' on its intro and outro. The album was Heron's first release in 16 years and served as a rebirth of sorts. His cryptically-titled 'NY Is Killing Me' single propelled 'I'm New Here' into newfound recognition among younger audiences.
His name found it's way on the bill at the 2010 Coachella music festival and a remix album, titled 'We're New Here,' with Jamie xx of ambient electro-dance outfit the xx followed. But, Heron is perhaps best remembered for his older work -- 'The Revolution Will Not Be Televised' and 'Whitey on the Moon' painted a dark, yet truthful panorama of America that would become a signature of Heron's prose.
Heron died last Friday (May 29) from unknown causes. During the funeral, Heron's songs 'Better Days Ahead' and 'The Bottle' were also performed by his longtime back-up singers. A public viewing will be held later today from 6PM to 9PM at Frank E. Campbell Funeral Home at 81st St. and Madison Ave. in New York City.
"He was legendary, a visionary, an illuminating luminary," Heron's daughter Gia stated in a poem titled 'Time' during the service. "There will never be another like he."


Watch Gil Scott-Heron & Jamie xx's 'I'll Take Care of U' off 'We're New Here'
if(typeof AOLVP_cfg==='undefined')AOLVP_cfg=[];AOLVP_cfg.push({id:'AOLVP_814558718001','codever':0.1,'autoload':false,'autoplay':false,'displaymnads':true,'playerid':'89761511001','videoid':'814558718001','width':476,'height':357,'playertype':'inline','stillurl':'dynamic','videolink':'#','videotitle':'dynamic','videodesc':''});