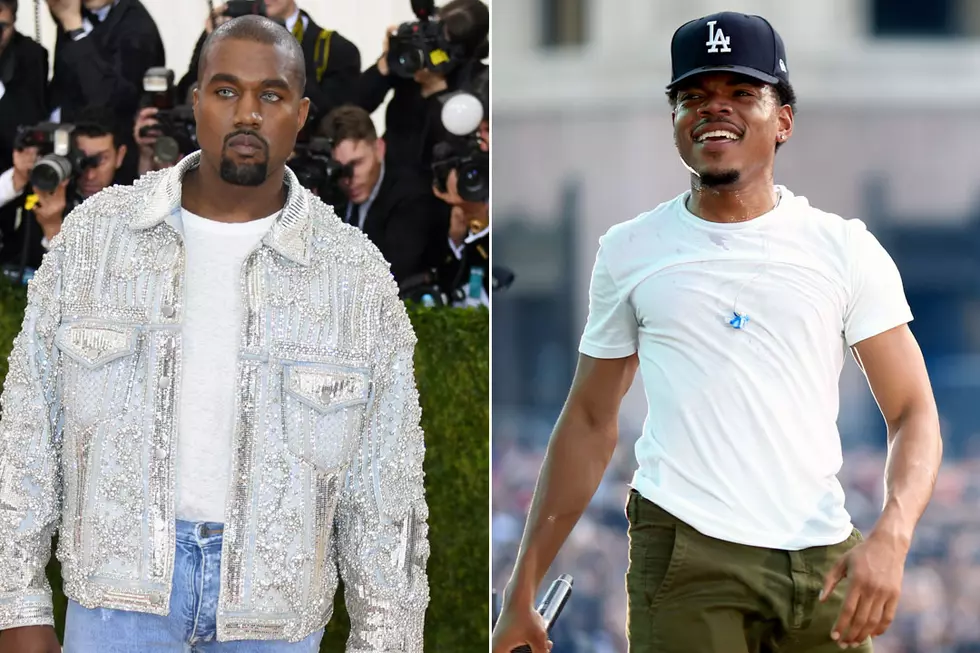 Kanye West & Chance the Rapper Rumored to be Working On a Joint Album
Christopher Polk / Larry Busacca, Getty Images
Are Kanye West and Chance the Rapper cooking up something special in the studio?
Ye's collaborator Francis & The Lights may have let it slip that the two Chicago rappers are gearing up to collaborate on a joint album, NME reports.
On Thursday (June 24), after Francis Farewell Starlite (founder of Francis & The Lights) praised Teyana Taylor's latest album (produced by Kanye West), Keep That Same Energy, one fan wrote, "Please tell us he has a couple more coming, maybe chance??"
The singer-songwriter replied, "I've heard rumblings of that yes, but he probably needs at least 6 hours of sleep right now."
Earlier this month, Kanye released his eighth studio album, Ye, which skyrocketed to the No. 1 spot on iTunes. The "All Falls Down" rapper also dropped a joint album with fellow rapper Kid Cudi called Kids See Ghosts, as well as produced Nas' NASIR and Pusha-T's DAYTONA albums.
In the midst of Kanye's praise for President Donald Trump and controversial slavery comments, folks may recall that Chance the Rapper took to Twitter to defend his longtime mentor when he wrote, "Black people don't have to be Democrats."
After Trump shouted out Chance, he later clarified his original tweet, saying: "I'd never support anyone who has made a career of hatred, racism, and discrimination."
"I'd never support someone who'd talk about Chicago as if it's hell on Earth and then take steps to make life harder for the most disenfranchised of us," he added.
No word yet from Ye or Chance about a possible collaboration, but rest assured that we'll keep our ears open!
Kanye West Albums Ranked Worst to Best