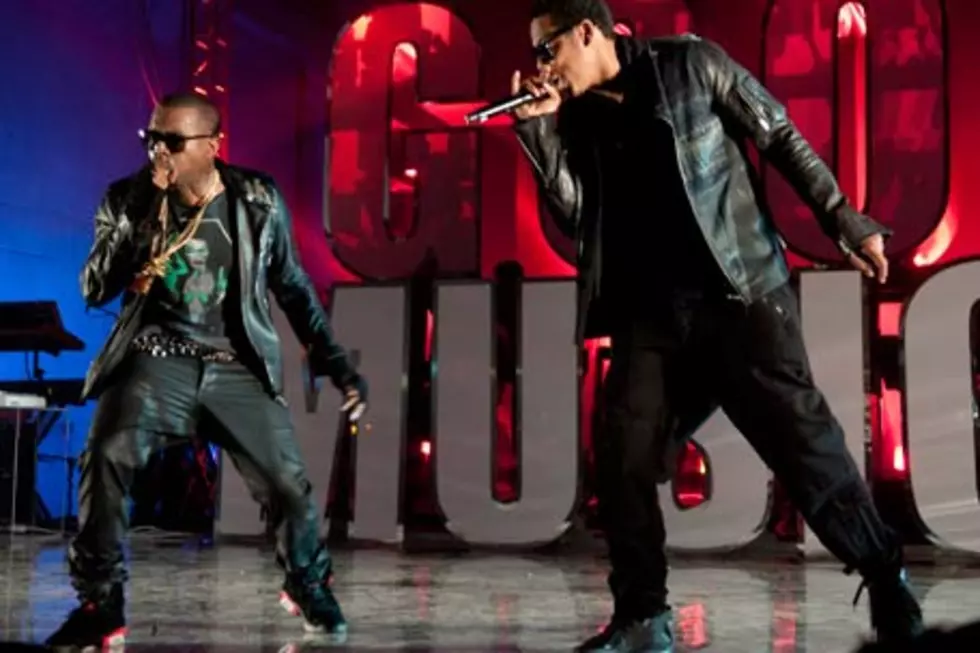 Kanye Wears a Skirt, Jay-Z Shouts Out Dads at NY Show
Daniel Boczarsk,i Getty Images
High above the 20,000 or so people who gathered at Madison Square Garden on a fall Monday night (Nov. 7) in New York City, the jerseys of retired athletic giants stood motionless as a cavalcade of lights and shuddering bass entertained the eager audience.
But two names stand out. Elton John and Billy Joel's banners also hang in the fabled Garden's rafters. Joel earned his for a record 12-night run, and John's No. 62 signals the record number of appearances by an artist at the venue.
If Monday night is any indication, it may soon be time to print up a couple more banners. By now, every media outlet has had its chance to deftly recount the events of a Jay-Z and Kanye West 'Watch the Throne' show. Yes, they play "N----s in Paris' three times. Yes, they rap on top of giant, moving risers with LCD side panels. And yes, Kanye wears a leather skirt.
But Kanye West and Shawn Corey Carter's joint concert is not an act ready-made for tweets and text messages. The thrust of the evening didn't come through in ways that could be captured on camera phone photos to be posted to Facebook by the night's end. The magic of the evening was in its uncomfortable, unexpected moments.
Watch Kanye West & Jay-Z Perform 'Otis'



One such turning point occurred when the two performed 'New Day' together. The song is easily the most genuine track on the album, a spare moment where RZA's nimble beat underscores Kanye and Jay-Z's somber ruminations on the reality of fatherhood in the limelight.
They sat next to each other on the stage. As Kanye ran through the list of regrets he wishes his unborn child would never repeat, Jay mouthed the verse. West, who is known to be overcome with emotion when rapping about his late mother, became visibly quiet and subdued as his verse ended: "And I'll never let his mom move to L.A./ Knowin' she couldn't take the pressure now we all pray" -- West's mother died of complications from plastic surgery. Carter asked the crowd to put one finger up for "all the love ones we've lost," as West's distraught face shined from the gigantic screens behind them.
Jay's verse is also suddenly more poignant, as Beyonce's pregnancy is already the gossip fodder he envisioned -- "Sorry junior, I already ruined ya/ 'Cause you ain't even alive yet, paparazzi pursuin' ya." His verse ends with his pledge to not abandon his child, and again electricity swept around the Garden's hushed audience. The elder rapper paused, eyes glistening, and said, "All the guys out there taking care of your kids, make some noise." In his typically accessible way, he added softly, "That's the cool thing to do."
It was unexpected, if not awkward. We've come to expect West to get riled up, to go off on rants. The show even included a bit piece West practiced at New Jersey's Izod Center earlier in the week, in which he cuts off the intro to 'All of the Lights' three times in mock horror at a lighting director's -- staged -- inability to "turn on all the lights we paid for." It's a savvy trick of performance art, in which West plays a caricature of the post-Katrina-telethon Kanye he finally realizes that he's partly appreciated for.
Watch Kanye West & Jay-Z Perform 'Who Gon Stop Me'



He pulls a similar, though more genuine trick when he performs 'Runaway,' his ode to his "a--hole" side. It's always an extended version, in which he urges his audience to love each other and bleats his simple, yet aching regrets -- "If I said I don't like your shoes tonight, don't listen to me, because I'm an a--hole, you're always fine. If I said I don't like your hair tonight, don't listen to me because I'm an a--hole, you're always fine. The only part I f---ed up is that I thought you'd always be mine."
But even if we cynically chalked up West's emotional displays to mere antics, we can't do the same for Jay-Z. The latter never even breaches the topic of his marriage in public. Witnessing two grown men on a planned free-fall from the fun-loving, cars-hotels-watches anthems of 'H.A.M.' and 'Otis' to a teary-eyed 'New Day' in an hour makes one wonder just how much they can control.
Everything about these two men is different. Jay-Z's within-the-beat dancing made Kanye look like he's dancing to dubstep. West forgot the lyrics to a song in the encore's medley, Jay tried to get him to keep rapping. Jay kept his advice to a neat minimum and spent more time thanking the crowd than admonishing it, West gave us his sermon on the LCD mount about love. Kanye screamed inaudible encouragement, Jay punctuated Kanye's verses with the standard call-outs that make him the best hypeman in hip-hop.
And yet if their delivery is nearly antithetical, why does the show flow so seamlessly?
In the end, they're just different paths to the same emotions. The ethos of the show is not epic or even about bravado. It's fear of what you've done, and what may happen. It's about two voices coming together and magnifying these feelings in chorus until you're ready to throw your hands up and dance and cheers to the 'Good Life." It's that, whether you're a free-speaking, suburban producer or a careful, precocious young drug dealer, you can end up throwing a party for 20,000 of your friends for one night at the Garden.
"I came here [to New York] with some beats in my pocket and I was too scared to even talk to Jay-Z because he was my f---ing idol," West later said. "Now I'm on a stage with him. That shows you that dreams can come true."
Carter, as usual, kept it simpler, and in song. You may be in the audience, shelling out hundreds of dollars for seats in a stadium, but like the dad-to-be says on 'Murder to Excellence,' when you see them, you see you.
Watch 'News Anchor Confuses Kanye West With Diddy'