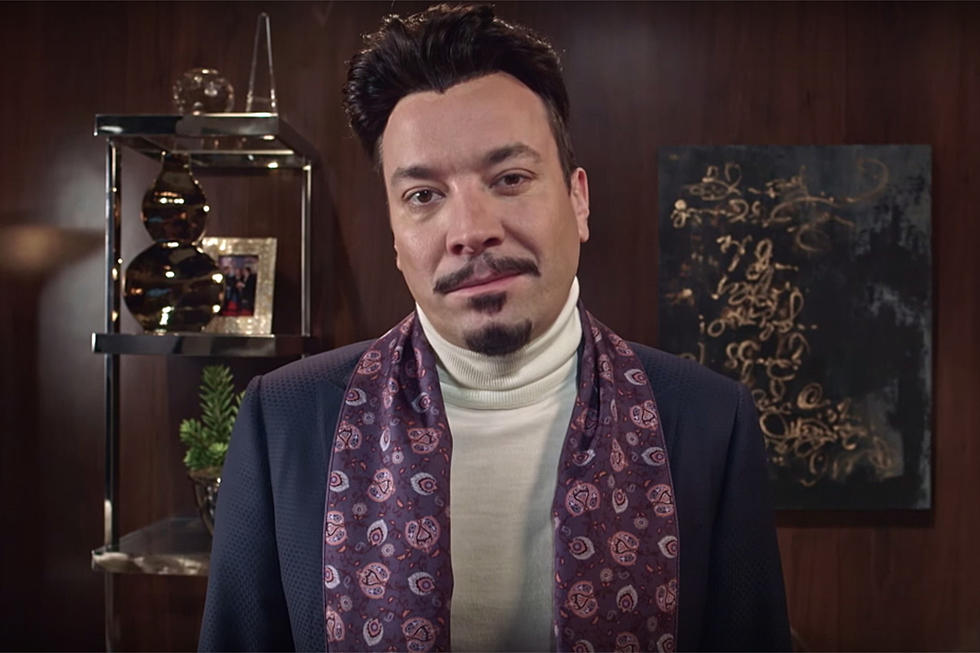 Jimmy Fallon Channels Lucious Lyon in 'Empire' Parody on 'Tonight Show' [VIDEO]
YouTube
Empire mania is back. The hip-hopera's second season premieres tonight and to kick things off, Jimmy Fallon decided to spoof the FOX hit series in a skit called "Jimpire" during The onight Show on Tuesday night (Sept. 22).
The late-night show host takes on the persona of Empire's main man as he channels Lucious Lyon in a turtle neck, perm and purple silk scarf. But, instead of having a musical conglomerate, Jimmy, who also sports a goatee, tells jokes and needs to pass his hosting duties on to someone. And in lieu of having the deadly ALS, his index finger has a "boo boo kitty."
"Who knows what can happen tomorrow? I can stub my toe. I could bite my tongue. I could burn the roof of my mouth eating a hot microwave pizza," the funnyman says.
His prospects? Questlove (who has a secret), Tariq (better known as Black Thought) and his erratic show producer, Andre. That is until Steve Higgins, Fallon's announcer, comes in doing his best Cookie impression.
One of the highlights comes as Black Thought skats the words "drop drip drippity drip drip drop droop errp," clearly parodying "Drip Drop" by the young Lyon, Hakeem, played by Bryshere "Yazz" Gray. But it's Higgins performance that takes the cake -- complete with leopard print, a big fur coat and the famous "this is an ass" moment where he bares his backside.
Empire stars Terrence Howard and Taraji P. Henson also make cameos as themselves in matching outfits to their spoofers. The No Good Deed actress can't help to call Higgins "Little Debbie" since he is "one fake ass Cookie," while Terrence simply asks Jimmy not to spoof Empire. But, of course, it's too late.
The Roots brothers band together in the end to take over Fallon's monologue, which includes jokes on Donald Trump's hair and Chris Christie seeing a holy grail on his bathroom scale. Questlove lets the audience in on his secret as well -- the famous afro is a rue and he's actually bald.
But in the end, Fallon reveals his chosen heir -- Donald Trump. God help us all.
Check out the entire parody above.
See 20 Singers' Real Names Revealed