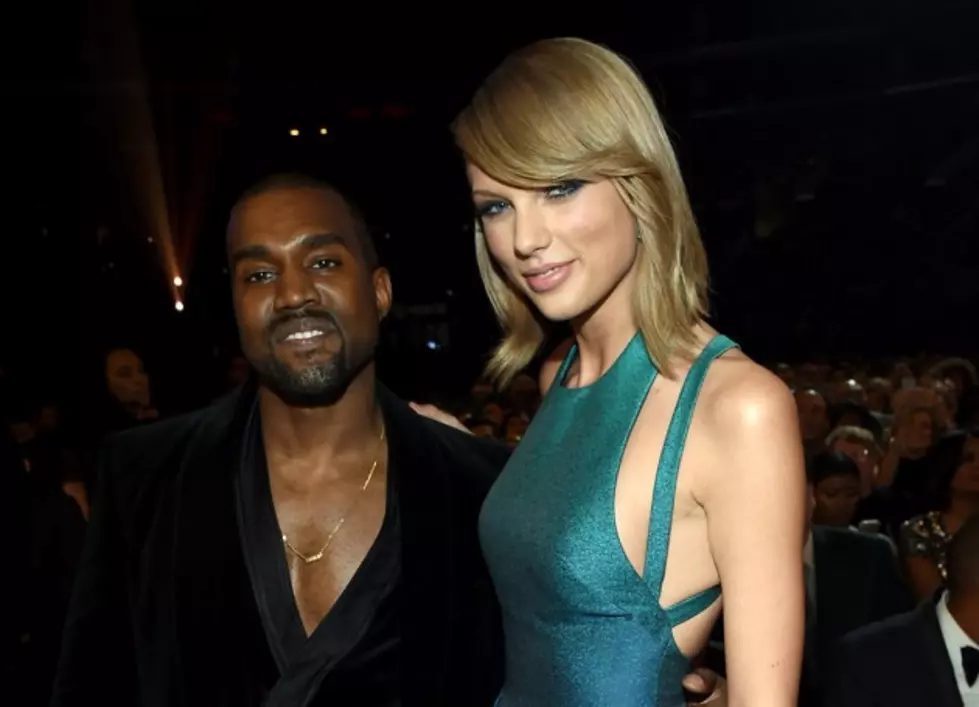 Jay Z Helped Kanye West and Taylor Swift Squash Their Beef
Larry Busacca, Getty Images
There was some very bad blood between Kanye West and Taylor Swift in 2009, following the rapper's onstage antics during her MTV Video Music Awards speech. However, thanks to Jay Z, the two were able to reconcile and put their differences aside.
Swift opens up about how Hov came in to assist with the situation in an interview with Vanity Fair. "I became friends with Jay Z, and I think it was important, for Jay Z, for Kanye and I to get along," she reveals. "And then Kanye and I both reached a place where he would say really nice things about my music and what I've accomplished, and I could ask him how his kid's doing."
It took six years for Swift to forgive the Yeezus creator since she wasn't sure that they were in the same mindset.
"I feel like I wasn't ready to be friends with [West] until I felt like he had some sort of respect for me, and he wasn't ready to be friends with me until he had some sort of respect for me -- so it was the same issue, and we both reached the same place at the same time," Swift says.
The controversy started when Swift won Best Female Video for her song "You Belong With Me" at the MTV VMAs, beating Beyonce's "Single Ladies."
Swift's visual was cute, centered on a shy, nerdy girl getting the popular but sweet jock instead of the pompous cheerleader. In Bey's video, her contagious choreography sparked hundreds of remakes -- including one with Justin Timberlake -- and the track was also one of the best-selling singles of 2009.
When Swift went up to accept her award, Yeezy wasn't having it and ruined the 1989 creator's shining moment since he felt Beyonce should've won. The world held a collective gasp as West approached the stage and grabbed the mic from Swift. "I'ma let you finish but Beyonce had one of the best videos of all time," he said.
Beyonce later won Video of the Year and brought Swift to the stage to reclaim her moment, but the damage was already done.
Afterward, West apologized three separate times through Twitter and on The Tonight Show with Jay Leno. "I'm sorry, Taylor," tweeted West in 2009. "We're both artists, and the media and managers are trying to get between us. She deserves the apology more than anyone….She had no idea what hit her. She's justa lil girl with dreams like the rest of us. Beyoncé didn't need that. MTV didn't need that and Taylor and her family friends and fans definitely didn't want or need that."
He also reportedly wrote and dedicated a song to her, and although it has yet to be released, it all seemed good, done and squashed.
But, in 2013, West did a 180 when he told The New York Times' reporter that he "don't have one regret," and continued to say that if readers were looking for "some type of full-on, flat apology for anything" that they should "just stop reading right now."
"It's only led me to complete awesomeness at all times. It's only led me to awesome truth and awesomeness. Beauty, truth, awesomeness. That's all it is," said West, referring to the instinct he has that led him to that incident.
But since then, the two seem to have grown friendly.
According to HollywoodLife.com, West approached Swift in February at the 2015 Grammy Awards with opens arms. "He was so sweet and charming when they spoke. He complimented her on her success and praised her latest album. He told her she deserved every bit of it and was sorry for the incident in 2009," an insider told the gossip site.
And speaking of music, Swift also addressed her battle with Apple Music in the cover story for Vanity Fair (where she looks ultra glam like a Hollywood starlet).
The streaming giant was originally going to pay artists zero percent during a three-month trial for customers, but quickly changed their tune after Swift penned an open letter about it. "Apple treated me like I was a voice of a creative community that they actually cared about," she said. "And I found it really ironic that the multi-billion-dollar company reacted to criticism with humility, and the start-up with no cash flow reacted to criticism like a corporate machine."
Swift's music can't be found on Spotify but it is streaming on Jay Z's new streaming venture, TIDAL.
See 20 Rappers' & Singers' Yearbook Photos You Won't Believe