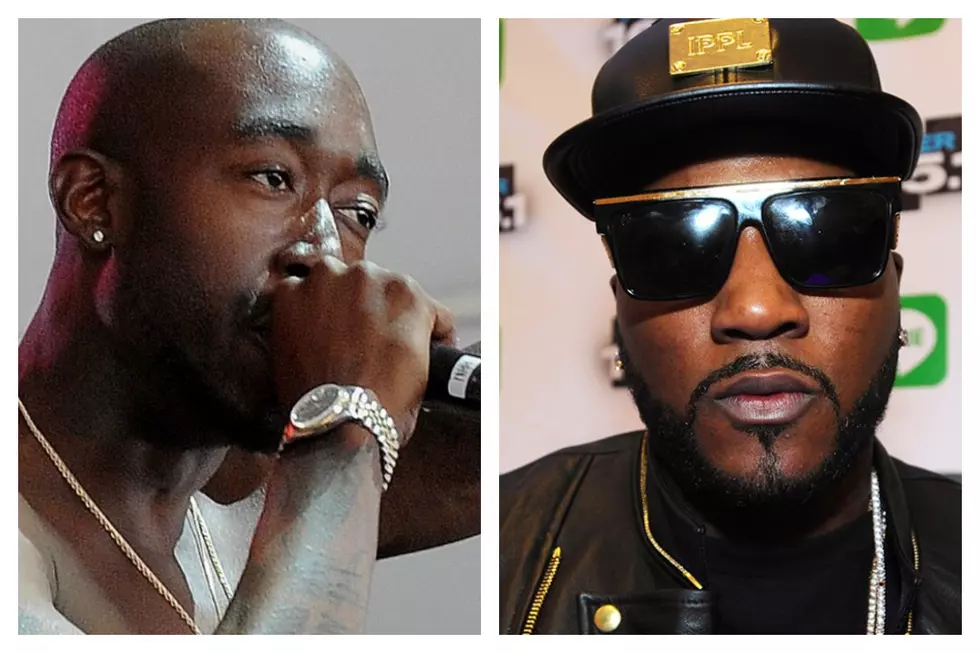 Freddie Gibbs on Jeezy Beef: 'I'll Whoop Yo Ass'
Brad Barket, Getty Images
It looks like the tension between Freddie Gibbs and Jeezy is still alive. The Indiana rapper appeared on VICE's Desus and Mero show, where he did a fun interview with the two hilarious hosts, and brought up his old beef with the Atlanta rapper. Gibbs was once signed to Jeezy's CTE.
Gibbs revealed that he actually has no beef with the veteran hitmaker anymore because he doesn't respect him. He then went on to say that he would "whoop" Jeezy's ass.
"Ain't no beef, man," Gibbs says in the video below. "It's gotta be beef when there's two real muthafuckas in the equation. When there's one muthaf---a, it's just like pshh. Pussy ass n----. I'll whoop yo ass, n----. F---- with me. F---- Jeezy. B---- ass n----a," Gibbs exclaims.
The beef amongst the two rappers initially caused a lot of issues for the two, with Jeezy claiming that Gibbs ruined his relationship with Eminem, leading to multiple diss tracks between them.
This is definitely a bit confusing for Gibbs and Jeezy fans, as many believed that the two had squashed any issues between them. Hopefully this doesn't lead to more drama.
What's Beef? 10 Hip-Hop Twitter Feuds