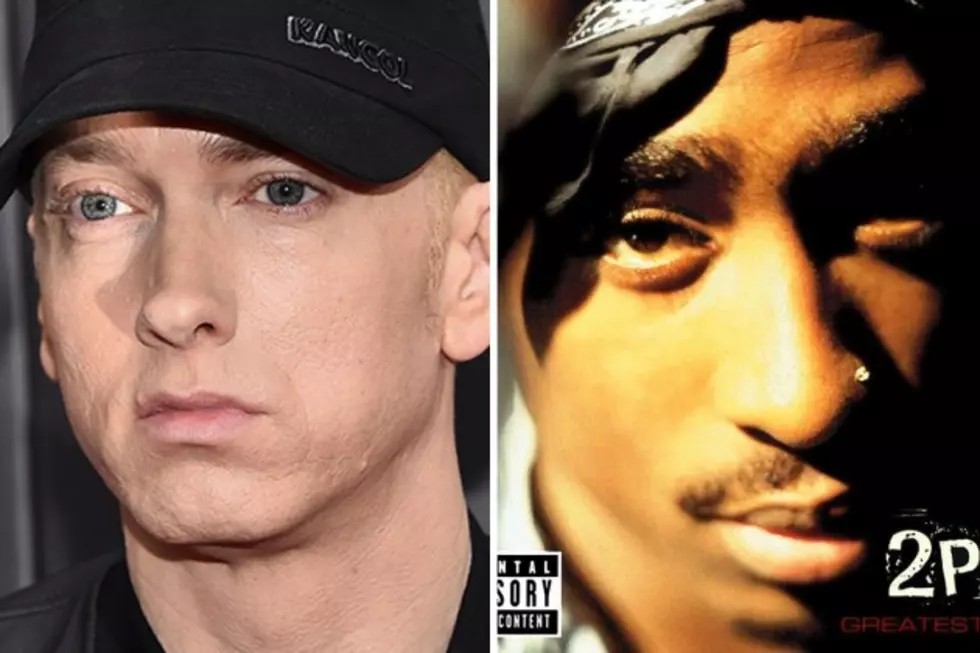 Eminem Writes Touching Tribute to Tupac's 'Genius' Artistry
Michael Loccisano, Getty Images / Interscope Records
The Marshall Mathers LP creator also shared that he knew 2Pac was ahead of the game and a master of his craft.
"He was taking things further than a lot of rappers at the time -- pushing it to the next level as far as giving feeling to his words and his music. A lot of people say, 'You feel Pac,' and it's absolutely true. The way he chose which words to say with which beat was genius; it's like he knew what part of the beat and what chord change was the right place to hit these certain words… to make them jump off the track and make you feel what he was saying," Em wrote.
Tupac's talent for creating rhymes that drew empathy was also something the then-teenage Slim was drawn to. Em cites "If I Die 2Nite" and "Dear Mama" as a prime example of the timeless music one of hip-hop's greatest created.
"Whatever he was rapping about, it was urgent. If it was a sad song, it'd make you cry. But there were a lot of different sides to him: fed-up, angry, militant, having a good time. His spirit spoke to me because it was like you knew everything that he was going through, especially when he made Me Against the World. You just felt every aspect of his pain, every emotion: when he was happy, when he was sad. His ability to touch people's lives like that was incredible," he wrote. "I can put 'If I Die 2Nite' in and want to fight somebody the second it comes on. That's the kind of emotion he sparked. I could put 'Dear Mama' in and damn near be in tears. He was just so good at evoking emotions through songs and I picked up so much from that."
The "Lose Yourself" rapper admits that Biggie had the same talent before he called their knack for timing, their flow and creating relatable lyrics "true genius."
See Worse to Best: Every Eminem Album Ranked