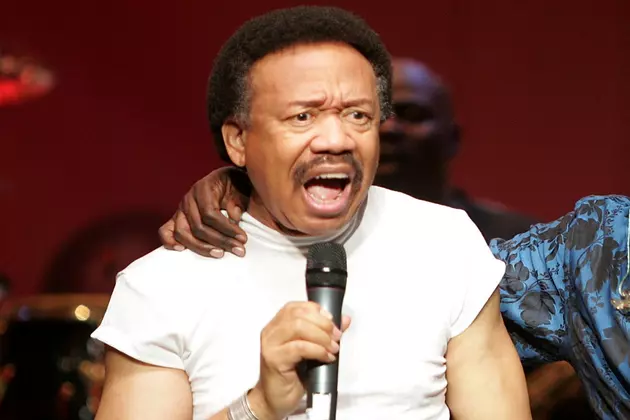 Earth, Wind & Fire Founder Maurice White Dead at 74
Carlo Allegri / Getty Images
Maurice White, the legendary singer/songwriter/producer/multi-instrumentalist who founded the beloved and acclaimed funk band Earth, Wind & Fire has died. He was 74.
White, an accomplished percussionist who'd played on Chess Records recordings in the 1960s, and his brother Verdine moved to Los Angeles in 1969 from Chicago to further their music career. Maurice had even recruited pianist and singer Donny Hathaway for some of the early demos that would help him land the band he'd dubbed "Earth, Wind & Fire" (after his astrological chart) a record deal with Warner Bros. Their early albums featured vocalist Sherry Scott and a more psychedelic sound than the band would become famous for; they were met with moderate success but White was compelled to shuffle the lineup in 1972, adding Ronnie Laws, Roland Bautista, Ralph Johnson, Larry Dunn and vocalist Philip Bailey. It was after a performance featuring this lineup that the group was bought out of their contract with Warner Bros by then-Columbia president Clive Davis, who moved the revamped Earth, Wind & Fire over to his label. After the release of Head To the Sky, the lineup shuffled once more--with Laws, Bautista and singer Jessica Cleaves departing, guitarist Al McKay joining and White unexpectedly taking on the role of co-lead singer alongside Bailey. And with their next album Open Your Eyes, White teamed with Charles Stepney to produce the album himself; their previous efforts had been helmed by veteran producer Joe Wissert. The gamble paid off: "Mighty Mighty" and "Devotion" would become Earth, Wind & Fire's first singles to reach the Top 50 on the Billboard 100 chart.
From there, White would lead Earth, Wind & Fire through it's most creatively fertile and commercially successful period, on the strength of classic hit albums like That's the Way of the World, Spirit, Gratitude, All N All, I Am and Faces. They added the Phenix Horns to their stage show and recordings, amplifying and completing the band's classic sound; they won a string of Grammys and their albums achieved gold and platinum status as singles like "Saturday Nite," "Reasons," "Fantasy," "September" and "Boogie Wonderland" became radio fixtures. They covered the Beatles "Got To Get You Into My Life" for the film Sgt. Pepper's Lonely Hearts Band, which yielded yet another Grammy. 
Earth, Wind & Fire (EWF) became one of the biggest acts of the 70s and early 80s on the strength unparalleled musicianship and legendary performances, but it was all driven by the writing and production of Maurice White, who alongside Charles Stepney, imbued the band with a sound that transcended many of the preconceived parameters of funk music. Where 70s Sly & the Family Stone dwelled in stark minimalism and George Clinton's P-Funk lived on psychedelic grooves, EWF was as melodic as they were funky, as pristine as they were stank. White founded Kalimba Records and he and Stepney would write and produce albums for Deniece Williams, Ramsey Lewis and The Emotions before Stepney died of a heart attack in 1976. White would continue to lead EWF into the 1980s and incorporated synths and other contemporary elements into the bands repertoire, while still maintaining the classic feel that had turned them into one of the best-selling acts in music and one of the biggest concert draws. White would work with Barbra Streisand, Neil Diamond, Jennifer Holliday and Cher during the band's quiet mid-80s period, as well as his own solo recordings. After EWF regrouped in the late 80s, they would go on to work with funk luminaries ranging from Sly Stone to Prince. In 1994, White retired from performing with the band, but didn't reveal until five years later that he was suffering from Parkinson's disease. The "classic" lineup of Earth, Wind & Fire was inducted into the Rock and Roll Hall of Fame in 2000 and their music found continued life in a string of new albums in the 2000s, as well as collaborations with stars like OutKast, Raphael Saadiq, Queen Latifah and will.i.am. and a tour with fellow 70s/80s chart-toppers Chicago.
Maurice White was mostly removed from public life in his later years, but remained active in music, producing albums for both veteran artists and up-and-comers. With his distinctively pristine productions, his effortlessly catchy melodies and those unmistakable grooves, he became one of the most recognizable and prolific composers in popular music. Earth, Wind & Fire's music stands as a testament to the universality of music itself; but it also resonates as uplifting and unquestionably black music; from the Afro-Futuristic imagery in its presentation via album covers and stage outfits to the African references in the lyrics. By amplifying the band's connections to Africanness, Maurice White found a way to move the entire world while celebrating his cultural heritage. He went inward and connected with something larger than himself.
With his passing, the music community reacted swiftly and sincerely--paying homage to one of the industry's true geniuses.
"My brother, hero and best friend Maurice White passed away peacefully last night in his sleep," Verdine White told The Associated Press. "While the world has lost another great musician and legend, our family asks that our privacy is respected as we start what will be a very difficult and life changing transition in our lives. Thank you for your prayers and well wishes."
And his fellow production legends shared what he'd meant to them. "I just heard about the passing of the great @MauriceWhiteEWF- #RIP my soulful brother-" tweeted Nile Rodgers. "You're one of the most amazing innovators of all time."
"Terry [Lewis] and I met in 1972 over the @EarthWindFire Last Days and Time LP," shared Jimmy Jam from his Twitter account. "Literally the soundtrack of our life."
The songs of Maurice White moved you and inspired you. They were the backdrop to vacation getaways and family reunions. Earth, Wind & Fire is an American institution and we have Maurice White to thank for showing us the way of the world and giving us a reason to sing a song.
"That was the whole objective, to try to inspire young people to believe in themselves and to follow through on their ideas," White told the Associated Press in 2000. "We've touched so many people with these songs."
Check the celebrity reactions below for a testament to just how true those words remain.