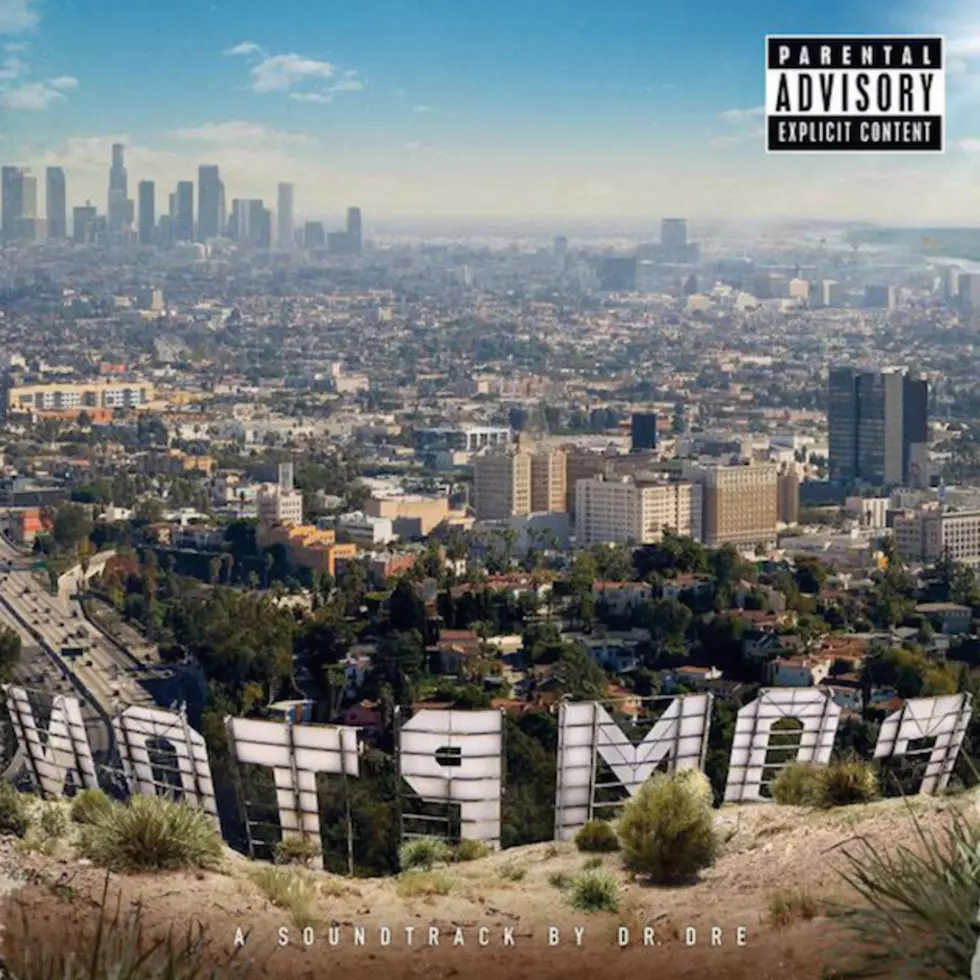 Dr. Dre Unveils Cover Art and Track List for 'Compton: A Soundtrack'
Apple Music
Dr. Dre hasn't given us Detox but it appears that the legendary producer will deliver his final project. On Saturday (Aug. 1), the rap mogul unveiled the cover art and track list for his album, Compton: A Soundtrack.
The collection, which is set to hit iTunes and Apple Music on Aug. 7, is his first album in 16 years since his classic 1999 project 2001. During his Beats 1 radio show, The Pharmacy, Dr. Dre said that the album was inspired by the upcoming N.W.A. biopic Straight Outta Compton.
"I was leaving the set, coming to the studio and I felt myself just being so inspired by the movie that I started recording an album," he said. "And I kept it under wraps. And the album is finished."
"It's gonna be my grande finale," Dre added.
The collection features guest appearances from Eminem, Kendrick Lamar, Marsha Ambrosius, Ice Cube, Jill Scott, Xzibit, Asia Bryant, Snoop Dogg, COLD 187um, BJ the Chicago Kid and others.
As for the Detox album, you can forget about it. Dr. Dre has scrapped the project altogether. "The reason Detox didn't come out was because I didn't like it," he said (quotes via Billboard). "I don't think I did a good enough job, and I couldn't do that to my fans and I couldn't do that to myself, to be perfectly honest with you. I just wasn't feeling it."
Compton: A Soundtrack can be pre-ordered on iTunes here. The film Straight Outta Compton will arrive in theaters on Aug. 14.
Compton: A Soundtrack Track List:
1. "Intro"
2. "Talk About It" (Feat. King Mez & Justus)
3. "Genocide" (Feat. Kendrick Lamar, Marsha Ambrosius & Candice Pillay)
4. "It's All On Me" (Feat. Justus & BJ the Chicago Kid)
5. "All In a Day's Work" (Feat. Anderson Paak & Marsha Ambrosius)
6. "Darkside/Gone" (Feat. King Mez, Marsha Ambrosius & Kendrick Lamar)
7. "Loose Cannons" (Feat. Xzibit & COLD 187um)
8. "Issues" (Feat. Ice Cube & Anderson Paak)
9. "Deep Water" (Feat. Kendrick Lamar & Justus)
10. "One Shot One Kill" – Jon Connor (Feat. Snoop Dogg)
11. "Just Another Day" – The Game (Feat. Asia Bryant)
12. "For the Love of Money" (Feat. Jill Scott & Jon Connor)
13. "Satisfiction" (Feat. Snoop Dogg, Marsha Ambrosius & King Mez)
14. "Animals" (Feat. Anderson Paak)
15. "Medicine Man" (Feat. Eminem, Candice Pillay & Anderson Paak)
16. "Talking to My Diary"
10 Singers & Rappers Who Never Stop Working