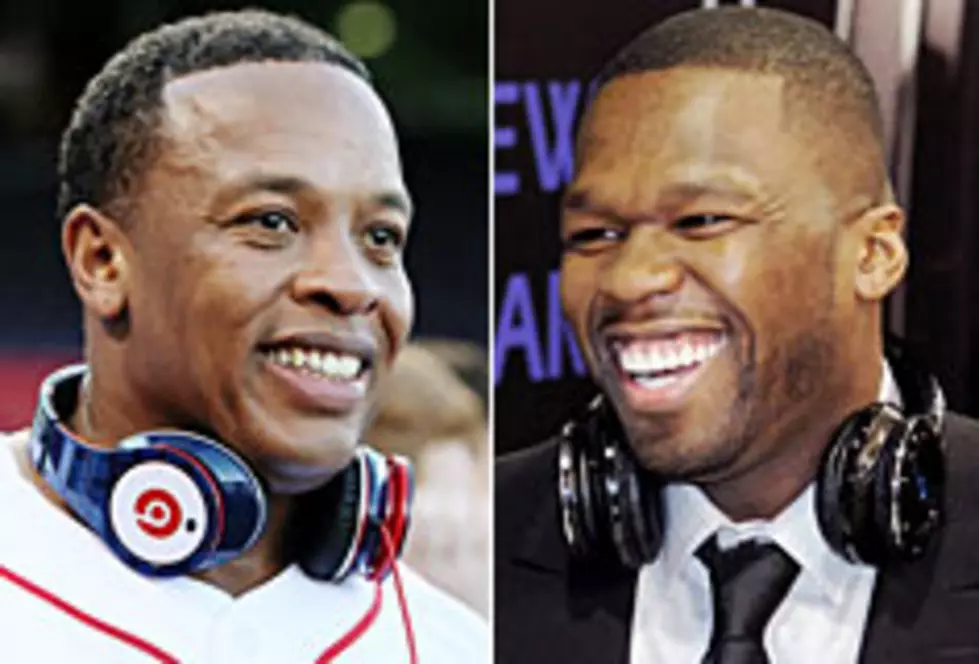 Dr. Dre Downplays Headphone Beef With 50 Cent
Getty Images (2)
Dr. Dre is responding to claims of an impending beef with 50 Cent over his line of headphones. 50, who insists that Dre is upset with him, may be mistaken because according to the super-producer he could care less. "I have no idea what you're talking about," Dre sarcastically told TMZ, perhaps subliminally dissing 50's less popular headphone line. "I never heard of his headphones," he said.
50, revealed earlier this week that both Dre and Interscope head, Jimmy Iovine are unhappy with the release of his Sleek by 50 Cent headphones, which may compete with Dre's successful Beats by Dre line. "Jimmy iovine and dre mad at me cause I'm doing sleek by 50. I guess I'm not going to be on detox Lol," he tweeted. Taking thing one step further, 50 even put together a diss record lauding both Dre and Iovine, which doesn't seem like a good move since both are credited with launching his career. "Would you faint if I told you I just wrote a verse about jimmy and dre. Oh my god this is hard. This s--- gonna kill," he added.
We all know that 50 is famous for starting controversy, but there is no confirmation to whether or not there is any truth to the alleged rift. Seeing as how the rapper's earphones have yet to hit the market, it makes sense that Dre isn't threatened.
In 2008 Dre teamed with Monster to release his headphones, and has transitioned the line into a series endorsed by the likes of Diddy and Lady Gaga. He also signed a deal with technology giant, Hewlett-Packard introducing the HP Envy notebook with Beats Audio technology allowing for an increased sonic experience. His long-awaited album 'Detox' is expected to see the light of day this year, as the video for the album's first single, 'Kush,' has already been released.
if(typeof AOLVP_cfg==='undefined')AOLVP_cfg=[];AOLVP_cfg.push({id:'AOLVP_706142982001','codever':0.1,'autoload':false,'autoplay':false,'displaymnads':true,'playerid':'89761511001','videoid':'706142982001','width':476,'height':357,'playertype':'inline','stillurl':'dynamic','videolink':'#','videotitle':'dynamic','videodesc':''});