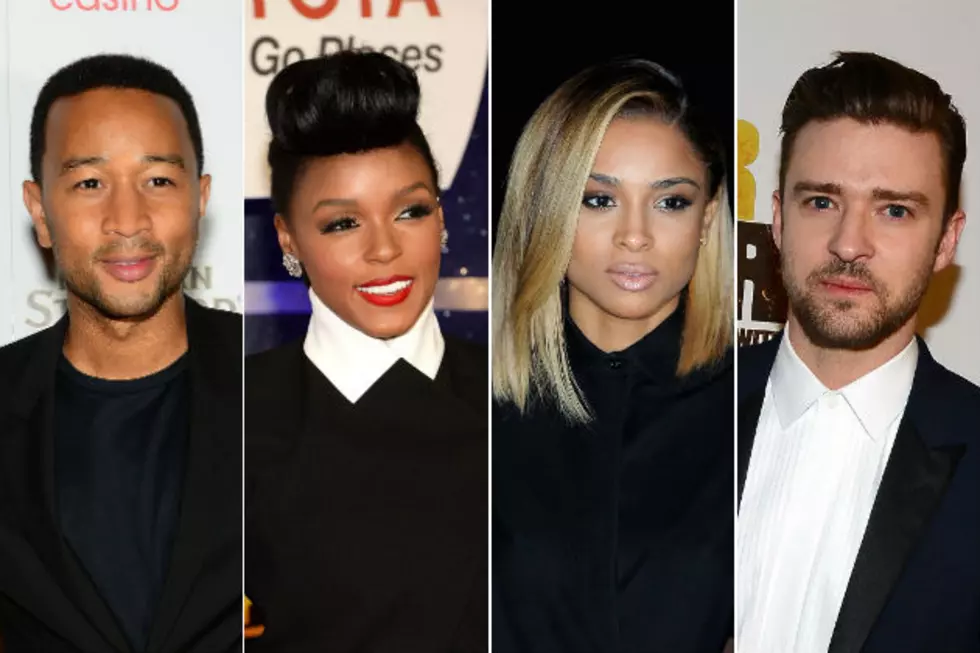 10 Best R&B Albums of 2013
Lisa Lake / Jason Kempin / Pascal Le Segretain / Ethan Miller, Getty Images
R&B didn't disappoint this year. Justin Timberlake returned from a seven-year hiatus to deliver a satisfying mix of soulful tunes and dance floor-ready songs, Ciara put out her best record to date and Janelle Monae electrified listeners with her dazzling sounds. With so many songs that arrived during the last 12 months, there were only a few albums that remained true to the genre while surprising fans simultaneously. Moody and enthralling, rebellious and heartfelt -- these are just some of the words to describe the year's most respected works. Check out the 10 Best R&B Albums of 2013.
'Love in the Future'

John Legend

'Love in the Future' is as romantic and artful as its album cover -- wrapped in flowers, minus the heart-shaped box of chocolates. The follow-up tp John Legend's 2008 LP 'Evolver' moved less through genre as the previous one, but brought a soulful, piano-led package of love songs. From 'The Beginning...' Legend sets an enchanting mood for the album. "It's the beginning of forever / You don't have to go / Sometimes you just know / It's the beginning of forever," his voice echoes. The crooner invites a talented crop of producers to craft the soundscape for the effort, including Kanye West ('Open Your Eyes'), Hit-Boy ('Caught Up') and Q-Tip ('Tomorrow'). There's no room for sorrow or woah-is-me stories here, as Legend is a Dr. Love providing the prescription for genuine affection for our futures.

'Rebellious Soul'

K. Michelle

R&B sensation-turned-reality TV star K. Michelle released a solid debut effort with 'Rebellious Soul.' The southern songbird flexes her windpipes throughout the album, plus she delivers song titles that read like ambiguous social media hashtags of a woman constantly going through the motions. On 'Damn,' she refuses to cry her eyes out while her man continues to do her wrong. "This is not the time / To be sitting at home crying / While your ass is out here lying," she wails. The venting continues all the way down to 'Ride Out,' when she's no longer chasing but is now replacing the guy that has scorned her. "So don't be mad when I get in my s--- and ride out / You gon' be mad when another n---- show up and show out," she declares. Overall, K. Michelle's opus proves she has a knack for identifying with women struggling through bad relationships, but reminds them to rise above those messy situations.

After numerous delays, Ciara finally dropped her self-titled fifth studio album in July. The singer kicked off the project with a bang, releasing her sensual hit single, 'Body Party,' produced by Mike Will Made It and featuring her fiance, rapper Future. This project offers some hip-hop-inspired gems -- on which Ciara delivers female empowerment lyrics -- and several pop-centric and EDM-influenced love songs. On 'Keep On Lookin',' she teases those guys giving her the eye at the club. "Keep lookin' on with your lookin' ass / Keep on lookin', boy what I got, baby, you can't have," she proudly proclaims. The southern chanteuse also gets help from Nicki Minaj on the high speed 'I'm Out' and 'Livin' It Up.' Ciara leaves out acoustic ballads and instead opts for dance floor-ready rhythms to round out the project.

'Black Radio 2'

Robert Glasper Experiment

After the success of 'Black Radio,' which earned the Robert Glasper Experiment a Grammy Award for Best R&B Album in 2012, the team promptly returned with a follow-up to their debut record. 'Black Radio 2' fuses jazz, R&B and hip-hop to satisfy listeners across all boards. From 'Baby Tonight,' the intro track, it's apparent the group progressed in their technique, kicking the sound up a notch. The album also features favorites in soul and rap including Brandy, Jill Scott, Common, Snoop Dogg and Faith Evans. The themes present on the project range from working through relationships and self-growth while every song delivers a lesson. It's clear musicianship is the top priority for Robert Glasper and it shines through on 'Black Radio 2,' one of the most complete albums to be heard this year.

'The 20/20 Experience'

Justin Timberlake

R&B was missing Justin Timberlake for almost a decade, but the veteran crooner returned with the satisfying effort of 'The 20/20 Experience.' The singer reunited with producer Timberland for a myriad of gush-worthy love tunes. No one knew what to expect with so many artists turning towards the sounds of EDM, but J.T. picked up right where he left off with this record. On 'Pusher Lover Girl,' Timberlake hits all the good notes and sings of his woman as his favorite kind of drug. "Now hey little mama / I love this high we're on to / And I know that your supply / Won't run out anytime soon," he delivers. He also returns to his formula of extended tracks, which break off into new songs and provides addictive melodies that won't escape the brain. With a more than welcomed spot on iTunes playlists and songs booming car stereos, he earned a No. 1 album  on the Billboard charts.

'Love and War'

Tamar Braxton

As the main attention-getter on the hit reality TV show 'Braxton Family Values,' Tamar Braxton was able to leverage her newfound popularity for a second shot at music industry success. The baby sister of soul veteran Toni Braxton brings her much higher pitch and an emotional mix of love stories -- the highs and lows -- on her sophomore album, 'Love & War.' On 'Where It Hurts,' Braxton just wants to let her man know he can trust again -- he's carrying baggage from a past relationship. "If you let me / If you just show me where it hurts / I'll make it alright if you want me to," she sings softly. She also provides some upbeat, in-your-face tracks such as 'She Did That,' 'One on One Fun' and 'Hot Sugar.' The songstress maintains her crazy, sexy and cool vibe to create an R&B album that speaks from a very honest place.

'The Electric Lady'

Janelle Monae

Word of a Prince feature on Janelle Monae's second studio album, 'The Electric Lady,' immediately sparked big interest for the LP. The long-awaited fantastical project is a soul factory, exploring different eras of R&B, with Monae spitting rhymes on a number of tracks. On the uplifting 'Ghetto Woman,' she channels a 1970's Stevie Wonder. 'I wish they could just realize / All you ever needed was someone to free your mind / Carry on ghetto woman / You're the 7th wonder reigning over us at night," she sings. The go-go, funk-inspired 'Electric Lady' featuring Solange and the jazzy mellow 'Dorothy Dandridge Eyes' featuring Esperanza Spalding are just a few of the memorable records churned out by Monae. The record shows the 27-year-old songstress coming into her own as an artist to be reckoned with for the long-run.

'Blurred Lines'

Robin Thicke

Robin Thicke has been around for at least a decade now, releasing moderately successful R&B-friendly records, but 'Blurred Lines' catapulted him into the mainstream world. He finally got his annoying and overplayed record that became a favorite of fans and newcomers to his sound. The song hit No. 1 in more than a dozen countries, making it his most successful to date. The feel-good, disco-influenced and sexy vibes of the track continues to be present on the album of the same title. On 'Ain't No Hat for That,' he sings of a woman who is adorned with material things, none of which can cover up her deeper issues. "You got your pill for bad / But your fancy shoes and handbag / Can't help you when you're sad / 'Cause there ain't no hat for that," he sings. Thicke wants you to break out your dancing shoes and sweat it out to this album --otherwise there's no need to press play on this one.

'Side Effects of You'

Fantasia

'Side Effects of You,' released in April, brought out the best we've heard from Fantasia thus far. The fourth studio album by the 'American Idol' winner is a R&B record that is bass-heavy and has rock sensibilities -- all without departing completely from the genre. The singer serves up lyrics based on real life experience and delivers it all with soul on the LP. On 'Ain't All Bad,' she isn't bleeding away from a failed relationship. "Let it go, I don't really need you / Let me know, falling out of love, ain't all bad," she sings. A surprising feature from Missy Elliot and Kelly Rowland on 'Without Me' provides a smooth-talking, stand-out track that puts wack dudes in their place. "So what you blowin' up just a little / They knowin' you a little / Don't give a finger in the middle / 'Cause little n---- you will never be without me," 'Tasia belts. Although it took three years for this project to come to light, the effort is a cohesive one.

The Weeknd takes us on a journey through his beautiful, dark, twisted, emotional fantasy with his debut album, 'Kiss Land.' The Toronto native unpacks his deepest, darkest musings on love and sexual desire here. He shines as a soloist throughout (with the exception of Drake as a feature on the delicate 'Live For'). On 'Professional,' he tells a story of a woman who is caught up in the high life of fame. "And you think your happiness is real / There's so much more the world has to reveal / But you choose to be concealed," he croons in his unshaken falsetto. On 'Pretty,' he's trying to land back in the arms of a woman, whom he hasn't seen in a year, because he's been too busy on tour. She's seeing someone else, but The Weeknd could care less: "Girl I hope, he made you satisfied / Well, baby, I won't cry / As long as you know that when I land you're mine." No one can save the Weeknd from his roller coaster ride of emotions but himself and we're happy to take the ride along with him.