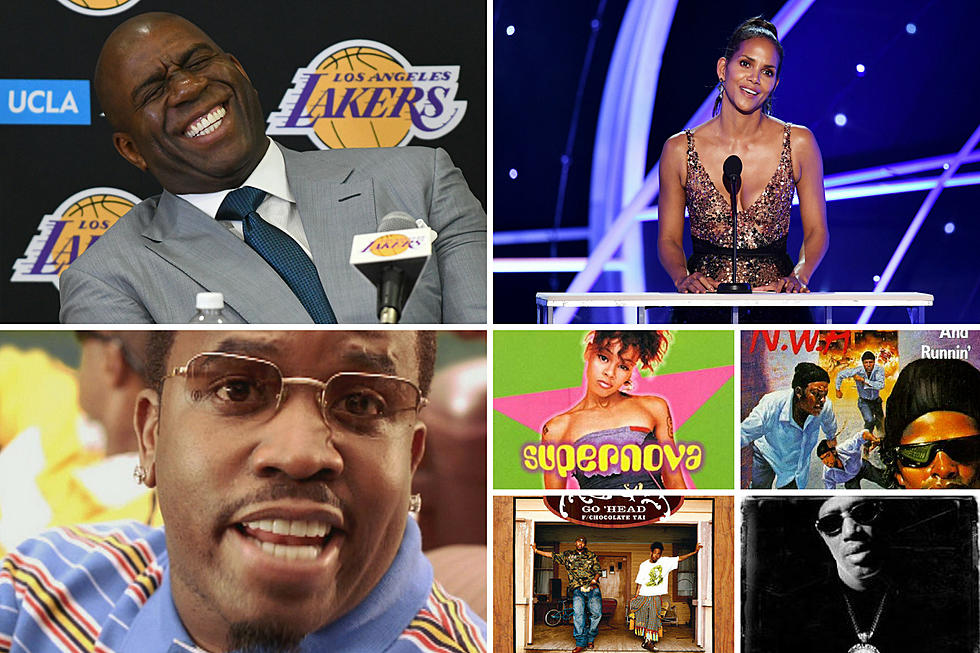 N.W.A Run 100 Miles Away From Ice Cube: August 14 Hip-Hop History
Jayne Kamin-Oncea, Kevin Winter, Getty Images/YouTube/iTunes
One of the most important extended play (EP) releases in the history of hip-hop emerged 18 years ago today thanks to N.W.A and is still a standout in a day filled with tales of longevity, success and passion.
1959 - Magic Johnson is Born
Earvin Johnson, Jr., who wouldn't be known as "Magic" until the nickname was bestowed on him as a high school athlete, was born in Lansing, Michigan 58 years ago today. One of the NBA's all-time most acclaimed athletes, his post-athletic life has been defined by his philanthropic ventures and his willingness to share his secrets to business success.
"First of all, you''re gonna have to make some sacrifices," he told Los Angeles Times in 2008. "You''re gonna have to have willpower. You're gonna have to have a great business plan and a strategy and really be committed. The star power actually worked against me more than it helped me. Because people thought I was a great athlete but a dumb jock at the same time. So what people have to realize for themselves is, yes, it''s gonna be hard. People are gonna believe in you, but you gotta believe in yourself first and in your business plan and in what you''re trying to do. Once they see the passion you have, then they''ll listen to you."
1966 - Halle Berry is Born
Maria Halle Berry (whose name would be inverted five years later) was born on this day in Cleveland, Ohio. The confident, Academy Award-winning actress admitted to People in 2017 that she was teased for being biracial when she was growing up, which was rough.
"Because my mother was white and my father was black… we got called Oreos and names, and kids just didn't understand, so we were different," she recalled. "We were the brunt of a lot of jokes. So, I think my need to please and my desire to achieve was because I was constantly trying to prove that I was as good as the other white students. I felt very 'less than,' and I thought, 'If I can beat them at everything, then I can be as good as them.'"
1990 -  N.W.A Drop 100 Miles and Runnin'
A five-track, Platinum-certified EP recorded for Ruthless Records after the dramatic departure of Ice Cube from N.W.A over the new label's contracts, 100 Miles and Runnin' takes off with vicious disses of O'Shea Jackson, Jr. , including Dr. Dre's immortal icing on the title track ("It started with five but yo one couldn't take it/So now there's four 'cause the fifth couldn't make it") and his scathing lyrics on "Real N----z" ("We started out wit too much cargo, so I'm glad we got rid of Benedict Arnold"). And Ice Cube was quick to respond on wax.
"I think Dre had just finished The Chronic and he was about to put out Doggystyle with Snoop," Ice Cube recalled in a 2014 interview with The Breakfast Club. "We had a chance to really talk. And we never really talked about the song, you know? We still haven't talked about the song. I mean, damn, they was disrespectful, too. If you really think about AmeriKKKa's Most Wanted, I never even mention N.W.A on that record at all. It was all about what I was doing with PE and the Bomb Squad and Chuck D and them. So, for them to diss me on they EP 100 Miles And Runnin', you know what I mean, I kinda threw a little jab with 'Jackin For Beats' at the end."
 2001 - Lisa "Left Eye" Lopes Drops Supernova in the U.K.
TLC's dynamic late rapper Lisa "Left Eye" Lopes struck out on her own with a solo album released by Arista in the U.K. in 2001 that netted a Top 20 hit there.
"This is the first time that I've gotten the chance to dig into myself and really learn how to master my skills as a writer, an MC and a solo artist in general," she explained to Access Atlanta before her untimely death in a tragic car crash in April 2002.
Supernova featured duets with Jazze Pha, Carl Thomas, Esthero, her on-again, off-again love Andre Rison and 2Pac, who threatened to steal her heart.
"I fell in love with Tupac instantly, on sight, " she told Access Atlanta. And he was feeling her. "That's the first thing he told me, 'Never let me have sex with you because I'm going to look at you differently.' And I never wanted him to look at me any differently than he did."
Unfortunately, Supernova didn't see the same meteoric success that the group enjoyed and the planned U.S. release was eventually canceled by the Stateside branch of the record label.
2006 - OutKast Drop "Morris Brown" Featuring Scar, Sleepy Brown and Janelle Monae
"Morris Brown" was originally a Stankonia-era instrumental demo that almost became the basis for a single called "Hey Baby" by the singer Scar, who, along with emerging singer Janelle Monae, recorded with Big Boi's label Purple Ribbon Records. Scar sang on it and impressed Big Boi and Andre 3000 so much that it became an OutKast single again and appeared on the soundtrack for the duo's feature film Idlewild.
"It was produced by Andre five or six years ago," Scar revealed to this writer for the now-defunct Southern rap magazine Ozone in 2006. "They were gonna use it for Stankonia [or] TLC's album at the time, but some things happened and nobody ever got to it. Big pulled it out on his iPod and played it for me a few months ago. He said, 'Listen to some beats and see if there's anything you like.' He played me several songs and all of them are jammin'.
"But that one in particular—when I got to the last song, it was called 'Morris Brown.' I just fell in love with it. It turns out that Dre actually paid the band from Morris Brown individually back around 1999 and orchestrated and produced the sound. I thought that was incredible. And then I got to see an early screening of the movie and got the gist of that and I knew right away what to do with it. I went in, laid down the hook and actually wrote a verse and the rest is history. The main thing is that with me being an artist and me being a writer and looking up to Andre and Big as living legends, I really needed their stamp of approval. Like, I hope they love it. So Big did and I had one left to go, and Dre came in the studio and was like, 'Man, I love it!'"
2007 - Ali & Gipp Drop Kinfolk
Two years after both Ali and Big Gipp rapped on "Grillz" by Nelly, the St. Lunatic affiliate and the Goodie Mob/Dungeon Family MC collaborated on the Midwest meets Southern full-length Kinfolk as Ali & Gipp. The album was packed with guest stars such as Goodie Mob's Cee-Lo with UGK's Bun B, former Destiny's Child member LeToya Luckett, Three 6 Mafia, Juvenile David Banner, Murphy Lee, Pimp C and Nelly.
"There's a real ghetto feel to it, like, strip club type songs," Ali told All Hip-Hop during the recording process. "We didn't really go too deep on anything, no controversial subjects. The direction of making the album was, let's just have a good time, let's just say exactly what we feel."
2007: Master P Drops Featuring. . .  Master P
An 18-track compilation for Master P's own No Limit Records, Featuring. . . Master P could have easily been labeled Master P's Greatest Hits since it collects up all his best-known catchphrase-sounding songs. It's a one-stop shop for the best of P's rapping years, including "Hoody Hoo," "I'm Bout It" and "Make 'Em Say Uhh!"
"Mine is a rags-to-riches story," he told NPR in 2017. "We studied the music industry. Jimmy Iovine offered me a million dollars in the '90s and I turned it down and walked away and built my empire into hundreds of millions. So, imagine if I took that million dollars. I would have been done. That probably would have been the only money my family would have seen."