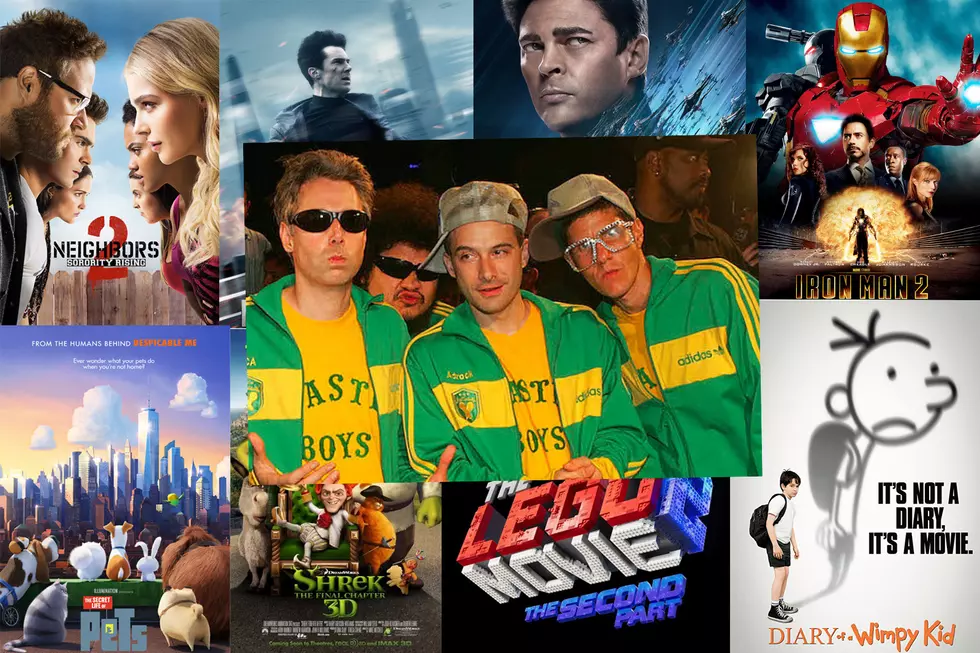 Watch Beastie Boys Songs Make These 10 Movies Better
Paramount / 20th Century Fox / Warner Bros. / Universal / Focus Features / Evan Agostini, Getty Images
As one of the most iconic groups in rap history, it's not surprising that Beastie Boys' music has provided the soundtrack for a lot of great (and not so great) flicks.
For one, their sound is versatile— whether you want classic b-boy hip-hop or rock with banging drums, the Rock and Roll Hall of Fame inductees have something for you, and Hollywood has taken notice over the years.
Although movies love their sound, the group is careful about where they allow their music to be placed, particularly as it pertains to advertising, where their tunes rarely show up. They've previously taken legal action against companies who use their music to sell products, including Monster Energy and the toy company GoldieBlox, citing late group member, Adam "MCA" Yauch's will, which prohibits it.
However, though Mike D and Ad-Rock have worked to uphold MCA's desires, they have made notable exceptions for a few film trailers. They particularly have a thing for JJ Abrams' Star Trek franchise—Beastie's music has not only shown up Trek's film trailers, but was even a pretty major plot point in the third installment, Star Trek Beyond.
Most recently, their classic 1998, Hello Nasty standout, "Intergalactic," made an appearance in the hilarious trailer for the much-anticipated upcoming film, Lego 2: The Second Part, as Lucy is kidnapped and the perpetually upbeat Emmet is forced to race through space to try to rescue her.
Trailers aside, Beastie Boys' music has appeared in a slew of TV series and films alike, dating back to the late '80s and early '90s. While you probably don't remember the 1988 flop Hot to Trot (Bob Goldthwait apparently spent the movie talking to a horse named Don), you definitely recall "Fight for Your Right (To Party)" which was used in the flick.
The Beasties may be retired following the passing of MCA, but their music continues to thrive via the big screen. Take a look at the major films where Beastie Boys' music provides a notable soundtrack to some key scenes.
'The Lego Movie 2: The Second Part' Trailer (2018) - "Intergalactic"

The Lego Movie 2: The Second Part (due out in February 2019) looks hilarious and awesome, as a relentlessly happy Emmet is forced to save Lucy after Bricksville slides into a Mad Max-style dystopia. Space shenanigans ensue, and of course, Beastie's "Intergalactic" provides an excellent soundtrack for the action in the trailer.

'The Secret Life of Pets' (2016) - "No Sleep Til' Brooklyn"

A rescue scene featuring Max and the bunny on a mission to get his friends back means there's certainly "no sleep til' Brooklyn."

'Star Trek Beyond' (2016) - "Sabotage"

Apparently, the new Star Trek franchise isn't complete without the use of a Beastie Boys song—and the movie series has special love for the banging classic, "Sabotage." In Beyond, the affinity for the legendary group is taken to another level, and used as an actual plot point (and weapon).

'Neighbors 2: Sorority Rising' (2016) - "Sabotage"

It's pretty much a requirement that any kind of comical revenge movie use "Sabotage" when things start going down, and this flick was no exception, utilizing the classic track for a hysterical marijuana heist attempt.

'Bad Words' (2014) - "B-Boys in the Cut"

The boom-bap bass line on "B-Boys in the Cut" was used excellently in Jason Bateman's directorial debut, 2014's Bad Words, when Bateman portrays a person pretty much devoid of morals, as he hangs out with an adorable kid, pulling horrible pranks on people.

'Star Trek Into Darkness' (2013) - "Body Movin"

Once again, Star Trek proves its love for the Beastie Boys when it uses 1998's "Body Movin'" from their Hello Nasty album in a quickie love scene.

'Iron Man 2' (2010) - "Groove Holmes"

Beastie's 1992 song "Groove Holmes" from their Check Your Head album was used in a comical scene with Iron Man chilling inside the donut hole at the iconic Randy's Donuts in L.A.

'Diary of a Wimpy Kid' (2010) - "Intergalactic"

"Intergalactic" makes an appearance in Diary of a Wimpy Kid during a school dance scene— because you just have to get up and dance when your jam comes on.

'Shrek Forever After' (2010) - "Sure Shot"

The crazy, flute-playing Pied Piper in Shrek Forever After wields his power by playing the Beasties' "Sure Shot" to make witches start breakdancing. Because that's just what the world needs—pop-locking witches.

'Star Trek' (2009) - "Sabotage"

The love affair with Beastie Boys began in the reboot of the Star Trek movie franchise. A young Kirk steals his dad's car, and of course, it's "Sabotage" that provides the soundtrack.