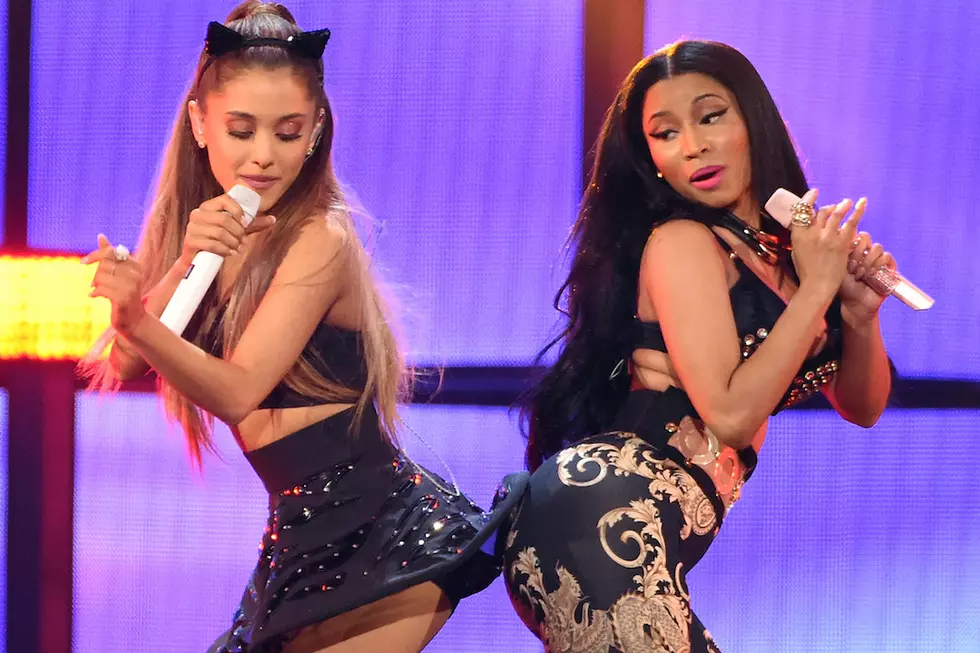 Ariana Grande and Nicki Minaj Are Seductive Island Gyals on 'Side to Side'
Ethan Miller, Getty Images
A slight departure from Ariana's pop sound, "Side to Side" boasts a dancehall riddim and sensual vibes from the 22-year-old singer. On the song, Grande seduces a rude boy that she spots in the club.
"I'm talking to ya / See you standing over there with your body / I feel like rocking with your body," she sings, adding, "I know you got a bad reputation / It's doesn't matter 'cause you bring me temptation."
Meanwhile, Nicki brings her Trinidadian roots to her verse, rapping, "I give zero fucks and I gots zero chill in me." She then adds, "Curry with the shot just tell them to call me Stephanie."
This isn't the first time these superstars have collaborated on a song. Ariana and Nicki previously appeared on Jessie J's 2014 track "Bang Bang."
"Side to Side" is set to appear on Ariana's upcoming album Dangerous Woman, which arrives on May 20.
You can listen to the full track here.
What do you think of Ariana Grande and Nicki Minaj's song? Tell us in the comments below.
Listen to Ariana Grande's Song "Side to Side" Feat. Nicki Minaj