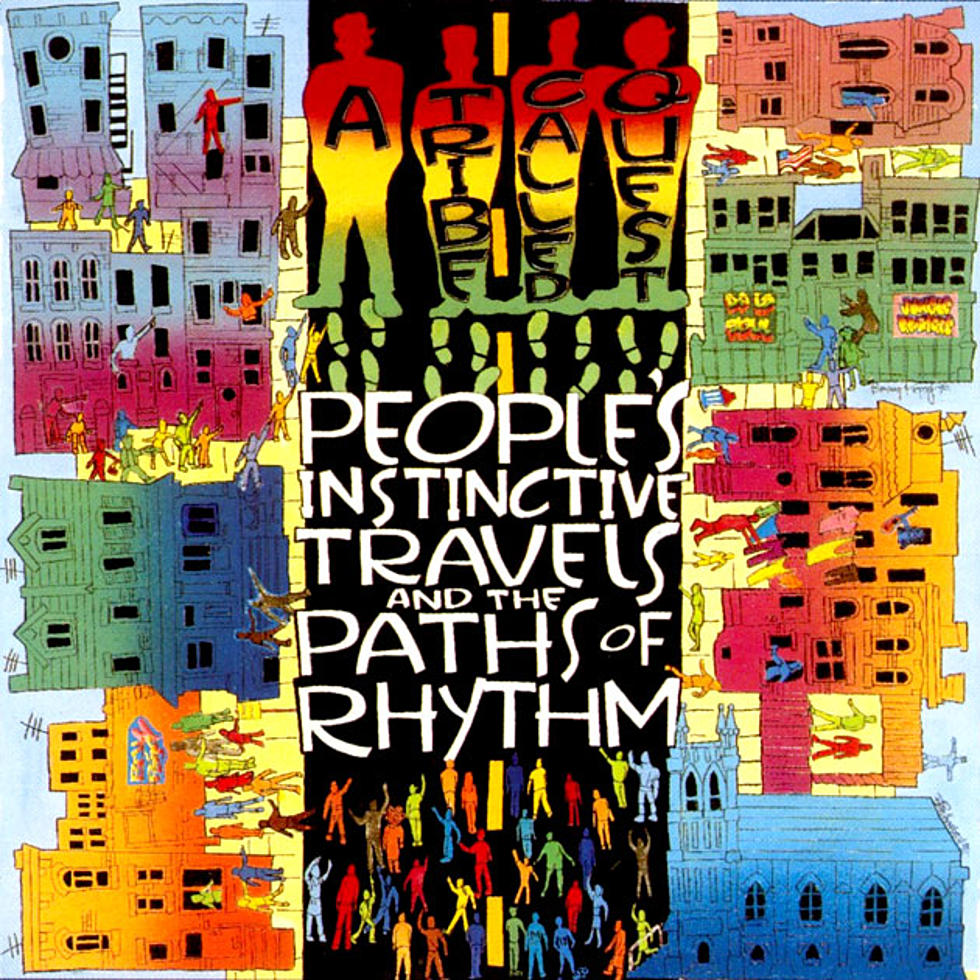 25 Years Later: A Tribe Called Quest's 'People's Instinctive Travels and the Paths of Rhythm' Album Still Holds Weight
Jive
"Top notch, baby, never coming less / Sky's the limit, you gots to believe up in Quest," raps Phife Dawg on "Award Tour" a track off of one of the most highly regarded albums in hip-hop history, Midnight Marauders. And the Quest the diminutive MC was referring to is the Queens rap group A Tribe Called Quest. At the time of "Award Tour," the crew had just released their third LP in 1993, which was considered an instant classic, turning the critically acclaimed trio from leaders of the new school into artistic deities. They were at their peak in popularity and making the best music of their nearly decade-long run.
But contrary to that standout line that Phife spit some 22 years ago, not everyone initially believed in the talents of A Tribe Called Quest. Comprised of MCs Q-Tip and Phife, DJ Ali Shaheed Muhammad and hype-man Jarobi, when they formed in the late '80s, they weren't being touted as an act that would eventually evolve into one of the most revered rap groups of all-time.
ATCQ would influence two separate generations of hip-hoppers. Their musical offspring include legends such as Mos Def, Common, J Dilla and Busta Rhymes, as well as new jacks such as Kendrick Lamar, Wale, J. Cole and others who continue to blaze the trail for the "socially conscious" rapper. Tribe focused on kicking raps catering to the everyday Joe Schmo and pushing the production envelope by incorporating everything from jazz, go-go, funk and house into their music. While the artists to come after them would never be pegged as clones, if you listen closely enough, you can see shades of Tribe within their style and sound, albeit with a modern-day twist.
Before A Tribe Called Quest released their debut album, People's Instinctive Travels and the Paths of Rhythm -- and even after -- many considered them nothing more than the offspring of the Native Tongues Movement, which included already established acts such as the Jungle Brothers and De La Soul. Both groups would play a major role in placing Tribe's leader, Q-Tip, in an ingratiating manner to rap fans via appearances on the Straight out the Jungle track, "Black Is Black" and the 3 Feet High and Rising classic posse cut, "Buddy."
These were just mere glimpses of the potential of Q-Tip as an emerging MC, but did little to establish ATCQ as a whole as next up artists. In 1989, they recorded a five-song demo, which included the future classics "I Left My Wallet in El Segundo" and "Can I Kick It?" which drew interest from a slew of record labels. They eventually opted to sign with Jive Records. Unlike today, the label had much success in cultivating the rap careers of Boogie Down Productions and Too $hort back then and seemed like the perfect fit for the crew.
Watch A Tribe Called Quest's "I Left My Wallet in El Segundo" Video
Touching down on April 17, 1990, Peoples Instinctive Travels... garnered the first-ever "5 Mic" rating from The Source magazine. However, the effort failed to impress some critics or eclipse the success of De La Soul's standout debut or the Jungle Brothers last release, putting their future as a viable rap group in question.
Critics such as Chuck Eddy from Rolling Stone, who reviewed the album upon release, had a few positive things to say about ATCQ, but basically pegged them as a second-tier act at best. "The shaggy-dog stories (about eating snails in France, eating enchiladas and losing wallets in Southern California, even derelicts rambling through their own shaggy-dog stories) get tedious fast," he wrote. Eddy also pegged their sound as "Nutritiously Eclectic Adult-Contemporary Comedy Rap." If you add in the jabs about the project being "one of the least danceable rap albums ever," you would think that People's Instinctive Travels... was a subpar album that holds little weight in the grand scheme of things.
And that assertion would be dead wrong, as Peoples Instinctive Travels... is one of the most underrated debut albums you'll find from a group as legendary as ATCQ. Kicking off with "Push It Along," Q-Tip snuggles into his signature slinky flow, rapping, "Q-Tip is my title, I don't think that it's vital / For me to be ya idol, but dig this recital / If you can't envision a brother who ain't dissing / Slinging this and that, 'cause this and that was missing," instantly getting into his groove.
Phife Dawg, who serves more as a recurring co-star than the partner in rhyme most recall from later albums, shows a glimpse of his promise with a solid second verse and displays a chemistry that would put the pair among the best one-two punches to ever do it. Following up on the intro track with the groovy number "Luck of Lucien," the album truly hits its stride as Q-Tip goes for dolo, crafting a tale about a French immigrant who comes to America for a new lease on life, but becomes the subject of ridicule and can't seem to get out of his own way.
"After Hours" is nothing short of a stone cold groove, which finds the Abstract foreshadowing the album's dismal commercial prospects with the line "I better go gold to pay the taxes" in between painting a vivid picture of the nightlife in Jamaica, Queens, N.Y. "Footprints" utilizes a sample of Donald Byrd's "Think Twice" and wins with its lively beat, giving listeners the feel of being at a New York City park jam.
Q-Tip and company take us on a road trip to Mexico for enchiladas and fruit punch on "I Left My Wallet in El Segundo," but the journey takes a turn for the worst when Tip misplaces his wallet while distracted by a beautiful waitress, leading them to double-back to grab belongings, making for an entertaining storytelling track and a signature offering in the catalog of Tribe.
After the album's streak of dope selections, the vibe continues with "Pubic Enemy," which stands as one of Q-Tip's finest displays of lyricism on the entire LP. We get hit back-to-back with timeless classics in the form of "Bonita Applebum" and "Can I Kick It?" both of which are recognizable to any credible rap fan.
A tale about an around-the-way girl with plenty of junk-in-the-trunk, "Bonita Applebum" is sappy enough to get the ladies blushing and so honest a sentiment that even the brothers had no choice but to cosign this cut, which has gone on to be revered as one of the greatest dedications to an imaginary woman of all-time.
Watch A Tribe Called Quest's "Bonita Applebum" Video
While "Bonita Applebum" dims the lights, "Can I Kick It?" flips the switch back on and is a mid-tempo selection that manages to get the body moving. Phife reappears on the second verse and stamps himself in political rap history with the random bar "Mr. Dinkins, would you please be my mayor / You'd be doing us a really big favor," a show of support for David Dinkins, the man who would become the first African-American mayor of New York City.
"Youthful Expression" samples Reuben Wilson's 1974 release, "Inner City Blues," and serves as a solid selection, whereas the pulsating beat of "Rhythm (Devoted to the Art of Moving Butts)" will get heads nodding despite this being one of Q-Tip's lesser performances featured on the album.
Ali Shaheed Muhammad, Tribe's in-house DJ, gets the then-obligatory dedication track, "Mr. Muhammad," which samples Earth, Wind & Fire's "Brazilian Rhyme (Beijo Interlude)" and is a testament to an era when the DJ was a very prominent figure in the success of hip-hop acts. The album hits its lowest point on "Ham 'n' Eggs" which is centered around promoting healthy eating habits. And while their intentions were in the right place and the execution is nothing to sneeze at, looking back 25 years later, the theme comes off as a bit campy and outdated to say the least. "Go Ahead in the Rain," isn't a complete snoozer, but comes off more as an outtake from De La Soul's 3 Feet High and Rising than anything we would hear on Peoples Instinctive Travels...
Despite those slight hiccups, the album ends on a high note with "Description of a Fool," which slays with Q-Tip's superb recollection of three kinds of fools we come across in everyday life. There's also the infectious break-beat featured throughout, which was lifted from Roy Ayers' "Running Away." This provides a subtle glimpse into the eventual sonic evolution of A Tribe Called Quest, as they would glean inspiration from Ayers' catalog time and time again throughout their time as a group.
Their sophomore album, Low End Theory, may have gotten them over the hump and Midnight Marauders may have solidified their spot among the best hip-hop groups to ever do it, but Peoples Instinctive Travels and the Paths of Rhythm stands as the foundation of A Tribe Called Quest despite it often being overlooked in comparison to their other releases and as an album overall. With few blemishes to speak of and featuring more classic songs than some artists record in their entire career, this ATCQ album found a middle ground between the quirky world of De La Soul and the Jungle Brothers house-inspired jams. Upon its release, this was a project that spoke to the life of streetwise kids searching for knowledge of self and positivity within the music, which is still true today.
See 20 Words That Mean Something Completely Different in Hip-Hop