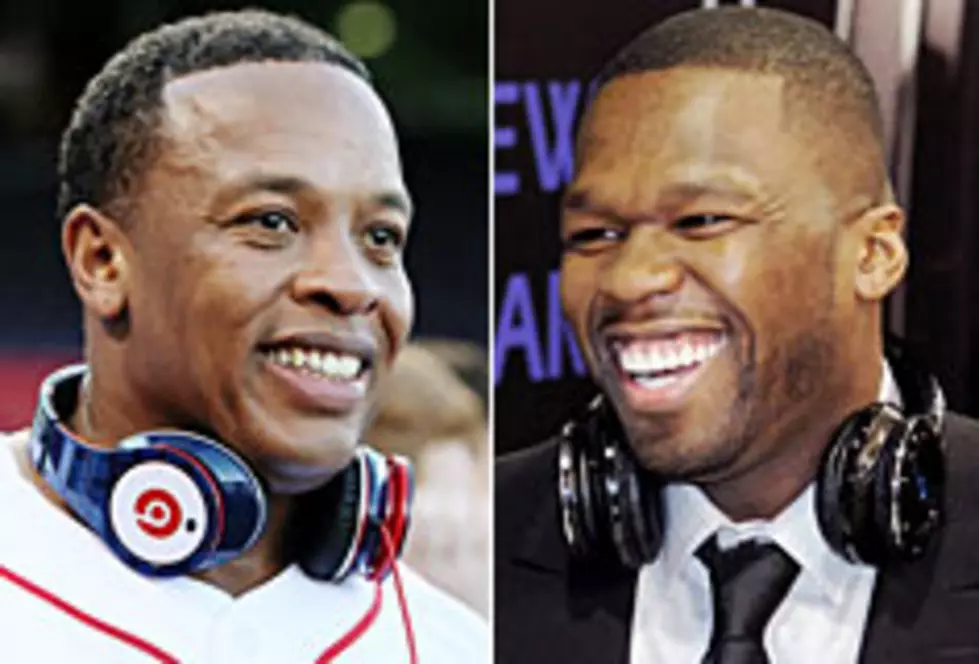 50 Cent Says Dr. Dre Is Upset Over Sleek By 50 Headphones
Getty Images (2)
Last month, 50 Cent debuted his Sleek by 50 Cent Platinum headphones, which made fans wonder if the Queens rapper was trying to encroach on the sales of Dr. Dre's Beats by Dr. Dre headphones line. Well, according to 50, the West Coast producer was not too happy about his new business venture.
On Monday (Feb. 14), 50 took to Twitter to vent about Dr. Dre and Interscope chairman Jimmy Iovine, claiming that they both took issue with his new Sleek line. "Jimmy iovine and dre mad at me cause I'm doing sleek by 50. I guess I'm not going to be on detox Lol," 50 tweeted. "I'm a little hurt jimmy and dre feel like that but f--- it. I'm focused I got a surprise for everybody this go round."
And, of course, there was more. "Would you faint if I told you I just wrote a verse about jimmy and dre. Oh my god this is hard. This s--- gonna kill," he continued. "Em gonna have a heart attack when he hear this s--- damn lol." Before getting off the subject to move onto a Valentine's Day tweet, 50 also mentioned that he attempted to play it cool when he was excluded from Dre's deal. "I don't get it when they did there deal I didn't get upset. Now I'm mad they didn't put me or EM in that deal. F--- this s--- I QUIT," he wrote. "Ok ok I'm done talkin bout jimmy n dre, I love them, they hate me, so what? ... f--- it. Lol."
The new Sleek By 50 Cent line has not hit stores yet.
Watch 50 Cent's 'OK, You're Right'
if(typeof AOLVP_cfg==='undefined')AOLVP_cfg=[];AOLVP_cfg.push({id:'AOLVP_75000513001','codever':0.1,'autoload':false,'autoplay':false,'displaymnads':true,'playerid':'89761511001','videoid':'75000513001','width':476,'height':357,'playertype':'inline','stillurl':'dynamic','videolink':'#','videotitle':'dynamic','videodesc':''});