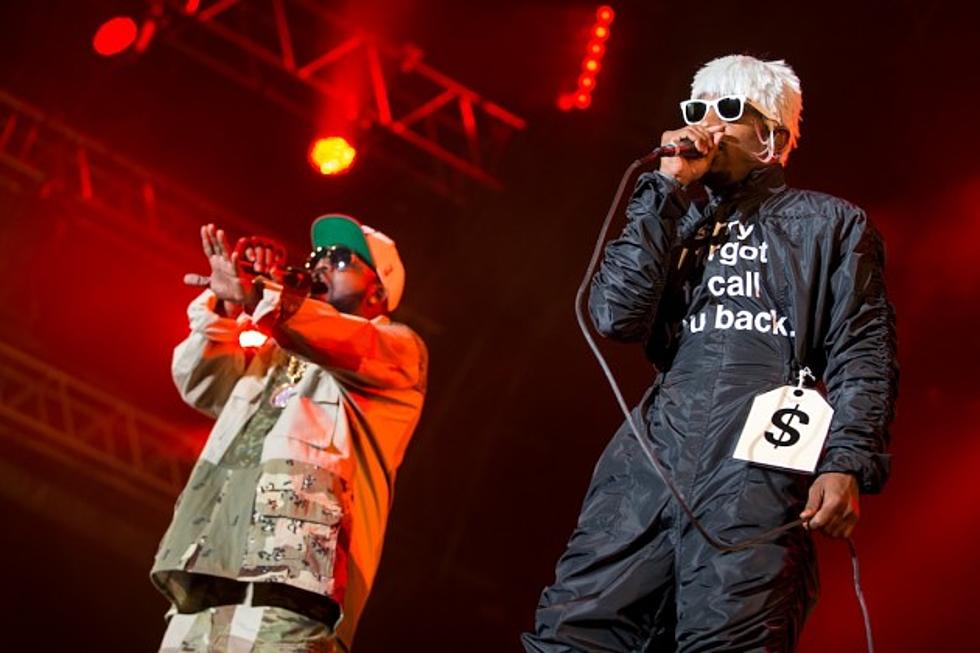 25 Facts You Probably Didn't Know About OutKast
Philipp Schmidli, Getty Images
Want to know why every new music act that's half-decent gets compared to OutKast? That's because no other group matches what they've brought to hip-hop for close to two decades. They are the pinnacle, the most high, the ATLiens flying spaceships down Bankhead. Of course they're the standard by which every artist after them will be judged.
Now that their magical reunion tour has come to an end last year, there are still some jewels about the duo's history that fans might not know. How did they catch their big break? What are some unreleased songs they've got in the vault? And who could have possibly influenced one of the greatest rap groups of all time?
We dove deep into OutKast's history to bring you some facts about Andre 3000 and Big Boi that might surprise you. Check out these 25 Facts You Probably Didn't Know About OutKast.
1

OutKast's early rap influences were A Tribe Called Quest, Hieroglyphics and Das EFX.

You can hear the influence of Das EFX in "Call in Da Wild."

2

Andre 3000 started producing on the sophomore album 'ATLiens.'

The group's first album was produced entirely by Organized Noize.

3

The group first went by 2 Shade Deep as references to their skin color.

4

There was almost a third member of OutKast.

He sang, rapped and had a sampler to make beats with. You might know him as CeeLo Green.

5

Big Boi refused to skip work for OutKast's first performance.

A friend filled in with Andre for their appearance on a local TV station's talent show. They got feedback from exactly one caller, who said they sounded terrible.

6

Andre didn't finish high school.

Big Boi did, earning a 3.68 GPA while taking an interest in psychology. Andre would later go back to get his GED during the making of ATLiens.

7

Their first appearance as OutKast on wax came on the remix to TLC's "What About Your Friends."

It marked their official debut in 1992, and Andre would later pay it back with a verse on TLC's huge album, CrazySexyCool.

8

Seven years later, they bought the studio where they laid those verses for TLC.

It was the same studio where they'd recorded most of their first album, so it was only right to go back and do Stankonia there. Now the studio is named after that LP.

9

The first time they met Rico Wade, Andre and Antwan spit over Tribe's "Scenario" in Big Gipp's car.

"They [rhymed] back-to-back for, like, eight minutes," recalled Wade, the founder of the Dungeon Family.

10

L.A. Reid did not want to sign OutKast when he first heard them.

Reid had called the entire label's staff into the room to watch them rap, but he wasn't impressed until he heard of other labels, like Polygram, calling to sign the duo. Reid reconsidered and gave them a shot on the upcoming Christmas compilation in 1993.

11

The lyrical content of their first album was influenced by Geto Boys, Snoop Dogg and Dogg Pound.

"Those were the people that we loved, and we wanted to be in that crowd," Andre admitted.

12

Andre gave up smoking and drinking after the first album dropped.

He also became a vegan. Seeing audience members tell stories about how "Git Up, Git Out" changed their lives made Andre realize how much of an impact he could have on listeners.

13

As early as 2000, Andre and Big Boi toured on separate buses.

This Vibe profile captures it perfectly: Big Boi's bus was a party, and Andre's bus was a sanctuary.

14

Their early rhymes were influenced by the music of George Clinton and Parliament.

The fly clothes, the pimp image, the spaceships - all P-Funk. The Source's 4.5 mic review pointed this out in the last paragraph.

15

Big Boi and Killer Mike would ride around playing new OutKast records in poor neighborhoods.

This way, they got a sense if people in the streets were feeling it or not.

16

LaFace put out a video for the Goodie Mob Mix of "Git Up, Git Out."

It only features Cee-Lo and Big Gipp.

17

The duo wrote a script for a movie to accompany 'Aquemini' three months before the album came out.

MTV liked it, but wanted to buy the rights and cast Missy Elliott and Busta Rhymes instead because they had bigger star power. They continued to work on movie ideas until Idlewild was born.

18

Big Boi wanted 'Aquemini' to start with "Y'all Scared" instead of "Return of the G."

He missed his flight to the album mastering, and when he arrived, the tracklist had already been decided upon.

19

Three Stacks has a song called "Bow Your Head" that's a counterpart to Big Boi's "West Savannah."

Both were left off their debut, but while one made it to Aquemini, Andre's track has never been released.

21

When Puff worked at Arista, he heard "Player's Ball" and invited OutKast to open for Biggie in Washington, D.C.

22

Erykah Badu was originally supposed to be on 'SpottieOttieDopalicious.'

Of course, she ended up on "Liberation," so no complaints, but imagine if that collaboration happened.

20

The verse by Andre 3000 on "Mamacita" was inspired by a girlfriend who became a lesbian.

"I was like, 'What the f—k is this?' So I think I was just being affected by it and it ended up coming out in my verse," he explained.

24

'The Love Below' is a concept album about a one night-stand that becomes true love.

Andre had to tone down the narrative on the album, but said, "If you listen closely to the interludes and pay attention to the lyrics, you can still follow the story."

23

Andre says when he sent "Hey Ya" to radio, he purposefully didn't tell people who it was by.

He told NPR, "If we had put OutKast on it, it would have been judged differently."

25

"Hey Ya" was inspired by Aretha Franklin's "Say A Little Prayer."

Three Stacks told NPR it was kind of hard to explain, but the way the loop plays back on Aretha's song was what he wanted to accomplish on "Hey Ya."