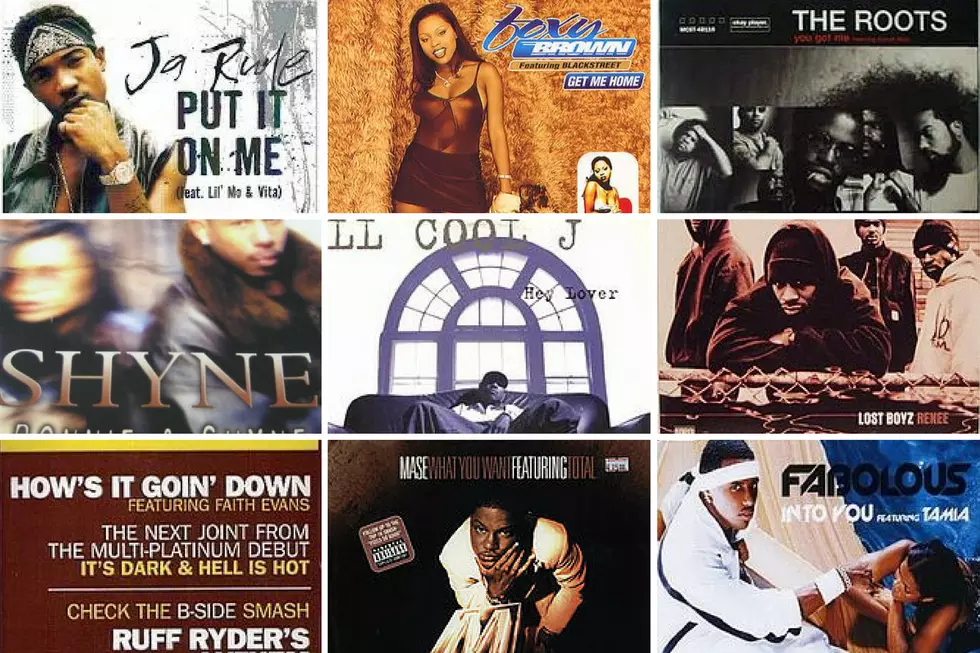 20 Classic Hip-Hop Summer Love Songs
iTunes
After braving what felt like an extended winter season during which jackets and hoodies were required all the way into June, summer is finally in full swing. School is out. The fire hydrants and swimming pools are open. The barbecues and day parties are constant and plentiful. Basketball tournaments are going on in the park. All of this is the perfect backdrop that one often envisions when they think of a summer day— or their favorite rap love song, for that matter.
In spite of being known as a genre that produces aggressive content, rap artists have always been comfortable sharing matters of the heart within their rhymes, giving their music a vulnerability that humanizes them and casts them as mortals who can be infatuated, love-lorn, scandalous, lonely or simply fed up just like everyone else. Throughout the '90s and early 2000s, some of the greatest rap love songs were released, many of which rank among the overall greatest rap songs of all-time and have become synonymous with hip-hop itself.
While love isn't relegated to a particular season, summer has always been filled romance, heartbreak, and flings, with the steamy weather translating into even steamier encounters between lovers during the warmer months of the year. Being that we're in the thick of the summer-time cuffing season, The Boombox put together a list of 20 hip-hop love songs that will serve as the perfect soundtrack to your summer romance, whether it has a storybook ending or otherwise.
1

Mr. Cheeks gives listeners the scoop on a young shorty he's taken a liking to on "Renee," a song that goes from being a riveting love story to an epic tragedy.

After running into "Renee" while on his way from John Jay College of Criminal Justice and accompanying her to the subway, Mr. Cheeks and his love interest discover that they share common interests and quickly develop a chemistry with one another over blunts and beef franks. However, weeks after their initial courtship, Mr. Cheeks is informed by Renee's mother that she's been murdered in cold blood, prompting the heartbroken Queens rep to seek his own brand of street justice in the name of love lost, making for a timeless single out of the Lost Boyz's discography.

2

"Bonita Applebum" (1990)

A Tribe Called Quest

Q-Tip professes his love for a neighborhood cutie called "Bonita Applebum" on this landmark single from A Tribe Called Quest's 1990 debut, People's Instinctive Travels and the Paths of Rhythm. Comparing his affinity for Bonita to his infatuation with hip-hop, Q-Tip gets poetic on this ode to the fly girls of yesteryear that doubles as one of the most romantic rhyme spills of its time.

3

"How's It Goin Down" (1998)

DMX

DMX revolutionized rap with a gritty sound that turned him into a bonafide star, but the Ruff Ryders franchise player smoothed things out on "How's It Goin Down," one of the singles from his multi-platinum debut, It's Dark & Hell Is Hot. Centered around his dealings with a Harlem resident named Tameka, "How's It Goin Down" captures DMX in the midst of a love triangle, as his new flame is stepping out on the father of her children to creep with him. Deciding to break things off with his ride-or-die chick and use his better judgment, DMX shows his more tender side on one of the thug-love classics of the late '90s and a summer banger that still rings off two decades later.

4

"What You Want" (1997)

Ma$e featuring Total

Ma$e utilized his Harlem swagger to woo the ladies on "What You Want," the second single released from his 1997 debut, Harlem World. Produced by Nashiem Myrick and featuring Bad Boy R&B trio Total, "What You Want" captures the philandering playboy considering a relationship filled with intimacy and affection, a departure The Bad Boy's more raunchy musings.

5

"Get You Home" (1996)

Foxy Brown featuring Blackstreet

In 1996, Foxy Brown quickly established herself as a rap temptress with her provocative clothing and lyrical guile, making her Ill Na Na album one of the hottest debuts of the year. The Brooklyn native would play and live up to the role with "Get You Home," the Blackstreet assisted lead-single from the album that found the teenager boldly taking the initiative while scouting for a man to take home from the club. Putting her own spin on Eugene Wilde's original, Fox-Boogie scored her first hit as a lead-artist and a song that is fully capable of creating magic when spun at a function during the summer months.

6

"Hey Lover" (1995)

LL Cool J featuring Boyz II Men

Known as the King of Romance within the realm of hip-hop, LL Cool J is the author of a plethora of jams detailing his affairs with the opposite sex. But one that ranks among the most memorable is "Hey Lover," his 1995 collaboration with R&B stars Boyz II Men. Taking an interest in a woman that's already in a relationship, LL Cool J resigns himself to daydreaming about the day he can hold her in his chiseled arms and whisper sweet nothings in her ear over production from The Trackmasters. While LL Cool J never gets to express himself directly to his own crush, "Hey Lover" would give a whole generation of men the gall to move forward with their advances and is revered as a staple of summer love.

7

"So Into You"(2003)

Fabolous featuring Tamia

After making a name for himself with uptempo club bangers on his 2001 debut, Ghetto Fabolous, Fabolous made a change of pace on his 2003 album, Street Dreams, establishing himself as the second-coming of LL Cool J with a string of female-friendly records. One of those songs was "So Into You," which saw the Brooklyn spitter revamping R&B singer Tamia's 1998 song of the same name for Street Dreams' third single and a selection that would peak at No. 4 on the Billboard Hot 100, giving Fabolous his second hit within the Top-5 and usurping the original in the process.

8

"Looking At The Front Door" (1991)

Main Source

Main Source was stuck looking at the front door on this lively single from their seminal 1991 debut, Breaking Atoms, on which frontman Large Pro laments his rocky relationship with his lover and his doubts about the future of their union. Summer love may often consist of whirlwind romances, they also have their fair share of drama and "Looking At The Front Door" is an essential addition to any summer-centric playlist.

9

"Put It On Me"

Ja Rule featuring Vita & Lil Mo

Ja Rule's reputation as a rap-singer precedes him today, but at the beginning of his career, he was known more for his aggression than his sentiments. This would begin to change with the release of "Put It On Me," the second single unleashed from Rule's 2000 sophomore effort, Rule 3:36 and a number that would mark the beginnings of his transition into one of rap's leading ladies-men. Featuring labelmate Vita and R&B singer Lil Mo, "Put It On Me" sees Ja Rule in a state of vulnerability as he shows acknowledgment to the woman in his life who's held him down through thick and thin and his trials and tribulations. Peaking at No. 8 on the Billboard Hot 100, "Put it On Me" has continued to soundtrack the love-lives of listeners young and old and is a safe bet to get burn between the middle of June and the end of September, year-in, and year-out.

10

"You Got Me" (1999)

The Roots featuring Erykah Badu & Eve

In 1999, The Roots, Erykah Badu, and Eve teamed up for "You Got Me," the lead-single from Things Fall Apart, The Roots' fourth studio album and the one that would make transcend their underground roots and gain widespread commercial success. Produced by The Grand Wizzards & Scott Storch, "Youg Got Me" finds Black Thought sharing the tale behind him meeting an Ethiopian Philly native while overseas on tour and how the pair's passion for art translated into a budding romance that's altered when trust issues rear their head. "You Got Me" would garner The Roots, Badu, and company a Grammy Award for Best Rap Performance by a Duo or Group in 2000 and is recognized as one of Philly rap band's signature songs to date.

11

One of the more heartfelt odes to a woman in rap history was released in 2000 when Common's J. Dilla-produced single "The Light" first hit the airwaves. Inspired by his budding love affair with R&B singer Erykah Badu, "The Light" became the biggest hit of Common's career at that juncture and netted him a Grammy Award nomination for Best Rap Solo Performance in 2001, but also lives on as a timeless love song within the realm of hip-hop.

12

"Passin' Me By" (1992)

The Pharcyde

At times, love can be a one-sided affair, as was the case with the members of The Pharcyde on their 1993 single "Passin' Me By," an anthem for the love-lorn and lonely. Produced by J-Swift, "Passin' Me By" finds each member daydreaming about putting the clamps down on the women that have their respective eyes in spite of their efforts to catch the women's attention going unacknowledged. Topping the rap charts, "Passin' Me By" is a quintessential rap tune for the young lads destined to spend the summer waiting to make their intentions known, but in the end, have little to show for it.

13

"Ms. Fat Booty" (1999)

Mos Def

Flings have long been associated with spring, but everyone knows the hotter the weather, the steamier the romance, which is the case on Mos Def's 1999 offering from his solo debut, Black On Both Sides. Flowing over a sample of Aretha Franklin's "One Step Ahead," Mighty Mos reminisces on an encounter with a woman whom he affectionately dubs 'Ms. Fat Booty' and his subsequent courtship of her. However, after catching feeling for his newfound love interest, Mos gets ghosted by Ms. Fat Booty, who ultimately is rumored to have become an exotic dancer, putting an end to any plans for commitment, let alone a relationship, making for a riveting, yet cautionary tale of thinking with your heart instead of your better judgement.

14

"Ice Cream" (1995)

Raekwon featuring Method Man, Ghostface Killah, Cappadonna

Some love stories come with chivalry and tender moments. Others are more straight-forward and can be perceived as downright raunchy, an example being Raekwon and his Wu-Tang brethren's advances on "Ice Cream," the hit single from The Chef's 1995 debut, Only Built For Cuban Linx. Featuring Ghostface Killah, Method Man, and Cappadonna, all four emcees convey their love and infatuation with around-the-way girls of all creeds and flavors in a show of appreciation that doubles as one of the hottest summer bangers of the decade. Far from the prototypical rap ballad, "Ice Cream" is romantic in its own unique way and has been known to make more than a few woman swoon over the years.

15

"Got Me Waiting" (1994)

Heavy D & The Boyz

Heavy D attempts to lay his mack down on a woman that's playing hard-to-get on "Got Me Waiting," the smash single from Nuttin' but Love, the fifth and final album from Heavy D & the Boyz. Produced by Pete Rock, "Got Me Waiting" finds the Mt. Vernon native and overweight lover swallowing his pride putting his bid in a last-ditch effort to lock-down the object of his affection in a game of cat and mouse. Peaking at No. 20 on the Billboard 200, "Got Me Waiting" helped push Nuttin' but Love to double-platinum status and still gets burn like a summer jam that deals in matters of the heart.

16

"Bonnie & Shyne" (2000)

Shyne

Brooklyn native Shyne kept the Bad Boy regime afloat after the loss of The Notorious B.I.G. and Ma$e with his eponymous 2000 debut, which found itself on the brink of platinum status of the strength of tracks like "Bonnie & Shyne," which positioned the Belizean spitter as a grisly Casanova. Featuring a guest appearance from Barrington Levy, "Bonnie & Shyne" would be a modest hit, but is remembered for its catchy hook and Shyne's persuasive couplets, making it a landmark selection from his short-stint alongside Puff and The Family.

17

"Beautiful" (2002)

Snoop Dogg featuring Pharrell Williams

Regarded more like a pimp than a lover, Snoop Dogg flipped the script in 2003 with "Beautiful," the west coast legend's Pharrell-assisted single that put him back on the upper reaches of the Billboard charts. From offering to drop plans to lay up and watch Clueless to vowing to love and protect her, Snoop Dogg pulls all the stops to get his point across to his favorite girl on this classic summer anthem.

18

"Poor Georgie" (1991)

MC Lyte

MC Lyte crosses paths with a guy named Georgie in the club who piques her interest enough to convince the ruffneck to try her hand at romance. Although Georgie has a reputation as a ladies man, MC Lyte continues their relationship, but things go awry and the two have a falling-out prior to his untimely death, leaving Lyte regretful of not voicing her affections for her former lover while she had the chance, ending this tale of teenage love on a tragic note.

19

"21 Questions" (2003)

50 Cent featuring Nate Dogg

50 Cent crafted one of the signature songs for the ride-or-die chicks and predicate felons with "21 Questions," his 2003 smash single centered around love and loyalty. Featuring the late Nate Dogg on the vocals, "21 Questions" showed the G-Unit hard-rock displaying his vulnerable side and stands as a quintessential thug-love summer ballad til this day.

20

"Got A Man" (1999)

Eve featuring Mashonda

The same year that R&B singer Chante Moore famously announced she was boo'd up on wax, Eve Jeffers followed suit with "Gotta Man," one of the standout tracks from her 1999 album Let There Be Eve…Ruff Ryders' First Lady. Produced by Swizz Beatz and featuring guest vocals by Mashonda, "Gotta Man" captures Eve in a loving bliss as gushes over her main squeeze, all the while marking her territory like a true pitbull should.