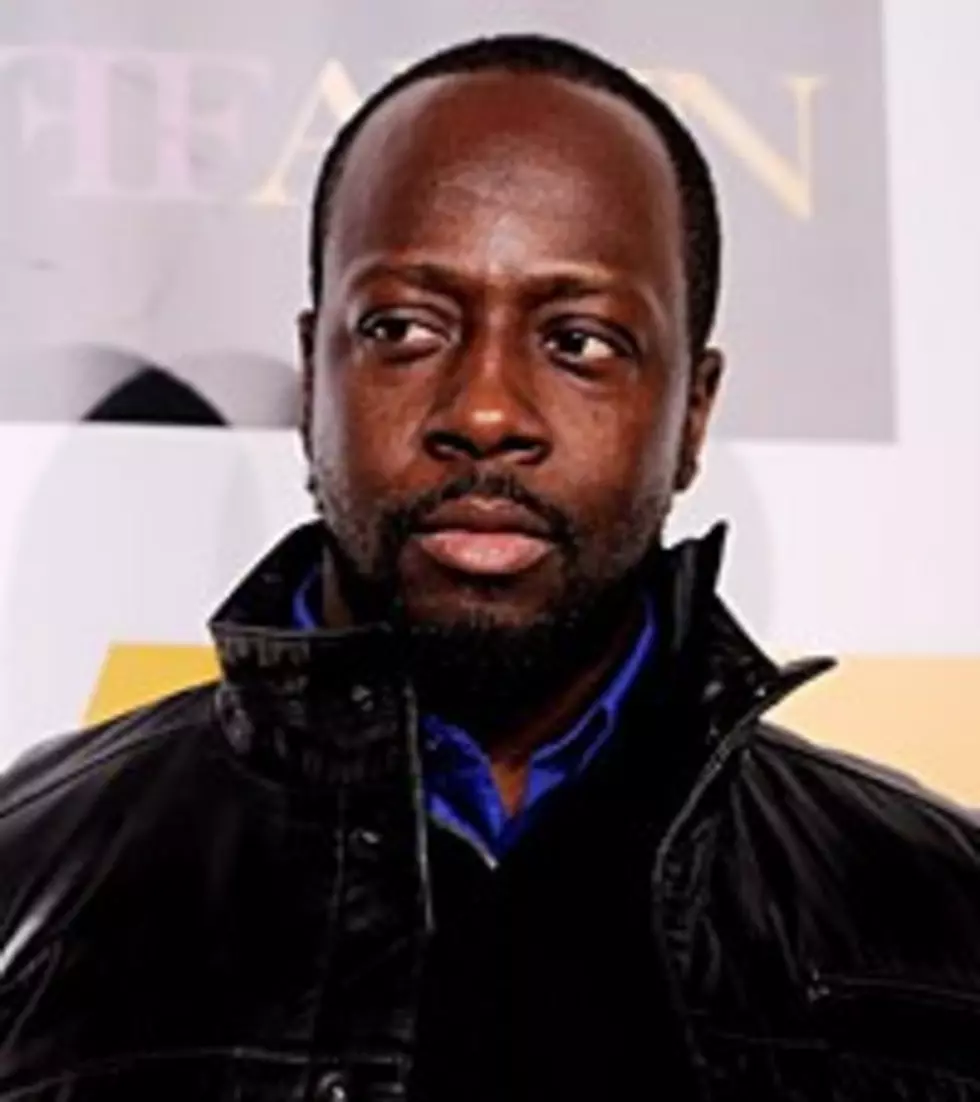 Wyclef Excluded From List of Haiti Presidential Candidates?
Getty Images
Wyclef Jean's bid for president of Haiti has been denied. According to Reuters, the list of possible candidates, which was released Thursday (August 19), did not include the 40-year-old musician/activist. However, Jean's people claim there has yet to be a final decision on his presidency. "He [Wyclef] is concerned about the people of Haiti and the country's future, and is cautiously optimistic about rulings on his candidacy, expected tomorrow [August 20," said Jean's rep Marian Salzman, in a statement to The BoomBox.
"He had a productive dialogue with the current president of Haiti this afternoon, as already reported. Wyclef Jean puts the needs for health, wellness, and future prosperity of Haiti's citizens first and foremost. He will be focused on this tomorrow, and hopes that he'll be accepted as a candidate for President. He looks forward to five productive years of public service to his homeland and the people he loves, and to building bridges to the rest of world, as he leads his country in rebuilding." Allowance of Jean's eligibility for a presidential run was brought into question due to the fact that the Grammy winner has not been a resident of the country for five years prior to running, a stipulation outlined in the Haitian constitution.
Jean was hoping to get around the loophole due to his status as an ambassador for the country, but the Haitian electoral commission, known as the CEP, was not receptive to a change of the rules. Were he to be elected president, the former Fugee was also hoping to change the Haitian constitution, to grants citizens living abroad the right to vote in the country.
In a separate statement, Jean himself pledged his continued support and dedication to his country regardless of the election outcome. "Regardless of what's going on with my candidacy, I feel like it's my duty to keep reminding the world that on Jan. 12," he said. "My homeland of Haiti suffered its worst natural disaster in its 200-year history. This is not just a Haitian crisis; this is an international crisis.
"We may be a country and people of great resilience and with a deep reservoir of hope, but we can not reconstruct Haiti alone. We need the attention of a world that cares for humanity and the dignity of a race and culture. For far too long -- since the Duvalier regime -- Haiti has held its hands out for charity and pity, but the corrupt government abused the international financial committees that came to the country's aid. This will be no longer acceptable under my leadership.
Today, I speak to my fellow Haitians and the international community to understand this: Haiti does not want a hand out, we do not want charity or pity, we do not want constant aid. We want development of first-class education, security, jobs, industry, hospitals, infrastructure, housing and -- most importantly -- we want, and need, proper governance. My job as the commander-in-chief will be to make Haiti once again the "pearl of the Antille" ("La perle des Antilles"), so that we can call upon the diaspora to again invest in their homeland. I have a plan to ask all the Haitians living abroad to invest $10 each, and for this investment each person will get a share in a project, whether it be roads, schools, hospitals, airports, stores, even hotels or movie theaters. These are all things our country needs to flourish. I'm saying we will return Haiti to what it once was, but bring it into the modern world. We can never allow what happened over the last 70 years to our great nation to happen again. Remember, we are building from the ground up; there's nowhere to go but up for Haiti."
Since announcing his run in early August, Jean has been met with public criticism and bad press surrounding his non-profit organization Yele-Haiti. Jean also received death threats and was forced into seclusion Tuesday (August 17). Following the catastrophic earthquake that hit the country back in January, Jean has worked tirelessly to raise money for aid, as well as assisted in relief efforts. The Haitian presidential elections will be held November 28.