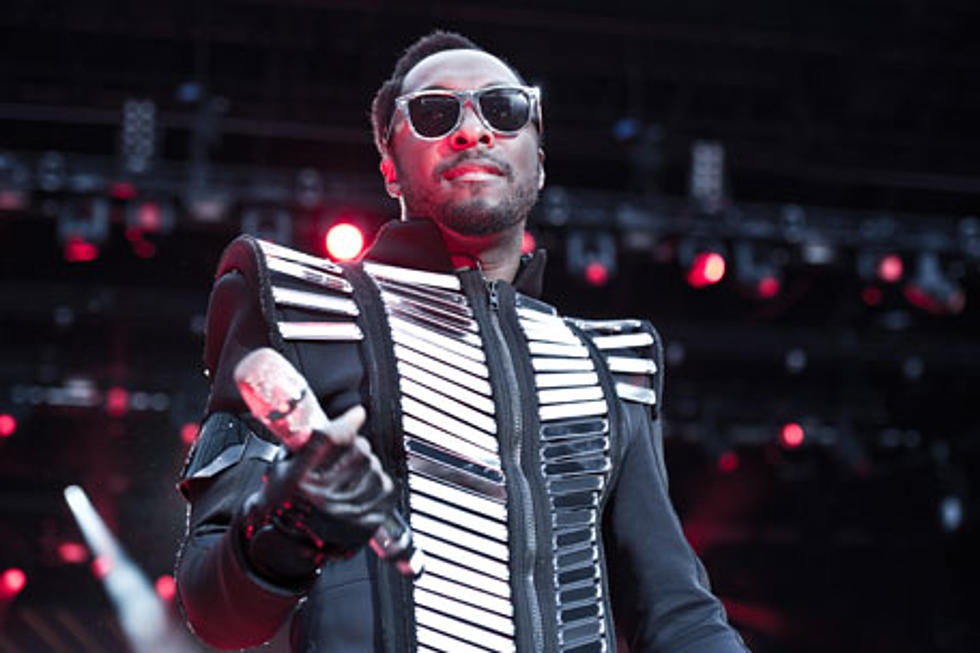 Will.i.am Says Black Eyed Peas Make 'Life Music' + More
Getty Images
Will.i.am is seemingly inescapable. Within a span of a week, the ubiquitous frontman and producer of the Black Eyed Peas has made headlines for brazenly proclaiming that ad agencies were so "yesterday," made a surprise appearance on a Paris fashion runway for buzz-heavy Japanese designer Rynshu and saw his chart-topping group ink a deal to release their own dance-centric video game entitled, what else, 'The Black Eyed Peas Experience.'
This is why it's always an intriguing exercise when discussing music, art and life with Will.i.am. With over 50 million albums sold, the pop-leaning Peas -- which also includes Taboo, apl.de.ap and multi-platinum vocalist Fergie -- have become one of the most successful and polarizing acts on the scene today. With the Peas' latest album, 'The Beginning,' still cranking out singles, Will sits down with the BoomBox to discuss producing hits for John Legend and Busta Rhymes, touring with Public Enemy and denying claims that his group's "selling out."
In past interviews you have spoken about how natural and free-flowing hip-hop was in the early '90s when you signed to Eazy E's Ruthless Records. Can you describe what it was like to be an MC during that era?
Back then, it was battling with punchlines and clever wordplay; you were battling with patterns and cadences. Today, hip-hop has turned into battling with hooks and how long your song is No. 1 on the radio and on the charts. Now it's rappers battling over how much they are balling [laughs].
Everyone has become a Superman. It's all or nothing, right?
Right! They are balling on record. But it's like, 'N----, that car is rented and that house ain't really yours.' And if you live in a s----- house, but you got a million dollar car, that ain't balling. That's spending all your own money and going broke.
Before the Black Eyed Peas really broke through your first big tour was 1998's Smokin' Grooves tour. How huge was it to be on the same bill as the legendary likes of Public Enemy and Gang Starr?
It was beautiful, man. This was our first tour. The first time we ever stepped out on the road was on a tour bus, not a van. There was no, 'Oh, I'm calling shotgun.' We were on the road with Wyclef, Cypress Hill, Public Enemy, M.O.P. and Gang Starr... this was dope! Then our second tour was the Warped Tour. We went from a hip-hop tour to a punk rock tour. Who does that? It was all about performing live and battling anyone and anything.
Fast forward to the record-breaking commercial success of the Peas on albums like 'Elephunk,' 'Monkey Business,' 'The E.N.D.' and your latest release 'The Beginning.' What are your thoughts when you hear critics say that your group sold out?
When I hear that I say, "Who the f--- are you talking about? Me, n-----? You don't know s---." The people that say that have no idea what they are talking about. We have always been about bringing hip-hop to places that have never experienced it. I'm talking about places like Palestine, Lithuania, Hungary, Poland, Philippines... the world is big, man. It's bigger than just New York and England. It's bigger than France. Now the Black Eyed Peas is on every single corner of the planet. We are the only group to be sold legally in China. You can play 'I Got A Feeling,' 'Boom Boom Pow,' 'Just Can't Get Enough' anywhere. The Black Eyed Peas have a license from the minister there. We are talking about China! I don't look at it as doing pop music or hip-hop music. We are making life music.
What's the formula to making a hit?
[Laughs] I can't tell you that. But I can tell you that it's not always about making hits. When I wrote 'Ordinary People' for John Legend that wasn't a song that I thought was going to be big. I told John we didn't write that song to be a hit. We didn't write 'Let's Get It Started' to be a hit. The only songs we were trying to make hits were songs like 'Shut Up' and 'Boom Boom Pow.' All the songs that we thought would not become hits became hits. That's why it's best not to chase hits.
You have now become a go-to producer in the music industry. Was there a particular moment that people started to recognize you as more than just the frontman for the Black Eyed Peas?
I think it was when I produced Busta Rhymes' 'I Love My Bitch.' That was the first outside song I did. This helped me because people in the music industry didn't know I did beats. They didn't even know I had something to do with 'Ordinary People.' They just thought I only did music for Black Eyed Peas. Then I did a Mary J. Blige song ['About You']. Then I did the Game ['Compton']. Then I produced songs on Fergie's album. She sold, what? Six million albums. Then I did the 'American Boy' song for Estelle. My thing is being diverse.
You just named four records that sound nothing alike.
That's my point. Like Boogie Down Productions said on 'My Philosophy,' "You gotta have style and learn to be original..." That's what I live by. A Tribe Called Quest had a song where Phife said, "Styles upon styles upon styles is what I have." Everything back then was like, "I got many, many styles." And for some reason everybody today has forgot that you are supposed to have a whole bunch of styles. All these mother------s out today ain't got no style, but one. And the one style they got is somebody else's style [laughs].
So why do you think a lot of music acts today are too scared to artistically take chances?
It's the money. I think artists worry about money too much. It's not always about getting paid. You should want to have a stable career; you should want to build sustainability. That's what people don't get. Success is not buying a watch. It's not buying a car. You have to be up on your technology. The new ways people are getting music. You have to be willing to tour relentlessly. The reason why 'Bridging The Gap' faded away so fast was because everybody had it on Napster. I had to learn a lot back then. I learned a lot from how it felt to be hungry going into the Peas' second album to branding and marketing my music to doing international tours. You learn that the flavor of the month is not the true influencer. You really don't see the real people pulling the strings behind the scenes.
What's the most important piece of advice you can give to up-and-coming artists?
Try to stay humble. I fly both first class and coach. When you become one of those artists that always fly first class you lose your touch with the people and yourself. I get my own bags when I'm at the hotel. I stay humble because the place where I'm at now I won't be 10 years from now. Ten years from now, I can be much, much bigger. So I'm humbled about how I have been able to grow. I've gone from playing colleges to playing stadiums.
How hard is it to be humble when your group has sold over 50 million albums and playing before an average of 40,000 people each gig?
I understand that I'm not doing s--- compared to what I will be doing 10 years from now. That's where the Black Eyed Peas are at now. We are still growing. We never stop. We are always creating. When you are on tour the music comes out. You get to the point where you have to make music; you have to finish that song in your head. The next time you travel and you are walking down the street or you are eating at a restaurant, just look at the people around you. Question what life is all about. How does things come to be and what is the meaning of it all?
Are you getting metaphysical on us?
[Laughs] I can talk to you about this all day. Once you start looking at the world in that way, keep it in your mind and use it for inspiration. That's what inspires my music.
Watch Black Eyed Peas' 'Don't Stop the Party'
if(typeof AOLVP_cfg==='undefined')AOLVP_cfg=[];AOLVP_cfg.push({id:'AOLVP_937457617001','codever':0.1,'autoload':false,'autoplay':false,'displaymnads':true,'playerid':'89761511001','videoid':'937457617001','width':476,'height':357,'playertype':'inline','stillurl':'dynamic','videolink':'#','videotitle':'dynamic','videodesc':''});

Follow @theboombox on Twitter | Like the BoomBox on Facebook
Download Black Eyed Peas Songs | Buy Black Eyed Peas Albums